Check out Ontario Tech University's virtual Open House Saturday, March 28
Digital plans for Open House just one of many ways the tech-savvy university is responding to COVID-19
March 24, 2020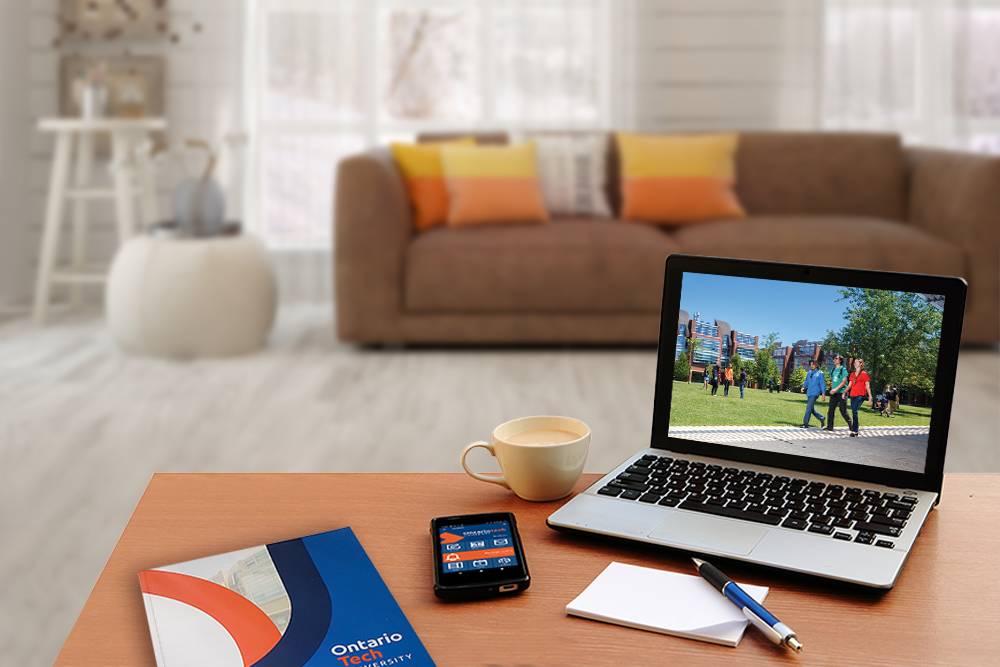 Physical distancing may be forcing people to stay indoors, but it hasn't stopped Ontario Tech University's Open House. Looking to give future students and applicants as much access and information as possible to learn more about us, the university's annual event has been transformed into a digital, interactive Virtual Open House (ontariotechu.ca/openhouse) on Saturday, March 28.
As academic plans due to COVID-19 were refreshed by dedicated faculty, the teams in the Registrar's Office and Communications and Marketing swung into action, shifting existing Open House plans into a virtual experience, featuring:
A new fully interactive 360-degree virtual reality (VR) enabled campus tour videos with one of our tour guides (can also be viewed without VR).
Live chat with Ontario Tech University recruitment and admissions officers, student awards and financial aid officers, and Student Life representatives.
Live chat with representatives and experts from all Ontario Tech faculties.
Videos of Ontario Tech lab spaces.
Image galleries of campus spaces.
Webinars on various campus topics.
As a tech-savvy university, Ontario Tech sits ahead of the curve on delivering academic course work during the pandemic. When the COVID-19 pandemic called for cancellation of all in-person classes, Ontario Tech paused only for a day while it quickly pivoted all course-work online, enabling students to continue the semester and keep all plans for graduation and beyond in place.
For an innovative university that boasts small-class sizes, access to faculty and staff, and a close campus community, utilizing technology to convey student life and academic opportunity is a true reflection of the university's determined spirit and capacity to adapt to the current situation. The Virtual Open House reflects Ontario Tech's brand: modern, forward-thinking, open to new ideas, and its commitment to 'tech with a conscience'.
Join us on Saturday, March 28 starting at 10 a.m. to learn more about Ontario Tech University and experience our campus like never before.
We look forward to saying hello, virtually!
Questions about our Virtual Open House? Contact connect@ontariotechu.ca.
Media contact
Bryan Oliver
Communications and Marketing
Ontario Tech University
289.928.3653 (mobile)
bryan.oliver@ontariotechu.ca