Ontario Tech's Engineering Outreach programs for kids thriving
Community learning connections supporting various options for learning STEM at home
April 30, 2020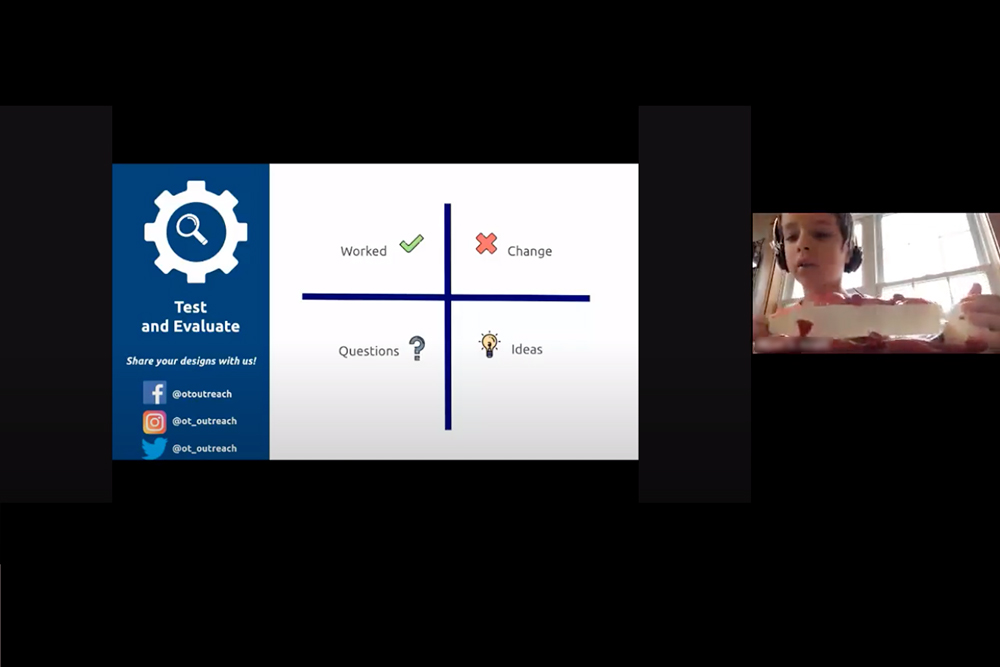 While the COVID-19 pandemic temporarily changes the education landscape, Ontario Tech University's Engineering Outreach team has launched a new remote learning program, c_wonder: At Home.
Geared to students in grades 1 to 8, the free program introduces science, technology, engineering and mathematics (STEM) concepts, including the engineering design process, coding and more. Activities include:
Live Learning Sessions
STEM at Home lessons
Educational YouTube videos
"It's so important to support science, technology, engineering and math (STEM) learning with fun hands-on activities for kids currently missing regular school," says Michelle Tsui-Woods, Project Co-ordinator, Faculty of Engineering and Applied Science. "The new c_wonder: At Home program allows us to continue this work, partnering with parents and teachers to continue to nurture their students' interest in STEM."
Designed by Ontario Tech Engineering Outreach staff, the activities align with Ontario's elementary school curriculum. In only two weeks, the Live Learning Sessions have proven popular and successful, with more than 300 participants since mid-April.
Examples of previous Live Learning Session activities include:
Engineering Wind Turbines: Students will learn about the engineering design process and design a wind turbine used to generate clean, renewable energy. The lesson will teach students all about energy, renewable vs non-renewable energy sources, and force, and then apply those principles to create a wind turbine at home!
Introduction to Coding: Students learn about the fundamentals of coding usingScratch. After an introduction to basic coding terminology and skills, they are challenged to code games they could find themselves playing in an arcade.
Participants follow along through a live lesson, where they are free to interact with the instructor by asking questions in real time. Each session includes a design challenge that relates to that day's lesson, and which participants can complete using materials commonly found at home.
"We miss seeing the students and teachers we work with every day and we are thrilled to be able to continue to support our community through the introduction of our remote-learning program," says Tsui-Woods. "Ontario Tech Engineering Outreach has grown quickly in just five years to engage with more than 50,000 youth, teachers and parents annually." 
For more information about the c_wonder: At Home programs, and to register for Live Learning Sessions, please visit the Engineering Outreach website.
Contact:
Samantha Munro
Communications Co-ordinator
Faculty of Engineering and Applied Science 
Ontario Tech University
samantha.munro@ontariotechu.ca
Gallery