Ontario Tech University students, researcher apply technology to improve access to justice, reduce poverty
Experiential learning program participants help local legal clinic streamline its client-intake process
June 25, 2020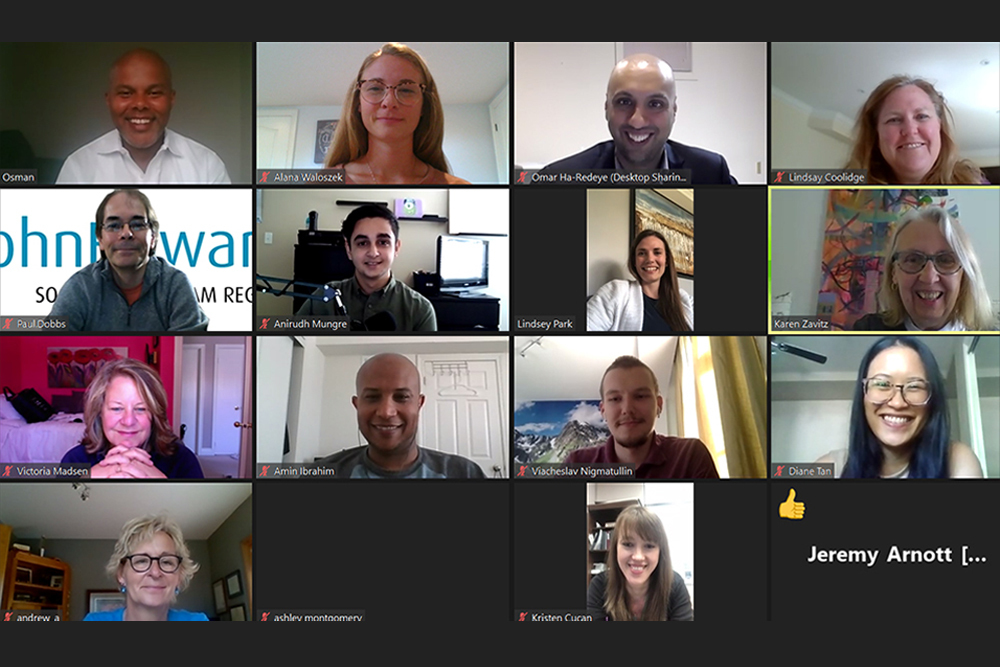 A local legal clinic is offering enhanced services to low-income residents of Durham Region thanks to the combined technological and legal expertise of an Ontario Tech University researcher and an interdisciplinary group of Ontario Tech students.
The Durham Community Legal Clinic (DCLC), a community non-profit group funded by Legal Aid Ontario, supports clients through the Durham Access to Justice Hub. The Hub is a one-stop shop for legal assistance provided by DCLC poverty-law workers, as well as other services from community organizations on a rotating basis. Some of these additional services include:
A free year-round tax clinic through the Government of Canada's Community Volunteer Income Tax Program

.

Housing, employment and training support.
Newcomer services.
Parenting programs.
Anger management programs.
The Hub is also developing a Centre for Financial Literacy to offer low-income residents access to income-stabilizing opportunities, information, and education to improve clients' financial circumstances and reduce the chances of them encountering financial-related legal issues.
In recent years, DCLC has seen an enormous surge in demand from the community due to population growth, immigration, job losses and economic challenges. These demands often exceeded what the clinic could do for the community, due on some of the manual processes it had in place. For example, the Hub's client-intake process involved entering client information into paper forms, after which DCLC staff would transfer the information to a spreadsheet.
DCLC's Executive Director Omar Ha-Redeye met with Osman Hamid, Director, Creativity and Entrepreneurship in Ontario Tech's Office of the Vice-President, Research and Innovation, to explore how DCLC might be able to tap into university talent to digitize its intake process. Brilliant Solutions was a great fit: this Ontario Tech program recruits students from various disciplines to collaborate and apply their academic expertise toward generating a solution to a challenging business problem while under the mentorship of an Ontario Tech researcher. Brilliant Solutions is offered through Brilliant Catalyst, the university's experiential learning and entrepreneurship centre.
For this project, Dr. Amin Ibrahim, Associate Teaching Professor in Ontario Tech's Faculty of Business and Information Technology (FBIT), was selected to lead a multidisciplinary team of students from three different Ontario Tech faculties:
Montgomery provided background knowledge on factors that affect legal clinic operations, and collected DCLC information relevant to the project, while Mungre and Nigamatullin developed the software. Dr. Ibrahim played an integral role in the project's development and execution, helping the team built a strong relationship with DCLC staff.
The new intake software features an online form that captures client demographics and the reason for the client's visit. Using a 'self-checkup' feature, clients can identify barriers or concerns that may prevent them from accessing programs and services available in the community. They can then refer themselves to onsite partners to access their programs and services. The tool automatically collects and analyzes the data once it's entered, and generates customizable and automated reports.
In addition to saving an enormous amount of administrative time, streamlining the intake process enable DCLC to ensure its focus remains on providing front-line legal services, public legal education and law reform activities. The system's analytical capabilities will help DCLC determine which other community partners' services should be made available through the Hub, and the types of programs DCLC's Centre for Financial Literacy should offer.
Another unexpected benefit of this project is that it will assist DCLC in resuming full operations during the COVID-19 pandemic. Digitizing processes that traditionally require face-to-face interactions will allow for better physical-distancing measures.
Quotes
"The ultimate goal of the Durham Community Legal Clinic, and the Durham Access to Justice Hub, is to alleviate the root causes of poverty through an interdisciplinary approach that promotes financial literacy and looks to the root causes of our client's legal issues. This project will help us achieve this goal, and inform other community partners and government agencies about the insights we gain from tracking these trends. We would love to explore future areas of collaboration with Ontario Tech University, especially to address some of the critical issues we're facing in the legal system. There is an access-to-justice crisis in Canada, much of which can be attributed to inefficient ways of tackling traditional problems. Technology often provides a solution, and Ontario Tech is perfectly positioned to help develop those solutions."
- Omar Ha-Redeye, Executive Director, Durham Community Legal Clinic
"This project is a solid example of Ontario Tech University's impact on the community through the ethical application of technology. It involved creativity, experiential learning and soft-skills development, which are of tremendous value to the participating students, preparing them for the workplace while uniquely positioning them to meet industry, community and government needs. We look forward to exploring future opportunities to engage with the Durham Community Legal Clinic and build on the excellent work completed by the Brilliant Solutions team."
- Osman Hamid, Director, Creativity and Entrepreneurship, Office of the Vice-President, Research and Innovation, Ontario Tech University