Ontario Tech students capture national awards from the Canadian Society of Forensic Science
August 21, 2020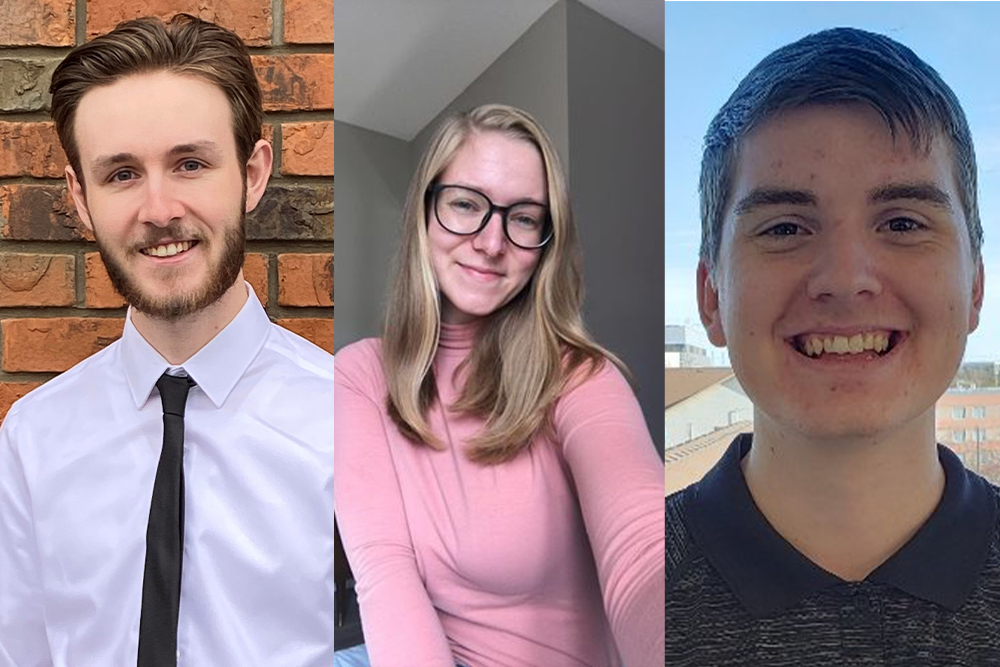 Ontario Tech University's internationally accredited Forensic Science program is celebrating the success of three students recognized with awards this year by the Canadian Society of Forensic Science (CSFS).
Priscilla Burns and Mitchell Tiessen are the 2020-2021 recipients of the CSFS Education Award that recognizes deserving students pursuing training in forensic science, and is based on scholarship and aptitude for the field.
Burns completed her Bachelor of Science in Forensic Science degree this spring with an honour's thesis examining the use of momentum to determine serious bodily injury. The Faculty of Science's Dr. Franco Gaspari, Kimberly Nugent, and firearms and ballistics expert Liam Hendrikse co-supervised her research. She plans to continue her education with a Master of Science in forensic ballistics at Cranfield University in Bedford, England.
Tiessen is a Master of Science student in the Applied Forensic Bioscience program researching ways to use electrochemical methods to age and characterize degrading bloodstains. He is conducting his research in the labs of Faculty of Science experts Dr. Theresa Stotesbury and Dr. Brad Easton. This award coincides with another recent accomplishment: a first-place award in the CSFS inaugural online poster competition (entitled "Untargeted SPME-GC-MS characterization of VOCs released from spray paints").
In the same CSFS poster competition, Kyle Penny won second place (entitled "Comparing the effects of different writing surfaces on indentations developed using the Electrostatic Detection Apparatus"). Penny also completed his Bachelor of Science in Forensic Science degree this spring and is writing up his findings for publication.
Ontario Tech's Forensic Science program is one of only two in Canada recognized by the U.S.-based Forensic Science Education Program Accreditation Commission, certifying that the university's curriculum, labs, faculty and research meet the rigorous standards established by the American Academy of Forensic Sciences.
Quotes
"I am grateful for being recognized and this Canadian Society of Forensic Science award will help me pursue further education in a field that I love."
-Priscilla Burns, 2020 Bachelor of Science (Forensic Science) graduate, Ontario Tech University 
"I have always been interested in forensic science and I am honoured to be recognized by the Canadian Society of Forensic Science and supported for my research in bloodstain aging methods. I am appreciative of the interest and engagement expressed by the academic and professional forensic communities in my work."
-Mitchell Tiessen, Master of Science (Applied Forensic Bioscience) candidate, Ontario Tech University
Learn more about Ontario Tech's Forensic Science programs