Presenting Ontario Tech University's 2020-2021 major scholarship recipients
August 20, 2020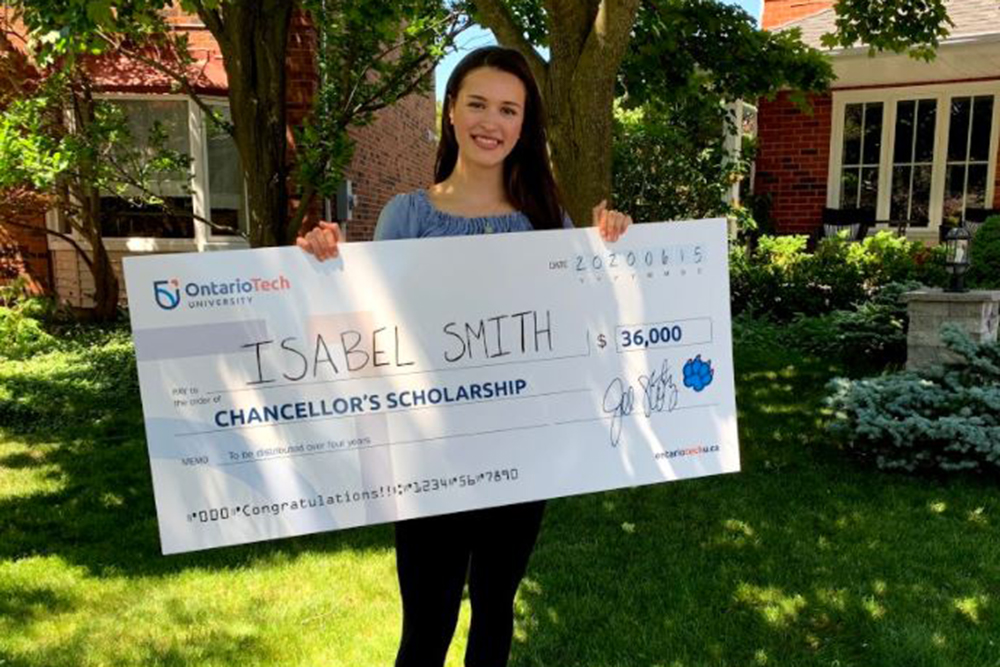 Each year, seven outstanding incoming students are awarded Ontario Tech University's most prestigious entrance scholarships. The program recognizes secondary school students with exceptional achievements in academics, leadership and community involvement throughout their high school career.
Chancellor's Scholarship: One valued at $36,000 ($9,000 a year x four years)
President's Scholarship: Two valued at $30,000 each ($7,500 a year x four years)
Founder's Scholarship: Two valued at $24,000 each ($6,000 a year x four years)
FIRST Robotics Canada Scholarship: One valued at $12,000 ($3,000 a year x four years)
Global Leadership Award: One valued at $72,000 ($18,000 a year x four years)
These scholarships enable our students' continued success and guide them to be exceptional in their futures.
2020-2021 academic year recipients
The Chancellor's Scholarship recipient is Isabel Smith (Electrical Engineering) from Courtice. Isabel chose Ontario Tech University for its unique engineering co-op program, saying: "Winning the Chancellor's Scholarship shows me that Ontario Tech recognized my hard work throughout high school, and is invested in continuing to allow me to succeed. This award will help me to stand out when I am applying for co-op positions and start this new journey on the right foot."
This year's President's Scholarship recipients are James Lisondra (Biological Science - Life Science) of Whitby and Megan Patterson (Kinesiology) from Newcastle. Both students chose Ontario Tech for its smaller class sizes and its tight knit, welcoming campus.
James says the scholarship will help him build his application for medical school: "Receiving this scholarship allows me to invest my time into the school's student-based academics, extracurriculars, research and volunteer opportunities, satisfying my passion for social advocacy while strengthening my application to medical school."
Megan says the President's Scholarship will help her stay focused: "Without having to worry over the financial aspects of university, I'll be able to put more focus on school work and continue my volunteer efforts, in addition to having the time to continue with the extracurriculars I've grown to love over the years."
This year's Founder's Scholarship recipients are Sophia Fischer (Nursing Collaborative) of Ajax and Mikayla Chiappetta (Biological Science - Life Science) from Scarborough. Sophia chose Ontario Tech for its newer learning community, while Mikayla is looking forward to getting involved in social programs such as clubs, sports teams and co-op.
Sophia says the scholarship and the university's approach to learning will help her accomplish her goals: "Ontario Tech has a smaller campus and tight-knit community which will allow me to get to know my professors, teaching assistants and classmates, which is very important to me. In addition, this scholarship will help me accomplish my goals at Ontario Tech as I can focus on my academic goals as well as my community involvement and not have to worry about paying my tuition."
For Mikayla, receiving the scholarships means that she can put more time towards her studies and extracurricular activities: "I will get the chance to fully enjoy university life at Ontario tech.  I believe that it will present me amazing opportunities and will grant me the support and connections I may need along my journey to achieve my goals."
Rounding out this year's domestic recipients is our FIRST Robotics Canada Scholarship recipient, Nico Kratofil (Mechatronics Engineering) of Timmins. Nico is extremely proud and excited to be able to continue his education at Ontario Tech in the fall: "Being the recipient of the FIRST Robotics Canada Scholarship is a great honour. It will allow me to worry a little less about finances and focus on my studies as well as enjoy my university experience as a whole."
This year's international Global Leadership Award recipient is Japnit Ahuja (Computer Science) of New Delhi, India. She is looking forward to becoming a member of the Computer Science and Engineering Society, while also gaining important skills to help her succeed in the future: "The university's internship opportunities will provide me with hands-on expertise in the field of machine learning. This will give me the confidence I need to excel at my workplace."
For information on applicant criteria for each award, visit the scholarships web page.
| | | | | | |
| --- | --- | --- | --- | --- | --- |
| Award | Name | Faculty | Program | Hometown | High School |
| Chancellor's Scholarship | Isabel Smith | Engineering and Applied Science | Electrical Engineering | Courtice | Holy Trinity Catholic Secondary School |
| President's Scholarship | James Lisondra | Science | Biological Science - Life Science | Whitby | Father Leo J. Austin Catholic Secondary School |
| President's Scholarship | Megan Patterson | Health Sciences | Kinesiology | Newcastle | Bowmanville High School |
| Founder's Scholarship | Mikayla Chiappetta | Science | Biological Science - Life Science | Scarborough | St. John Henry Newman Catholic High School |
| Founder's Scholarship | Sophia Fischer | Health Sciences | Nursing Collaborative | Ajax | Notre Dame Catholic Secondary School |
| FIRST Robotics Scholarship | Nico Kratofil | Engineering and Applied Science | Mechatronics  Engineering | Timmins | Timmins High and Vocational School |
| Global Leadership Award | Japnit Ahuja | Science | Computer Science | New Delhi, India | National Junior College, Singapore |
Gallery