Career Ready Fund Auto Stream a winning combination for Ontario Tech students and employers seeking new talent
Auto Incentive Program will drive work-integrated learning opportunities and steer students toward careers
September 25, 2020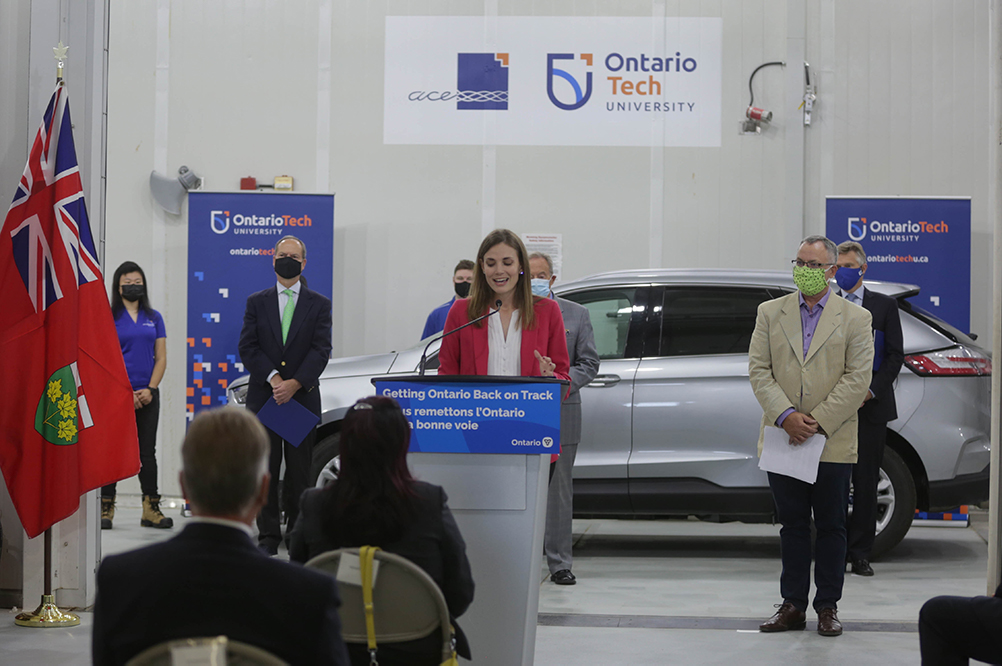 As Ontario businesses and industries adjust to changes brought on by the COVID-19 pandemic, a new provincial investment in skills development will provide a boost to help employers tap into the pipeline of talent emerging from universities and colleges.
The Ontario Ministry of Labour, Skills and Training is investing $757,143 in the new Career Ready Fund (CRF) Auto Stream program led by Ontario Tech University, in partnership with Durham College and Loyalist College. The program is designed to help automotive and advanced manufacturers hire upper-year students and recent graduates from Ontario Tech University.
The funding is part of an investment by the province of nearly $1.28 million to help people in Durham Region train for good jobs in the automotive, transportation and construction sectors.
The CRF Auto Stream provides employers with a one-stop shop of top students and high-quality future employees. Under the program, qualifying companies and associations connected to Ontario's automotive sector will receive $3,000 for each student placement that lasts anywhere from 10 weeks to four months. Higher amounts per placement will apply for participants with one or more disabilities. Employers may also be eligible for a Co-operative Education Tax Credit.
Ontario Tech, Durham College and Loyalist College students and recent grads will gain invaluable practical experience, further preparing them to be workplace-ready. In addition to students in automotive, electrical, mechanical and software engineering, students in related advanced manufacturing studies will be eligible, including those in science, business and information technology, health sciences, and social sciences and humanities programs. CRF work experience will count toward program placement requirements in their degree program. 
The CRF program will benefit up to 100 Ontario Tech students.
Quote
"The Career Ready Auto Fund directly connects to one of Ontario Tech's founding principles to provide students with hands-on, experiential learning opportunities that ensure our graduates are workplace-ready, and most importantly, prepared to make a significant impact in their careers. Along with our partners Durham College and Loyalist College, we will secure new opportunities that benefit both our students and the sector."
-Dr. Steven Murphy, President and Vice-Chancellor, Ontario Tech University
Media contact
Bryan Oliver
Communications and Marketing
Ontario Tech University
289.928.3653 (mobile)
bryan.oliver@ontariotechu.ca
Gallery