That's cool: Ontario Tech tops in the province in Sierra Magazine 'Cool Schools' rankings
University earns further international recognition for campus sustainability initiatives
October 2, 2020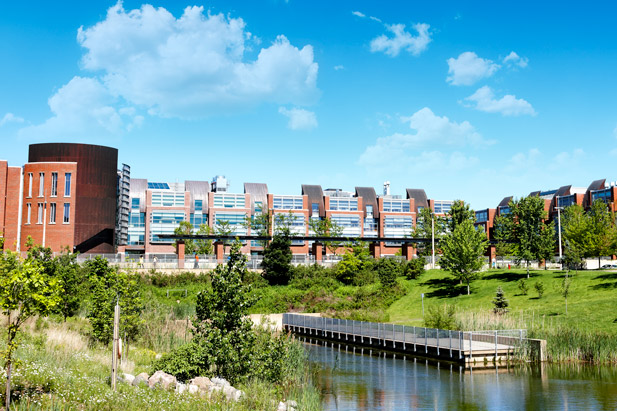 As Ontario Tech University gets closer to marking 20 years as a technology-driven post-secondary leader, the university's efforts in campus sustainability and reputation for the ethical application of technology have long been institutional hallmarks.
Reinforcing Ontario Tech's unwavering commitment to 'tech with a conscience', the Sierra Club's 2020 Cool Schools rankings positions the university No. 1 in Ontario for initiatives related to campus sustainability. The Sierra Club is the United States' oldest, largest, and most influential grassroots environmental organization.
Five Canadian universities ranked among the top 50 in North America, an elite group that includes Ontario Tech.
The Office of Campus Infrastructure and Sustainability (OCIS) drives Ontario Tech's diverse efforts to be innovative as a future-driven institution. The Cool Schools accolade follows a series of awards to Ontario Tech from the Philadelphia-based Association for the Advancement of Sustainability in Higher Education, which publishes a Sustainable Campus Index under the Sustainability Tracking, Assessment & Rating System.
Ontario Tech 'walks the talk' on matters of sustainability
Ontario Tech University began offering an inter-faculty Minor in Sustainability Studies in 2019, and is developing an interdisciplinary major expected to be available to students soon.
Learn about Ontario Tech's wide range of 'Go Green' on-campus efficiency measures, including electricity and water use, waste disposal, transportation, recycling and reuse programs, and more.
Learn about the activities of Ontario Tech's Blue Team that drive campus engagement to create a culture of sustainability through specific initiatives, special events, agricultural production, and more.
Spotlight: Energy sustainability leadership
Ontario Tech is home to Canada's largest geothermal system (and the second largest in North America), a 1,500-ton Borehole Thermal Energy Storage System that sits hidden beneath the 7,500-square-metre quad at the centre of the complex. The installation comprises more than 370 bore holes (180 metres deep), which are used to heat and cool the campus buildings. Water circulates through the underground network through 150 kilometres of polypropylene piping. In the winter, the geothermal system takes heat from the earth and carries it to the buildings. In the summer, the same system removes heat from the buildings and disperses it into the ground. The innovative system links each building to a central heating, ventilation and air-conditioning (HVAC) plant.
Spotlight: Water management sustainability
Ontario Tech uses a 'greywater' collection and management system to enhance its water conservation efforts. The university knows water is precious, which is why it looks for smart ways to use water. It recycles the 180,000 litres of water used daily in its Aquatic Toxicology laboratory into 'greywater' that flushes toilets and urinals on campus. This system saves 32 million litres of water every year.
As well, to manage runoff at the university's north Oshawa campus location, stormwater is directed to ponds, bioswales and storm ponds in a manner that demonstrates sustainable stormwater design while enriching the campus landscape.
Quote
"Ontario Tech University's impressive ranking within Sierra Magazine's 2020 Cool Schools survey underscores once again how serious our campus community is when it comes to environmental stewardship. Sustainability is deeply engrained in all we do, and these efforts differentiate us as a university. We are proud to be recognized for our commitment to social responsibility, inclusivity, and in trying to make our world a better place for future generations."

-
Dr. Peter Stoett
, Dean, Faculty of Social Science and Humanities
Related research links
Media contact
Bryan Oliver
Communications and Marketing
Ontario Tech University
289.928.3653 (mobile)
bryan.oliver@ontariotechu.ca