Say hello again: Ontario Tech University's new brand wins national marketing award
University recognized for brand excellence by the Canadian Marketing Association
November 24, 2020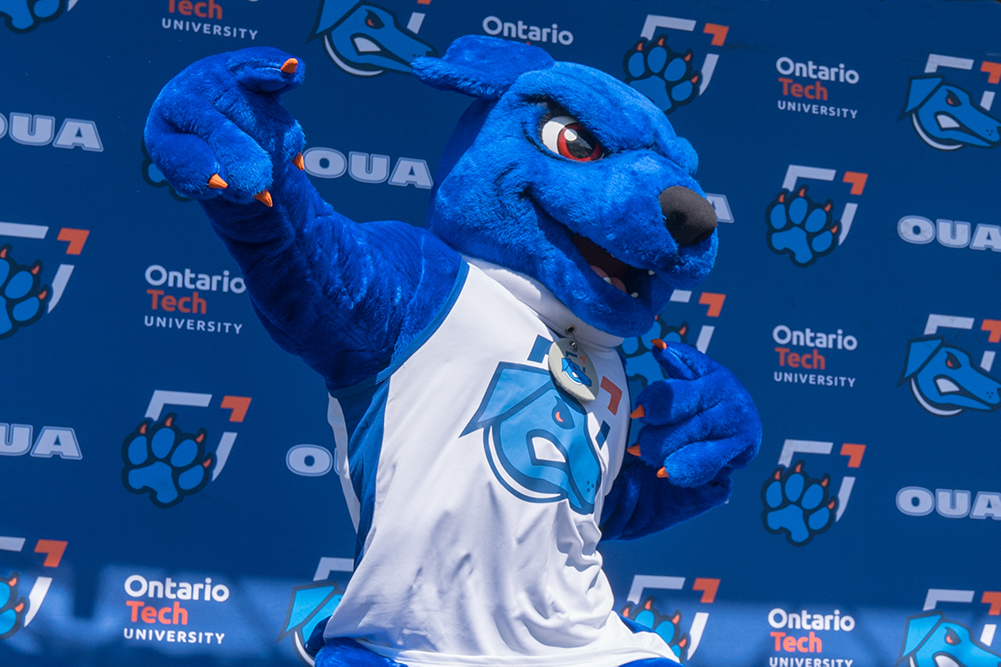 As its new brand gains traction and recognition among all audiences both new and longstanding, Ontario Tech University's vibrant new presence is winning praise from the highest tier of Canadian marketing experts.
Formally unveiled in March 2019, Ontario Tech's bold new look and feel is the winner of a 2020 Canadian Marketing Association (CMA) Award (Silver) in the discipline of Brand Building and the category of Social Causes.
Developed in consultation with Toronto-based advertising agency SOS Design, the university's rebranding campaign 'Say hello to Ontario Tech' was a complete revamp of the previous University of Ontario Institute of Technology brand. From its inception in 2002, the university's original moniker struggled to generate institutional differentiation, keeping it the best-kept secret in higher education in Canada.
The transformational rebrand journey was a complex and multi-stakeholder process driven through the foresight and leadership of President and Vice-Chancellor Dr. Steven Murphy and visionary support from the Ontario Tech Board of Governors.
Key metrics indicate brand awareness is up more than 10 per cent over the last year. Among the key Ontario high school student audience, the results are particularly dramatic, with awareness jumping to 77 per cent from 47 per cent.
Over the past 20 months, the complete rebrand to Ontario Tech University has created a vibrant and integrated platform to help share its story with the world. Ontario Tech's updated logo, colours, website, digital presence, key messages, marketing collateral and approach to recruitment reflect the university's future-minded commitment to tech-focused programming.
As part of the refreshed Ridgeback 'spirit brand', even the mascot Hunter the Ridgeback received a new look and feel, a design that won the 2020 Ontario University Athletics Best Mascot award in June.
The transparent and inclusive process to develop Ontario Tech's new brand included consultation, support and contributions from community partners, and faculty, department and unit partners across campus, including:
External Relations and Advancement
Communications and Marketing
Registrar's Office
Office of Student Life
Department of Athletics
A record number of judges from across Canada reviewed this year's CMA awards through a three-round virtual process. All CMA Award finalists qualify to enter the 2021 Marketing Agencies Association GLOBES, an international celebration of the best campaigns from marketers around the world.
Quick fact
Ontario Tech's brand also won a North American education-sector award earlier this year from the Council for the Advancement and Support of Education Circle of Excellence Awards Program (Bronze Medal in the Marketing category).
Related link
Quote
"As one of the most competitive awards for marketing on the national scene, this recognition from the Canadian Marketing Association is a huge accomplishment that is proudly shared by everyone at Ontario Tech. So much incredible work by a dedicated team went into the planning and execution of the Ontario Tech brand rollout over an exceptionally short period. This collective work and careful attention to detail provides a solid foundation for the university as it positions itself for future growth and success."
-Susan McGovern, Vice-President, External Relations and Advancement, Ontario Tech University
Media contact
Bryan Oliver
Communications and Marketing
Ontario Tech University
289.928.3653 (mobile)
bryan.oliver@ontariotechu.ca
Gallery