Ontario Tech's ACE helping take next steps on pedestrian safety with autonomous vehicles
SmartCone Technologies and IBM collaborating with ACE to validate how high-tech sensors in driverless cars detect pedestrians and cyclists
January 6, 2021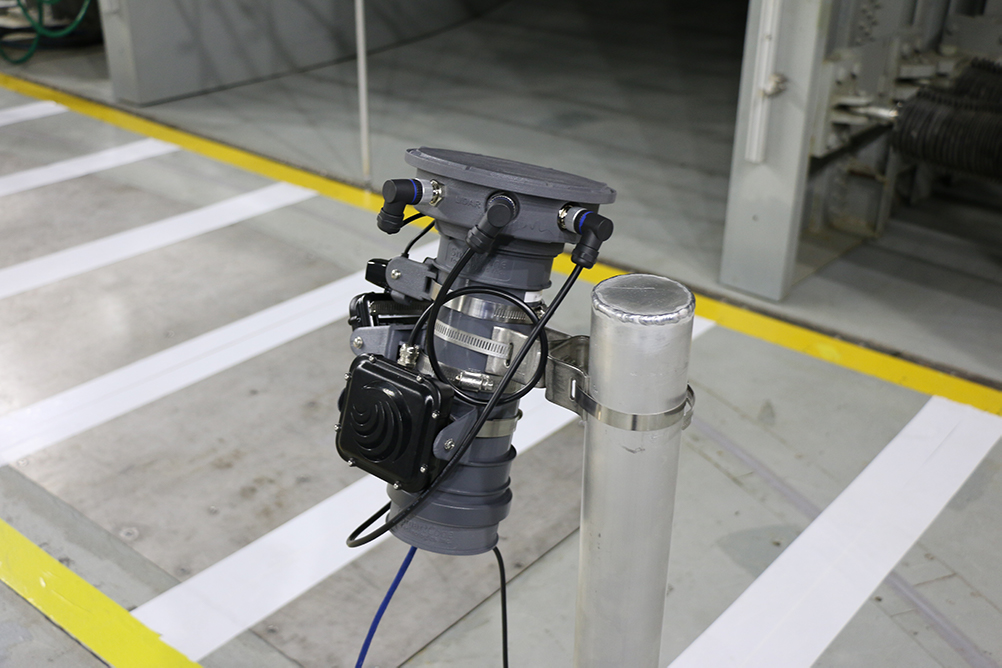 The road ahead for developing safe and reliable autonomous vehicle (AV) technologies runs through Ontario Tech University.
The concept of the self-driving car has been around for decades, foreshadowed in the 1968 Walt Disney comedy film The Love Bug, which 'starred' an autonomous white Volkswagen Beetle named Herbie that had a creative mind of its own to win car races. Over the years, younger generations were introduced to the adventures of The Love Bug through various sequels and remakes, a made-for-television comedy (1997), and even a video game (2005).
More than half a century after Herbie first appeared, fiction has long disappeared in the rear-view mirror. Today, AVs are very real and offer enormous potential benefits for society, including improved travel options for people with visual and/or mobility challenges, reduced carbon emissions through fewer accidents, less traffic congestion, improved fuel economy, reduced travel times, and more. Automakers are working aggressively with high-tech companies to develop AV technologies that are intelligent, deployable, adaptable, cost-effective, and of course, meet the highest standards of security and privacy.
And that's where ACE at Ontario Tech University enters the equation. As a leading international commercial automotive research, development and innovation centre, ACE is where engineers and industry collaborate to create, test and validate paradigm-shifting innovations, with a focus on bringing them to market as rapidly as possible.
One such ACE collaboration involves SmartCone Technologies (Stittsville, Ontario) and IBM, in a partnership to test AV sensors that pick up pedestrian activity. 'Vulnerable Road Users' (VRU) include cyclists, pedestrians and construction workers. These considerations formed the basis for the Internet of Things (IoT) Climatic Wind Tunnel Phase 2 / SmartCone Integration Project at ACE.
The technological challenge
Human drivers and autonomous vehicles alike have difficulty in detecting VRUs, and the challenge becomes much harder in inclement weather. 
Advanced Driver Assistance Systems (ADAS) as well as autopilot capabilities typically used in AVs may not be able to detect VRUs reliably. In many cases, these systems may need additional data from an interconnected network to ensure VRU safety (such as from sensors in other vehicles, traffic lights, highway lanes and construction workers).
The manufacturers involved in the interconnected network must be able to test the technology in a real-world scenario in order to understand and develop appropriate sensors and devices, as well as the associated machine learning capabilities to support VRU safety.  
How the ACE VRU test worked
The ACE solution involved creating a simulated crosswalk inside ACE's massive climatic wind tunnel where a pedestrian walked in front of an AV on a single-lane road. The test used consistent simulated AV speeds, but these velocities are modifiable for future tests.
SmartCone hardware mounted at each end of the crosswalk was equipped with radar and lidar (light detection) sensors to detect the pedestrian's walking speed. A high-definition directional camera and a thermal camera were placed six metres away to record motion events along the sidewalk. All data streams were captured by IBM's data-processing software and visualization dashboard. The SmartCone gateway published data two times per second, triggering appropriate danger alerts to the platform.
In this controlled environment, ACE was able to validate a system that successfully detected the VRU crossing at the mock intersection, as well as predict the possibility (low/medium/high) of a collision taking place between that person and a vehicle travelling at a specified speed.
The findings of this project will prove valuable to SmartCone Technologies and its subsidiary for intelligent transit, AutoGuardian by SmartCone.  
Note about COVID-19
Although restrictions due to COVID-19 did require temporarily pausing in-person testing at ACE, research partners, including U.S.-based partners from IBM who were not able to travel to Canada, were able to participate remotely through a virtual network set up at ACE. 
Related links
Quotes
"SmartCone is proud to partner with Ontario Tech and IBM in this project to further test how our sensors act in harsh environments and what we can develop to assist the safety of individuals. We will take these finding and adapt them into solutions for our various subsidiaries to increase safety across multiple markets."
-Jason Lee, CEO SmartCone Technologies
"AutoGuardian is excited to utilize the learnings from this project to build upon solutions to create safer roads through intelligent infrastructure and mobility. Projects and partnerships like this drive technology further for the benefit of all."
-Tenille Houston, CEO, AutoGuardian By SmartCone
"The global race to develop autonomous vehicles has created a suite of new cost-effective sensor technologies across the automotive industry that companies like SmartCone can incorporate into products that enhance safety in communities and workplaces. We look forward to continuing this ongoing partnership that is bringing safety innovation to the market."
-Dr. Justin Gammage, Industry Liaison Manager, Office of the Vice-President, Research and Innovation, Ontario Tech University
ACE and Ontario Tech: A vital research hub within the province's ecosystem for automotive and smart mobility technologies
ACE at Ontario Tech is a founding partner within the Ontario Autonomous Vehicle Innovation Network (AVIN). SmartCone and IBM are two major partners within AVIN's Durham Regional Technology Development Site at ACE. AVIN is using this research to create safer smart cities and ensure pedestrian safety as AVs come to market.
About SmartCone Technologies
SmartCone Technologies Inc. (SCTI) is a unique data sensory company that commercializes new Internet-of-Things (IoT) technologies powering a wide array of sensors, edge computing, sensor fusion and artificial intelligence (AI). TheSmartCone™ solutions have been used most recently in Return to Work solutions during the COVID-19 pandemic, as well as securing dangerous work sites, controlling bicycle lane traffic, managing vehicle fleets, smart warehouses, crowd control, and more. Visit us at www.thesmartcone.com
About AutoGuardian by SmartCone
AutoGuardian arms cities with the data AND solutions they need to achieve vision zero. Our unique focus is an analyzing and making urban environments safer for vulnerable road users (VRUs) by increasing awareness through intelligent mobility. By combining intelligent infrastructure and first/last mile transit through electric, autonomous vehicle operations, the transportation industry will be forever changed. www.autoguardian.ca
Media contacts
Mark Klintworth
Manager, Business Development
ACE
Ontario Tech University
905.809.3480 (mobile)
mark.klintworth@ontariotechu.ca
Bryan Oliver
Communications and Marketing
Ontario Tech University
289.928.3653 (mobile)
bryan.oliver@ontariotechu.ca
Gallery