At the top of her game: Ontario Tech student wins game-dev competition
Giulia Santin takes first place in provincial contest organized by Ubisoft
February 3, 2021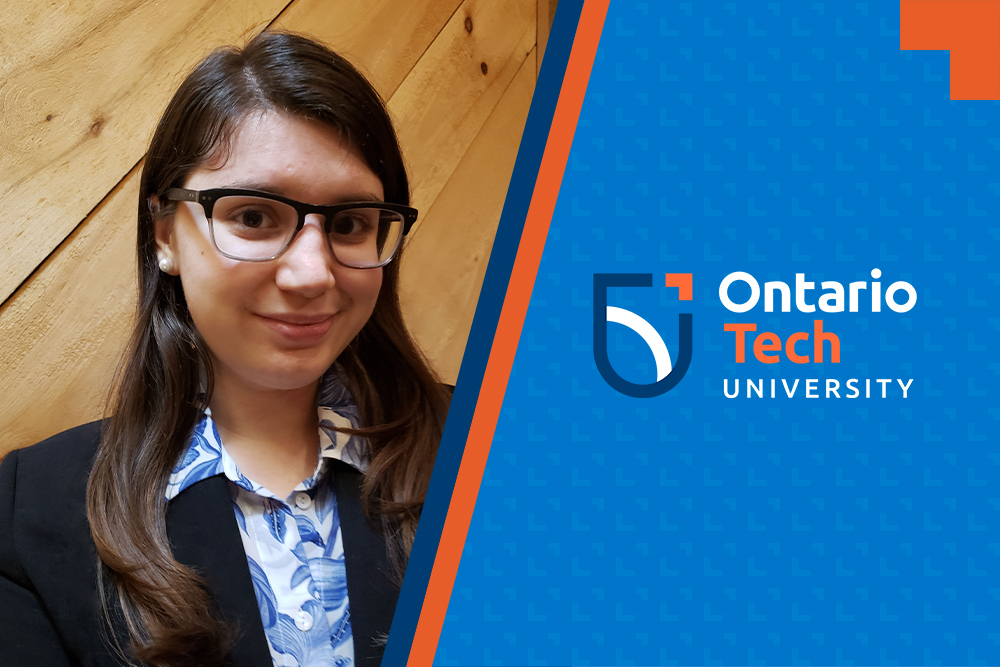 As far back as she can remember, Giulia Santin has loved storytelling as well as consuming stories.
"Any medium offers a creative outlet to share a message or a theme, be it in the form of a book, play, TV show, musical or comic book," says Giulia, a fourth-year student in the Game Development and Entrepreneurship specialization of Ontario Tech University's Bachelor of Information Technology degree program. "I never thought of video games as a medium I could use to tell meaningful stories until I played a game called Life is Strange."
Giulia says playing that game brought her a life-changing realization.
"I felt a deeper connection with the characters and story of Life is Strange than with any book I read or movie I ever watched," explains Giulia. "I realized video games are more interactive, while movies are more passive. You are a part of the story, actively making decisions in the game, which impacts the characters and the world you are playing in. This helps to build a deeper connection with the story. In movies, you just watch what happens: you aren't a part of it. That was the moment I realized I wanted to do game development."
And what a story the Faculty of Business and Information Technology (FBIT) student has to tell this winter—except this particular story is exclusively about her.
On January 26, Giulia learned she won first place in the Game Design Challenge in the first edition of the Womxn Develop at Ubisoft mentorship competition. The award includes a paid apprenticeship at the Ubisoft Toronto studio, to work on the company's leading games and to learn from experienced teams as they start their careers in game development.
Giulia designed a non-binary operator named 'Blink' that adds a seek-and-destroy element to the game Tom Clancy's Rainbow Six Siege. Blink's character focuses on intel denial, disabling the game's defenses, and opening entry points in the game. Blink's unique gadget is the electromagnetic pulse (EMP) dart, which allows players to disable defenders' primary gadgets and then destroy them once the defender has died.
Blink's characteristics encourage communication, teamwork, and strategizing among players, and teaches about the different operators and gadgets, and their impacts on gameplay.
"My Ontario Tech program has taught me a lot about game design and how to properly create and design for an intended player experience," says Giulia, a graduate of Earl Haig Secondary School in North York. "This learning helped me a lot during the challenge since we had to create a character that solved a specific problem for the players and the game."
Giulia also received advice from game design instructor James Robb, Associate Teaching Professor, FBIT, on effectively conveying her ideas to Ubisoft.
"My favorite part of the competition was being able to sit down and talk to the Ubisoft mentors. We discussed the character I was designing, along with the mentor's industry experience both inside and outside of Ubisoft. We also talked about design elements in other games that we enjoy, specifically the design of What Remains of Edith Finch. I was able to learn a lot."
According to a report by statista.com, in the world of game development in 2019, men outnumbered women by a 3-to-1 margin. The Womxn Develop at Ubisoft mentorship aims to attract and develop diverse talent for its studios around the world. With more gamers worldwide than ever before, the company want to build and create inclusive entertainment that truly reflects global diversity.
"I am really passionate about social impact games, specifically creating games with mental health representation and empathy game design," says Giulia. "A goal of mine is to have these areas be better represented in mainstream games. I'd like to create a game design outline on how to properly represent mental health in games and how to tie it into gameplay instead of it just being a story element."
Another Ubisoft honour awarded to an Ontario Tech alumna
In the same Ubisoft competition, 2019 Ontario Tech master's degree graduate Afsaneh Towhidi won second place in the Programming Challenge to create a one-button game over one weekend, coded entirely in C++. In Afsaneh's game Little Bit Evil, an overworld cat named Moony is expected by a dark lord to deliver innocent souls to the underworld. If Moony fails, the cat is destined to live in the underworld forever.
Now a machine-learning engineer and Python developer, Afsaneh was also a teaching assistant and research assistant while completing her master's degree at Ontario Tech.
---
Media contact
Bryan Oliver
Communications and Marketing
Ontario Tech University
289.928.3653
bryan.oliver@ontariotechu.ca