Ontario Tech's COVID-19 wastewater surveillance initiative welcomes next research partner
Simcoe-Muskoka area joins wastewater-testing system; Durham Region part of the program since last summer
February 22, 2021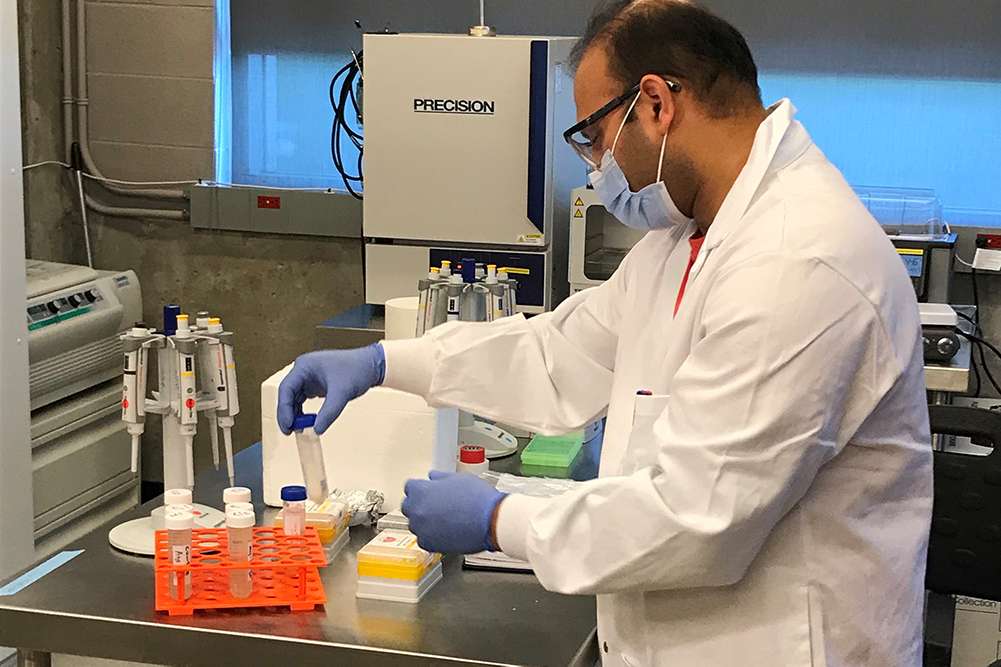 University research improves the quality of life in Canada by creating knowledge, driving academic collaborations with industry and the community, championing social innovation and helping solve challenges.
As the COVID-19 pandemic began to unfold last spring, Ontario Tech University was one of the first in the province to work directly with a municipality (Durham Region) to develop a COVID-19 wastewater assessment program. The innovative made-in-Durham plan: collect dozens of untreated sewage samples weekly from multiple water-pollution control plants across the area, and test them for traces of the virus.
"We certainly know COVID-19 can spread rapidly and many patients are asymptomatic, so this serves like an early warning system for infection and severity, in some cases 6 to 10 days before residents start to show or report symptom onset," says Dr. Andrea Kirkwood of Ontario Tech's Faculty of Science, lead researcher on the project. "From the initial idea in May, it took some time to get our plan in place, to consider how to co-ordinate funding, hire program personnel, and set-up appropriate lab facilities."
Initial external financial support came from Mitacs, Cole Engineering Group Ltd. and the Ontario Clean Water Agency. In the fall, the provincial government included funding in the budget to support an Ontario-wide COVID wastewater surveillance program.
Since November, tracked information has been shared weekly with Durham Region Health Department officials to help health experts determine appropriate steps to limit or prevent further infection in the community. The early success of the program has now led to the City of Barrie, and Towns of Orillia, Midland and Collingwood to get samples tested three times per week at Ontario Tech. Surveillance results are reported to the Simcoe-Muskoka District Health Unit.
"It's important to make the point that this kind of monitoring is brand new and that sewage surveillance presents many challenges," says Dr. Kirkwood. "Huge credit goes to our COVID-19 wastewater team at Ontario Tech who addressed these challenges head on and perfected the methodology. While the funding agreement with the province has not been finalized, we are now processing wastewater samples from a dozen sites, eight in Durham Region and four in Simcoe-Muskoka."
Studies have shown wastewater-based epidemiology can be an effective and powerful tool to assess viral infections at a community level or small population such as long-term care facilities, university campus residences, and correctional facilities. Publicly available data will be accessible through an online provincial dashboard still under development.
"Our goal is to develop a rapid response and rapid turnaround time in reporting SARS-CoV-2 signals," says Dr. Kirkwood. "The genetic material (RNA and protein indicators) is extracted within a few hours of receiving the samples. The faster the health experts know, the faster they can mitigate to reduce infection spread."
Higher SARS CoV-2 signals were observed during the holidays and early January as number of cases increased in Ontario.
Quantitative polymerase chain reaction (qPCR) has emerged as the lab method of choice for COVID-19 detection from wastewater. Techniques using high-pressure liquid chromatography and mass spectrometry were first applied and tested at Ontario Tech and can offer a potential dual detection system.
"Efforts are ongoing to develop a standardized detection method in collaboration with federal and provincial research labs as well as other universities across Canada," says Dr. Kirkwood. "These sample-testing tools have the potential to protect public health and provide significant near-term and long-term economic savings."
Background information
Ontario Tech COVID-19 wastewater team (Faculty of Science)
Media contact
Bryan Oliver
Communications and Marketing
Ontario Tech University
289.928.3653 (mobile)
bryan.oliver@ontariotechu.ca
Gallery