Ontario Tech Engineering students share insights on how to maximize the remote-learning experience
Faculty of Engineering and Applied Science reveals top observations
March 1, 2021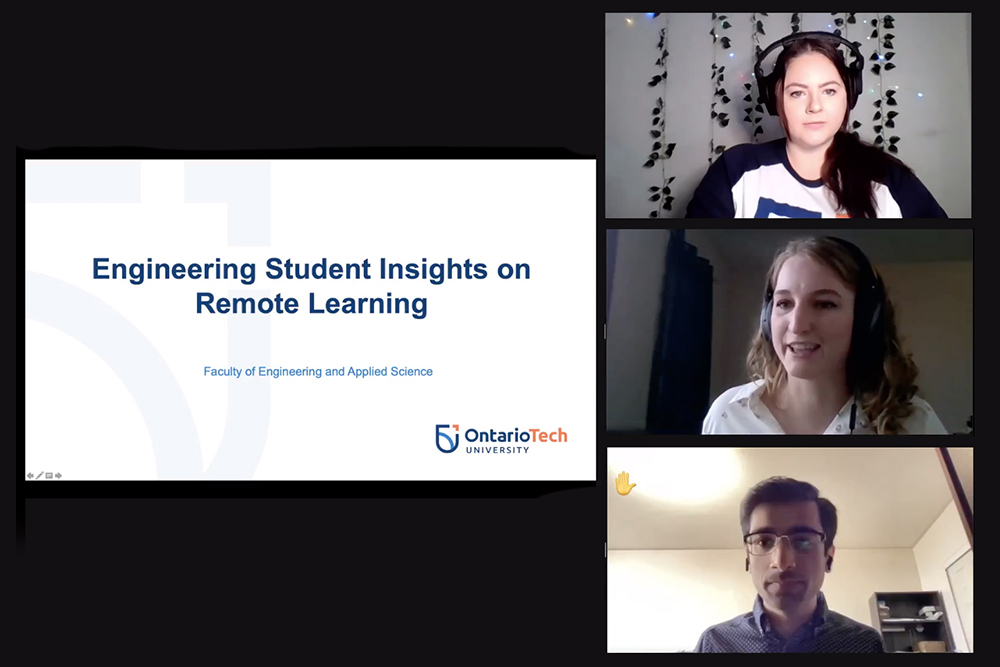 Sometimes one of the best ways to learn is to put yourself in someone else's shoes. That's what Ontario Tech University Faculty of Engineering and Applied Science (FEAS) professors did when they briefly switched roles with students during a recent virtual webinar entitled Engineering Student Insights on Remote Learning.
A panel comprising students across the university's different Engineering programs and spanning different years of study, answered questions from FEAS faculty members as they reflected on their remote-learning experiences over the past two semesters. The feedback will help FEAS gain a better understanding of the successes and challenges students face with the switch to online learning during the COVID-19 pandemic.
Here are the student panel's top findings and recommendations:


Take full advantage of Google Workspace products. Ontario Tech uses Google Workspace (also known as 'G Suite'), a set of cloud computing, productivity and collaboration applications. Many of these Google apps can improve the remote learning experience. Try using Google Calendar to schedule classes, office hours and appointments, where the Google Meet link is easily accessible.


Get creative with your content delivery. While remote teaching has its challenges, it also presents great opportunities for delivering content in engaging ways. Consider using a webcam pointed at a whiteboard so students can work through a problem with you in real time, or finding videos that demonstrate practical aspects of concepts you're teaching.


Encourage participation and make your lecture interactive. It's easy for students to hide behind the computer screen during remote lectures. Consider ways to make your lecture interactive and encourage student participation, such as giving bonus marks for being inquisitive, or try incorporating breakout rooms into some of your lectures to facilitate discussion. When students can interact in small groups, many of them feel more comfortable turning on their cameras and sharing their opinions. You can also make use of the discussion board functionality in Canvas, and award marks for asynchronous discussion; just make sure you set clear expectations and mark requirements.


Give the class a way to communicate. Consider creating a space to facilitate communication between classmates. Create a discussion board where students can ask each other questions, or share knowledge between each other. This can be beneficial if you find many students are asking you the same questions; it also gives them a way to feel connected.


Record your lectures and labs. Remote teaching has presented the unique opportunity to easily record your lectures and labs and make them available to students after the fact. Students can benefit from re-watching a lecture or a lab to get clarification, or can try to work out questions on their own before asking for help. If you're concerned about students skipping class and only watching the recording, consider posting them a week behind. It should not be seen as asynchronous delivery, but rather as a learning tool, and students should still attend the live lecture.


Think about alternative assessment options. Many professors have concerns about academic misconduct when it comes to online assessments. To prevent academic integrity issues,, consider alternatives to a traditional timed exam. Some suggestions include: at-home projects, weekly pop-up quizzes worth a few marks, or take-home/open-book exams. There are other more creative options: one professor had his class take a free online workshop from an American university as an assignment, with students receiving a certificate at the end. This was well-received, as students learned something, built skills, and were able to add the workshop to their resumé.


Make the submission process easy. Technical malfunctions happen. Offer a backup submission option and let students know about it ahead of time, and build in some buffer time for assessment or assignments. For example, let students know that if they are having technical issues, they can email you their submission as a backup. This can relieve stress and make things easier for you down the road if something goes wrong. Also consider adding a 15-minute buffer to your submission deadline. If students have to submit their assignments by 10 p.m., wait until 10:15 p.m. to close the assignment.


Be mindful of screen fatigue. A student taking five or six classes is likely spending upwards of eight to 10 hours per day in front of the screen just for classes. Try to incorporate short breaks in your lecture between topics and encourage students to stretch or grab some water. 


Re-evaluate your workload. Many students felt their workload increased substantially this year in comparison to in-person teaching. Part of this could be an adjustment to remote learning coupled with screen fatigue and pandemic stress. However, the students' sentiments serve as a good reminder to re-evaluate your workload and check in with students to see if the course work is overwhelming.


FEAS student panelists
Sydney Smith (panel moderator), Software Engineering (Year 4)
Abdul Zainul Abedin, Software Engineering (Year 4)
Sara Dara, Nuclear Engineering (Year 4)
Nan-Rong Hui, Electrical Engineering (Year 3)
Mario Megalli, Electrical Engineering (Year 2)
Olivia Wilz, master's degree student, Mechanical Engineering
Derek Yeung, Mechanical Engineering (Year 4)