Let the games begin: Ontario Tech's GameCon a showcase of students' game development talent
Super-creative GameDev students put their game concepts to the test in annual competition
April 29, 2021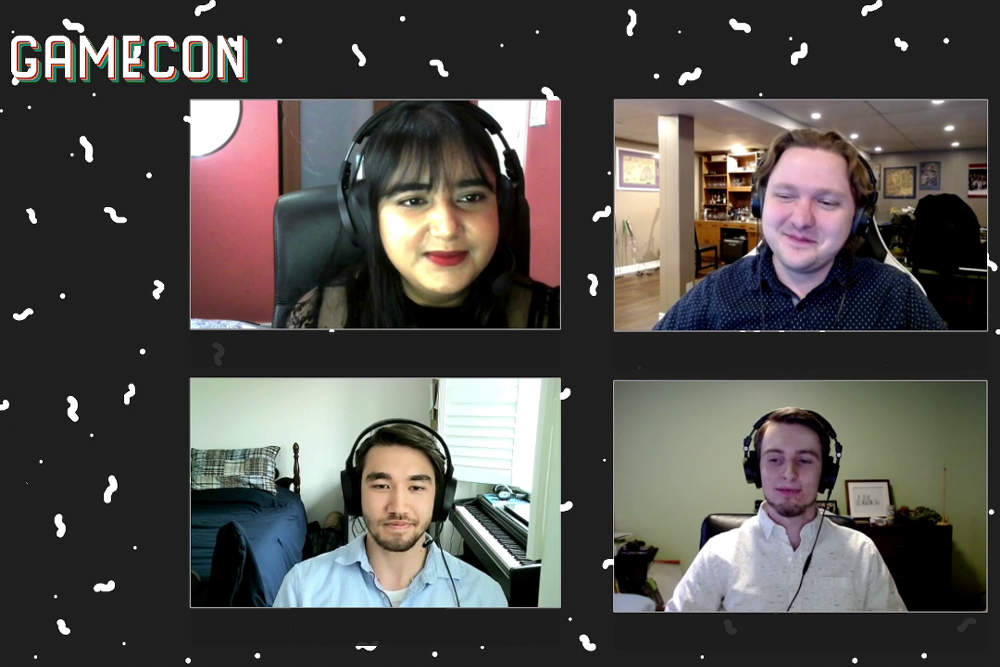 Before any new video game makes it to the marketplace, it needs to be conceived, developed, tested for user experience, amended and reworked.
The Bachelor of Information Technology in Game Development and Entrepreneurship* (GDE) is among Ontario Tech University's  differentiating programs, where students learn from the get-go about the processes and countless hours behind turning a game idea into polished final product.
*Note: starting with the 2021-2022 academic year, this program will be renamed Game Development and Interactive Media.
Academic year culminates with the GameCon competition
A highlight of the academic year each April, GDE students compete in GameCon, a high-profile showdown of innovative game creation run by the Game Development Students Association (GDSA) in collaboration with the Faculty of Business and Information Technology (FBIT).
Students in their first three program years create a playable product from scratch as part of their Game Development Workshop course. Students have full creative control over their work. Meantime, students in fourth year make games on the side or as part of their Experiential Learning credit with Ontario Tech's Brilliant Incubator.
GameCon usually takes place in-person, but after the COVID-19 pandemic forced the GDSA to cancel the 2020 event, this year's competition was broadcast virtually via a Twitch livestream (with remarkably more than 1,000 total views). The livestream featured interviews with student teams and FBIT faculty members, gameplay demos and the awards ceremony for top games, best aesthetics, technological implementation, game design, and sound design. The Player's Choice award allowed the public to vote on their favourite game.
GameCon testimonials
"Although it was a challenge arranging GameCon this year because of the environment being totally different, this also presented lots of new opportunities to us. We managed to innovate with online events in ways nobody else on campus has, and I'm happy to be part of that.
-Amtoj Uppal, GDSA Vice-President

"Bringing GameCon back to life this year was an absolute pleasure. This event means so much to our community and being able to serve our members in this way is an absolute honour. I'm very proud of our team and all our members for what they've been able to accomplish this year."
-Josh Sankarlal, GDSA President
Quotes from Game Award recipients
"We were overjoyed to receive the award. To see the hours of work under the hood result in not just a game we loved making, but to be honoured with the Best Tech award, is more than the icing on the cake for us."
-JayPEG (Best Tech)
"It's a really good feeling that people like our game and think what we made was interesting. It validates the amount of hard work and effort we put into the game over the year. To be nominated alongside all the other amazing student games is such an honour as well."
-Harmonic Industries (Best Design) 
"Winning an award at GameCon was a great experience. The team was very happy to see that our hard work throughout the online term paid off, especially the artists on the team."
-Jampacked (Best Art)
"It feels fantastic to see all of our work pay off in a big way; we're all extremely proud of what we've accomplished this past year."
-Sedna Games (Best Sound)
2021 GameCon award winners
Best First Year - Dear Abigail by Sea Drive
Mithunan Jayaseelan, Nathaniel Moore, Winston Qi, Kainat Rashid, Stevie Sansalone, Kyra Trinidad
Best Second Year - Dam Defense by Atlas X Games
Ame Gilham, Jeffrey Lundy, Ryan Sukhu, Jackie Zhou


Best Third Year - Dustbound by Twin Crow
Edward Cao Jiminy Cao, Hunter Chu, Stephane Gagnon, Jonah Griffin, Dhruva Guruprasad, Mustafa Siddiqi


Best Fourth Year - Decamped by Sobek
Eashvar Balachandran, Adam Bilyea, Ricky Caceres-Hernandez, Medhat Fayed, Jessica Le, Shaiiranthan Maheswaran, Abisheik Thuraiyan


Best Design - CaRPG by Harmonic Industries
Sam Canonaco, Joseph Carrillo, Harry Smith, Maddin Thom, Roy Wales


Best Tech - Mecha Mayhem by JayPEG
Leo Buono, Ryan Chang, Jonathan Jay, Jonathan Leung, Matthew McPherson, Matthew North
Best Sound - Earth's Light by Sedna Games
Evyn Brouwer, Daniel Hong, Jeremy Kan, Carter Menary, Daniel Presas, Hamraj Rai, Anthony Smiderle
Best Art - Project Inca by Jampacked
Myles Cragg, Chris Grigor Salas, Mathew Kostrzewa, Kristian Menes, Nathan Tuck, Marcus Vine


Players Choice Award - Business of Bandits by Damnation Studios
Dylan Brush, Daniel Findleton, Craig Holder, Maija Kinnunen, Tia Lee, Kaylyn McCune. Anthony Ona
Gallery
---
Media contact
Bryan Oliver
Communications and Marketing
Ontario Tech University
289.928.3653
bryan.oliver@ontariotechu.ca