Ontario Tech students help build mental health mobile app for first responders
App serves Durham Regional Police Service community; could be extended to other jurisdictions
April 14, 2021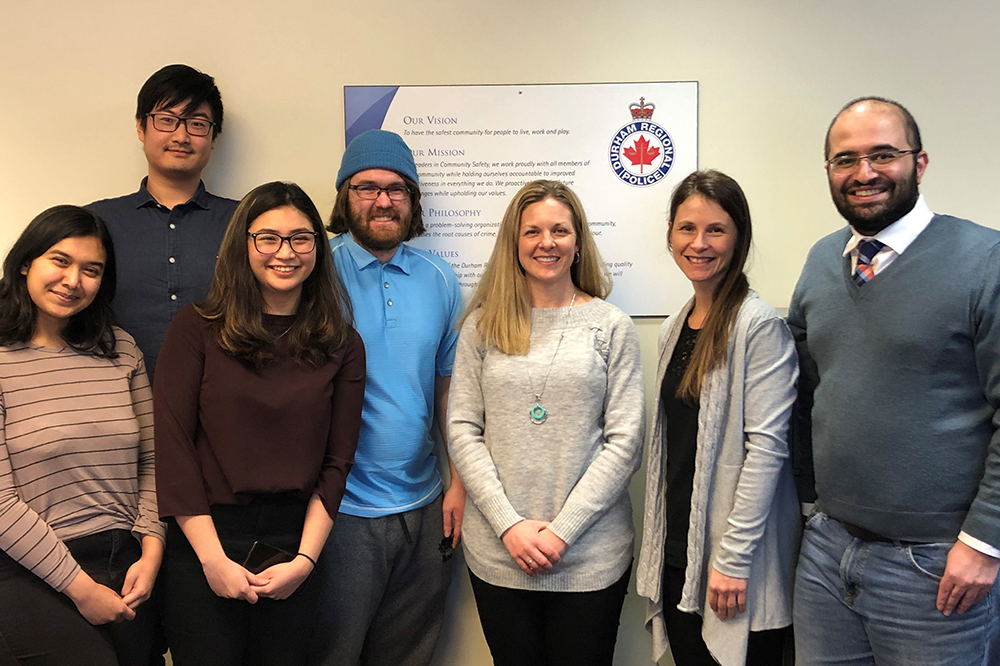 Ontario Tech University embeds opportunities for practical hands-on learning experiences into the curriculum of almost every degree program. Many of these opportunities involve working on or solving a real-world issue in the community and come in the form of industry research projects, co-ops, capstones, internships or placements with a partnering organization.
In industry research projects, our graduate and senior undergraduate students participate in an intensive project, complete a comprehensive analysis, develop or evaluate products or make recommendations to address a particular business problem.
One such industry research project involving students with Ontario Tech's Faculty of Business and Information Technology (FBIT) recently helped with the creation of a new mental health app for police employees in Durham Region.
Earlier this year, the Durham Regional Police Service (DRPS) and Ontario Shores Centre for Mental Health Sciences (Ontario Shores) launched DRPSupport, an app that consolidates all mental health services and programs available to DRPS employees. The app is installed on all DRPS employee smartphones, making important services easily and quickly accessible. Once the app has been in the field for several months and fine-tuned, it could be made available to other emergency services across Canada.
The Ontario Tech connection to constructing the DRPSupport app
The app's development traces back two years, when Ontario Shores and the DRPS received a research grant from the Ontario Ministry of Labour, Training and Skills Development as part of their Occupational Health, Safety and Prevention Innovation Program (OHSPIP). Ontario Shores partnered with Dr. Pejman Mirza-Babaei, UXR Lab Director and Associate Professor of User Experience Research (UXR), to develop and evaluate the app's prototype.
The project provided hands-on learning experiences for Computer Science graduate student Wen Bo Yu from UXR Lab and three undergraduate students in the Game Development program (Angela Tabafunda, Atiya Nova, and Chris Bull) through FBIT's Capstone program. The students who worked on the DRPSupport app also won FBIT's 2020 Capstone Showcase.
"Our students did everything from building the app's wireframe design to creating its styled layout and functionality for redirecting to external links and mailing features," says Dr. Mirza-Babaei. "The crucial aspect of the app is its user experience. First responders often keep aspects of their work to themselves, so this kind of application ensures these employees are never alone and can easily access any services they need that's related to their mental health and wellness."
"While providing training and opportunities for students was imbedded in the grant contract, I feel like we were the ones who benefited greatly from this partnership," says Dr. Krystle Martin, Ontario Shores Research Scientist and DRPS Consultant. "The students competently integrated our vision and the input from DRPS staff to develop the app, while at the same time adapting to the needs of the DRPS IT Department. I heavily relied on their technological expertise and they delivered."
About Ontario Tech's UXR Lab
UXR Lab is an applied research lab at Ontario Tech University studying the way people experience interactive systems. UXR Lab is passionate about design, research, and making the world a better place through interactive technology. UXR Lab projects cover a wide range of applications, from mobile apps to virtual reality games and everything in-between: board games, console and personal computer games, productivity software, web applications, streaming content, and even delivery robots.
About FBIT Capstone study projects
Capstone projects provide students who have successfully completed three years of study with opportunities to develop a comprehensive understanding of the technology, environment, markets and operations of a real organization through application of theory and knowledge learned.
Related link
Gallery
---
Media contact
Bryan Oliver
Communications and Marketing
Ontario Tech University
289.928.3653
bryan.oliver@ontariotechu.ca