Gold and silver for Ontario Tech Engineering students in National Designathon
June 16, 2021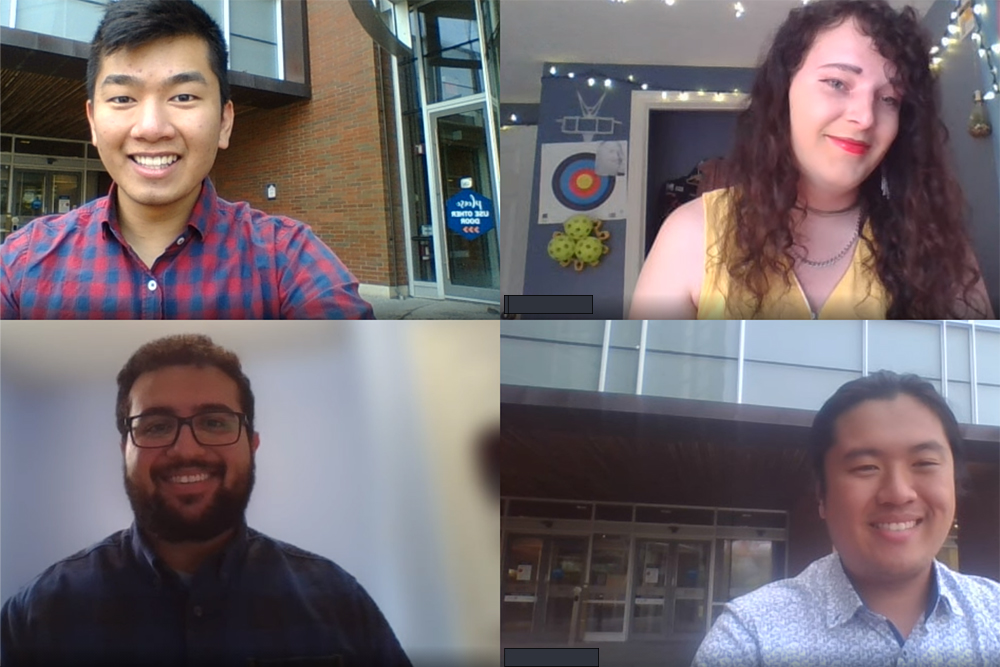 From placements to co-ops to internships, hands-on learning embedded in the curriculum at Ontario Tech University takes many forms. Experiential learning opportunities encourage students to show off their practical skills and academic knowledge in external environments to demonstrate their readiness for the workplace.
Student competitions are another key venue for students to put their abilities to the test in front of a wide audience. And this spring, two teams of Ontario Tech Engineering students took the top-two spots in the National Design League's first-ever National Designathon.
The National Designathon is a 36-hour, worldwide event that brings together the most creative design thinkers, innovators and future leaders to tackle some of society's most-challenging problems. Teams that finished top-three in local (campus) Designathons during 2020-2021 were invited. Ontario Tech had two teams competing for the national title: the winning teams from both the 2020 and the 2021 Ontario Tech Design League competitions.
This year's Designathon challenge was to create a 'blow-off-valve' (BOV) for a hypothetical automotive startup company that's launching a performance vehicle. BOVs are pressure-release systems present in most turbocharged engines that take the load off the turbocharger when the throttle is suddenly closed.
Ontario Tech's winning BOV design was inspired by a 2003 Ford World Rally Car that saved the excess turbocharged air from its BOV, creating an amazing anti-lag system. The team named its design The Hamburger, because of its shape. Aside from battling sleep deprivation during a 36-hour remote competition, other challenges included having to learn about BOVs from YouTube videos and learning how to CAD (computer-aided design) drawing of a spring.
Quote
"I am very proud of our Engineering students. To see them taking the knowledge they learned in class and apply it outside of the classroom to win a national competition is very inspiring. It shows the passion that they have for engineering."
-Dr. Hossam Kishawy, Dean, Faculty of Engineering and Applied Science
Ontario Tech winning teams and testimonials
First place:
Derek Yeung (Mechanical Engineering, fifth year)
"It's been an amazing Designathon. All of this started two years ago when we won the Ontario Tech Design League Designathon. If you had told me back then that we would go on to compete in nationals I wouldn't have believed you. Competing against your peers gives you a little bit of extra push, because you know them personally and know how talented they are." 


Dharma Solaiman (Mechanical Engineering, 2021 graduate)
"When opportunities like this come, TAKE IT!! You never know how it will end up."


Autumn Lesco (Automotive Engineering, fifth year)
"It's a different energy when you only get to see a few event officials and your team over video call rather than being in a room full of teams from all over Canada. We're very happy to be able to show our school's competitiveness on a national level. It's unbelievable that years from now when we are looking back on our university experiences we'll be able to say that we won a national event!."


Mark Rizk (Mechatronics Engineering, fifth year)
"Our well-rounded team collectively agrees that in the face of intimidating tasks, lies a great reward behind it. This was our mantra when we saw the list of engineering problems in the competition. According to one of the co-founders of the National Designathon, the problem we selected was their hardest problem to-date–-which clearly led to a sweet victory."
Second place:
Keegan Parker (Automotive Engineering)
Vittorio La Rocca (Automotive Engineering)
Luciano La Rocca (Grade 12, future Ontario Tech Mechatronics Student)