Ontario Tech entrepreneurial leaders and social innovators win national awards
Enactus Canada awards cap successful year of igniting business innovation among Ontario Tech students
June 11, 2021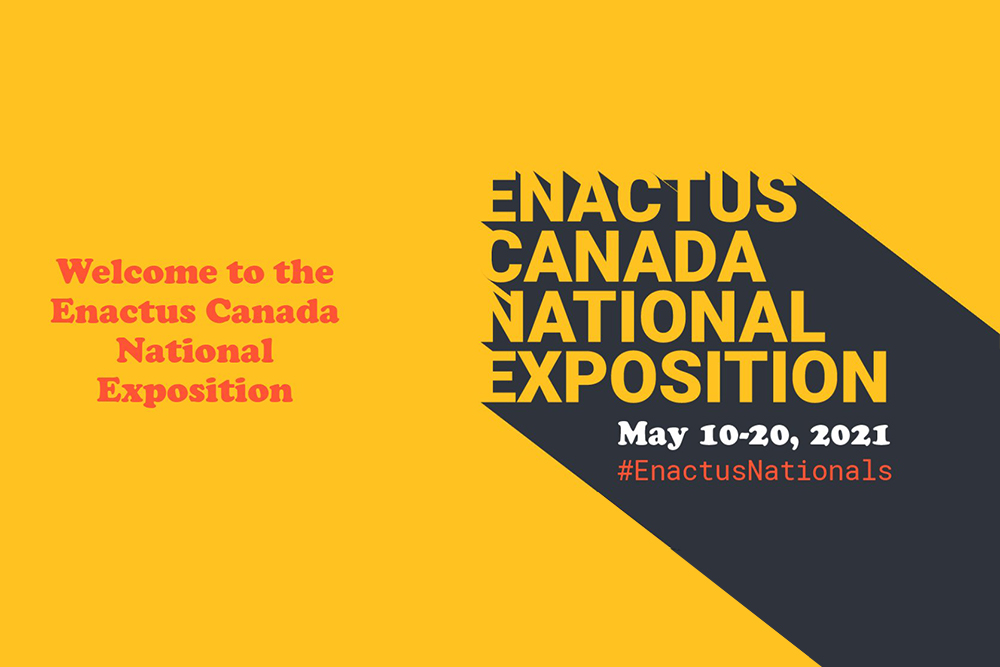 Through the promotion of extensive entrepreneurship activities and learner-centred educational options, Ontario Tech University prioritizes a 're-imagined' approach to learning.
A key component of experiential learning opportunities at Ontario Tech is the campus community group Enactus (derived from 'Enentrepreneurial, Action, Us'), which rallies the energy, ideas and passion of the best and brightest students to create and implement local empowerment projects and business ventures.
Over the past year, Enactus supported a wide range of amazing entrepreneurial endeavours, including:
2021 national awards for Enactus Ontario Tech
On May 14, Enactus teams from across Canada gathered virtually for the Enactus Canada National Exposition and awards ceremony. At this event, student teams showcased their various projects and business ventures that are shaping their communities.
The Enactus Team from Ontario Tech University received recognition in two categories:
Most Media-Savvy – awarded to one team that does an outstanding job increasing the national profile of its team, its members and projects, leveraging social media, events, public and media relations, and strategic partnerships.
Most Improved– to recognize an Enactus Team that has done an outstanding job of significantly increasing and improving their efforts, operations and impact in their community year over year.
The 2020-2021 team was able to make significant progress under the leadership of co-presidents Masla Tahir, a fourth-year Biological Science and Management student from the Faculty of Science, and Mackenzie Collins, a fourth-year Forensic Psychology student from the Faculty of Social Science and Humanities.
Enactus team advisors
Looking ahead to 2022
Building on the success of the past academic year, the Enactus Ontario Tech team is in the process of actively recruiting for the 2021-2022 team. To learn more about Enactus Ontario Tech or apply to join the team, visit enactusot.ca.
Quotes
"When students blend creativity with entrepreneurship, there is nothing they can't accomplish! I am so pleased to see the recent success of our Ontario Tech Enactus team and look forward to seeing what this group of student innovators will be able to accomplish in the years to come."
-Osman Hamid, Director, Creativity and Entrepreneurship, Ontario Tech University 
"This year was completely unprecedented. The team showed strength and resilience in, not only overcoming the difficulties, but being able to achieve an increased impact. To face a global pandemic, and still choose to volunteer and give your time to make a positive change is incredibly selfless. I could not be more honoured to have worked with this group of people. I leave my term as Co-President incredibly excited for next year, I know Enactus Ontario Tech has even more in store for 2022."
-Mackenzie Collins, Co-President, Enactus Ontario Tech
About Enactus
Enactus is a global non-profit organization dedicated to creating a better world while developing the next generation of entrepreneurial leaders and social innovators. Over 1,700 post-secondary institutions around the world have Enactus teams with the collective goal of using innovation and business principles to improve the world.