2021-2022 Ontario Tech University major scholarship recipients
July 28, 2021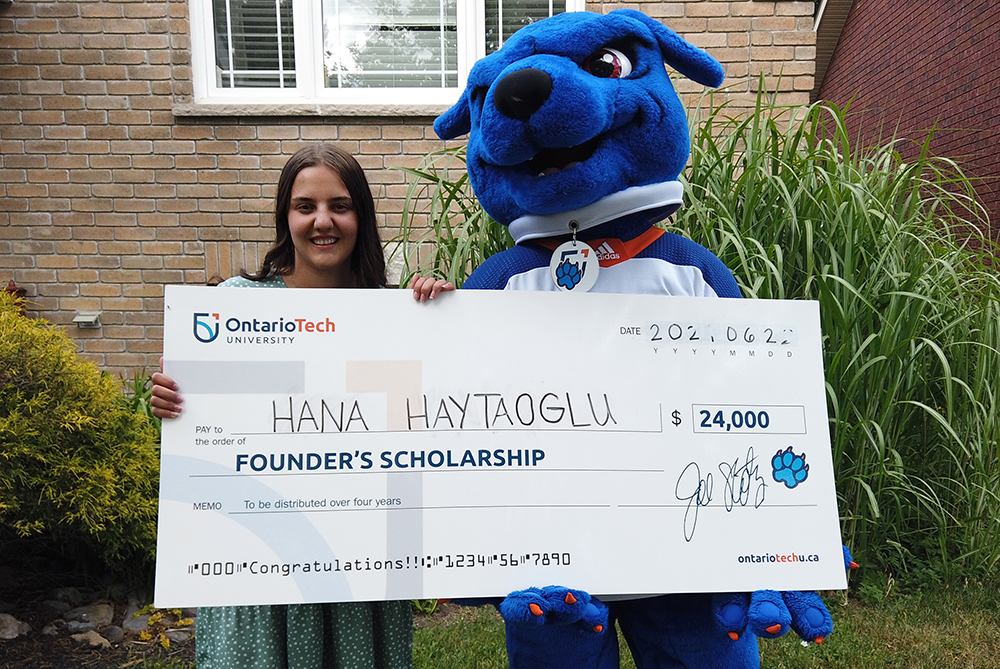 Each year, seven outstanding incoming students are awarded to Ontario Tech University's most prestigious entrance scholarships. The university's scholarship program recognizes secondary school students for exceptional achievements in academics, leadership and community involvement throughout their high school career.
Chancellor's Scholarship: One valued at $36,000 ($9,000 a year x four years)
President's Scholarship: Two valued at $30,000 each ($7,500 a year x four years)
Founder's Scholarship: Two valued at $24,000 each ($6,000 a year x four years)
FIRST Robotics Canada Scholarship: One valued at $12,000 ($3,000 a year x four years)
Global Leadership Award: One valued at $72,000 ($18,000 a year x four years)
These scholarships enable students' continued success and guide them to be exceptional in their futures. All award recipients work hard and these prestigious awards recognize their success.
This year's Chancellor's Scholarship recipient is Jemma Tam (Biological Science) from Whitchurch-Stouffville. One of the contributing factors in Jemma's decision to come to Ontario Tech was the tight-knit and welcoming community that our university has. Jemma is very passionate about volunteering and contributed an immense number of hours volunteering in her community and high school. This scholarship will allow Jemma to continue pursuing her passions: "Receiving this scholarship allows me to continue with volunteering, extracurriculars and spending more time focusing on maintaining good grades. This scholarship brings me closer to reaching my goal of getting into medical school."
This year's President's Scholarship recipients are William Blake Pezzarello (Biological Science) and Khadeeja Fakhridin (Nursing), both from Whitby.
William chose Ontario Tech University for its smaller class sizes and for the variety of activities and clubs the university has to offer, and he's confident the scholarship will help him succeed: "I will be able to work less at my part-time job and focus more on my studies. I will be able to devote more time to clubs and extra-curricular activities at Ontario Tech while also getting to work with highly qualified professors and researchers."
Khadeeja chose Ontario Tech because she felt drawn to the supportive, warm environment created by the recruitment team and faculty members she's met so far. "Receiving the President's Scholarship will enable me to focus better on my academic goals and my involvement in the community through extracurricular and volunteering opportunities that fulfill my passions," says Khadeeja.
One of this year's Founder's Scholarship recipients is Hana Haytaoglu (Forensic Science) from Trenton. Hana's choice to attend Ontario Tech University was made based off of the impressive facilities, welcoming professor, and the diverse selection of clubs and societies. "Not only will this award inspire me to continue to do my best, but it will also help me focus on my studies and involvement in the community," says Hana.
Hans Dizon (Business Commerce) from Oshawa, is another recipient of the Founder's Scholarship. Hans chose Ontario Tech University for its "top-notch facilities, exceptional programs and large variety of clubs and societies." He says winning this award has inspired him to continue trying his best, and will help him focus on his studies and involvement in the community.
Rounding out this year's domestic awards is FIRST Robotics Canada Scholarship recipient, Chantel Scott (Mechatronics Engineering) from Scarborough. Ontario Tech University appealed to Chantel because of its focus on inclusivity, the accommodating culture that creates a positive environment for learning, and the engineering programs. "Being the recipient of an award that recognizes and exemplifies my passion and interest in robotics is deeply meaningful to me. This award will help me accomplish my goals at Ontario Tech, as it will financially aid me in funding my education and allow me to pursue my degree," says Chantel.
The international Global Leadership Award recipient is Akshat Gupta (Mechanical Engineering) from New Delhi, India. Akshat was drawn to the campus for its community feel, that is achieved through inclusivity and equitability. According to Akshat, receiving this award is "a validation of all the effort put towards my community and is a recognition of my contribution to society—this award will help me on the journey to achieving my goals."
For information on applicant criteria for each award, visit the scholarships web page.
list of scholarship recipients

| | | | | | |
| --- | --- | --- | --- | --- | --- |
| Award | Name | Faculty | Program | Hometown | High School |
| Chancellor's Scholarship | Jemma Tam | Faculty of Science | Biological Science -        Life Science | Whitchurch-Stouffville | Bill Hogarth Secondary School |
| President's Scholarship | William Pezzarello | Faculty of Science | Biological Science -        Life Science | Whitby | Father Leo J. Austin Catholic Secondary School |
| President's Scholarship | Khadeeja Fakhridin | Faculty of Health Sciences | Nursing | Whitby | Sinclair Secondary School |
| Founder's Scholarship | Hana Haytaoglu | Faculty of Science | Forensic Science | Trenton | East Northumberland Secondary School |
| Founder's Scholarship | Hans Dizon | Faculty of Business and Information Technology | Commerce | Oshawa | Monsignor Paul Dwyer Catholic High School |
| FIRST Robotics Scholarship | Chantel Scott | Faculty of Engineering and Applied Science | Mechatronics Engineering | Scarborough | Mary Ward Catholic Secondary School |
| Global Leadership Award | Akshat Gupta | Faculty of Engineering and Applied Science | Mechanical Engineering - Comprehensive | New Delhi, India | The Shri Ram School, Moulsari |
Gallery