Impactful research here in your community: Ontario Tech experts advancing discovery and applications of knowledge
University's research income increased by more than 40 per cent in 2020-2021 to $23.5 million
July 12, 2021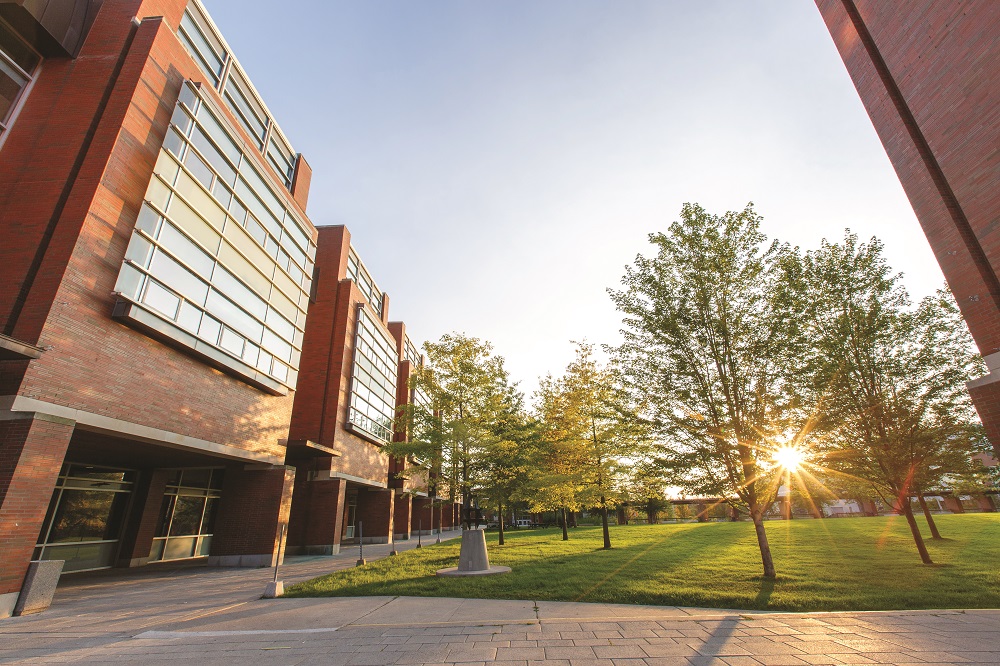 For nearly 20 years after first opening its doors, amazing things continue to happen on the research front at Ontario Tech University.
While Ontario Tech established its compelling and distinct array of market-driven undergraduate and postgraduate degree programs, the university was also busy assembling a powerful portfolio of leading collaborative research across seven faculties, and forging hundreds of partnerships with industry and community organizations.
It's a remarkable research success story area residents can be immensely proud of and brag about. Ontario Tech has emerged as a vital research hub and cluster of expertise anchoring the eastern flank of the Greater Toronto Area.
Hundreds of top academics from across Canada and around the world now call Ontario Tech home, and collectively they make a huge contribution to new knowledge, all while helping drive new regional economic growth and development. These subject matter experts are equally committed to delivering the best teaching and learning to Ontario Tech's 10,000 students. Just ask any of the university's growing group of 23,500 alumni.
Ontario Tech's impressive academic roster includes 11 Canada Research Chairs, and its research infrastructure boasts more than 80 specialized labs and super-modern facilities.
New federal research funding for Ontario Tech
Of course, a huge part of the university's success imprint comes through new research grants and awards. In 2020-2021, Ontario Tech attracted more than $23.5 million in research grants and contracts, an increase of more than 40 per cent over the previous year.
The bulk of the university's research income comes from federal granting agencies, including the Social Science and Humanities Research Council (SSHRC), Canadian Institutes for Health Research (CIHR), the Natural Sciences and Engineering Research Council of Canada (NSERC) and the Canada Foundation for Innovation (CFI).
In recent months, Ontario Tech has received new federal research funding to support more than 30 multidisciplinary projects that will explore solutions to pressing societal problems.
Recent Ontario Tech research projects to attract federal research funding (by funding category)

CIHR Catalyst Grant
CIHR Operating Grants

SSHRC Knowledge Synthesis Grants: Mobility and Public Transit

SSHRC Knowledge Synthesis Grants: Skills and Work in the Digital Economy


SSHRC Insight Grants

SSHRC Partnership Development Grants

SSHRC Insight Development Grant

SSHRC Partnership Engage Grants

SSHRC Connection Grants

NSERC Discovery Accelerator Supplement

NSERC Discovery Grants

NSERC Discovery Development Grants

NSERC Research Tools and Instruments Grants

NSERC Alliance Grants
Related links
Quotes
"We are proud to continue investing in, and celebrating, the creativity and innovation that are at the heart of Canada's research ecosystem. It is inspiring to see the ingenuity and dedication Canadian researchers embrace in exploring big ideas that will fuel the discoveries and innovations of tomorrow to make our world a better place and create prosperity for Canadians."
-The Honourable François-Philippe Champagne, Minister of Innovation, Science and Industry
"The Discovery Grants Program is truly the NSERC's funding flagship. It is our largest program, in terms of both overall investment and number of recipients. What's more, it provides researchers with a predictable, long-term foundation of support as they explore and push back the frontiers of knowledge. Discovery Grants are seen as the gold standard of research excellence in Canada and are founded on a rigorous peer-review process."
-Alejandro Adem, President of the Natural Sciences and Engineering Research Council of Canada
"More than ever, this past year has shown that society cannot move forward without the strong contribution of researchers from across Canada and beyond. Advancing knowledge and insight within and across all disciplines—including social sciences, humanities, natural sciences, engineering and health—is essential to tackling the challenges we face and finding the solutions we need to make Canada healthier, safer, more innovative and more prosperous."
-Ted Hewitt, President of the Social Sciences and Humanities Research Council and Chair of the Canada Research Chairs Program Steering Committee
"Our entrepreneurial spirit, combined with an unwavering dedication to research excellence and innovation, continues to propel our research enterprise. On behalf of Ontario Tech University, thank you to the tri-council agencies, all levels of government and our partners for their continued support. Their commitment to innovation and research excellence help us to continue to generate important and impactful outcomes in a wide range of fields."
-Dr. Les Jacobs, Vice-President, Research and Innovation, Ontario Tech University