Ontario Tech Nursing grad Rachel Radyk's inspiring academic journey
2021 graduate's energy, creativity and leadership charting an impressive path in the world of nursing
July 22, 2021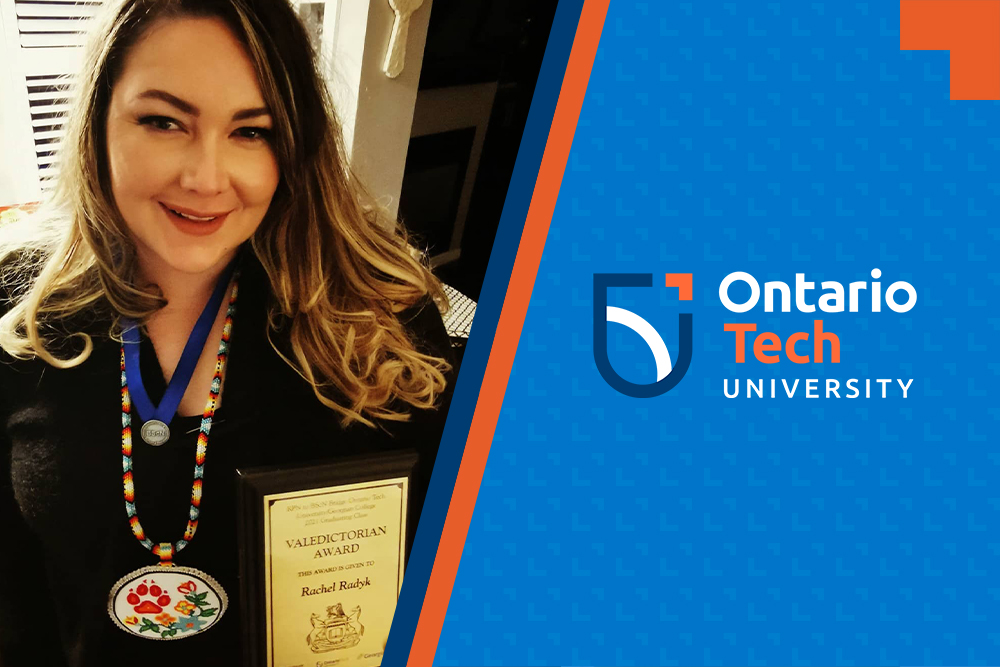 It is often said that no two students take the same academic journey. When Rachel Radyk earned her Bachelor of Nursing degree from Ontario Tech University in June 2021, it was a moment of both celebration and of deep reflection on where her journey began and where it has taken her.
"The inspiration to become a nurse came from watching my mother, who is also a nurse," says Rachel, who grew up in Waterloo, Ontario, and is a member of the Chippewas of Georgina Island First Nation. "I saw the pride she had in her work and the fulfillment she had when she was able to help patients. I wanted to follow in her footsteps."
As it turned out, Rachel's first steps toward a career in Nursing came on a different path.
"In high school, I struggled with sciences and was recommended to stick with the classes I was good at, such as English and History," she says. "And I chose to go to Carleton University in Ottawa for Communications. I actually left the program with a few courses left but I felt lost while heading in that kind of career direction."
As she mulled her options at the fork in the road, her Mom encouraged her to try to get into Nursing again. She enrolled in a program to help bring her high school grades up and was accepted into the Registered Practical Nurse program at Conestoga College in Kitchener. She graduated with distinction and applied to Ontario Tech University, receiving early acceptance into the Bachelor of Science in Nursing (BScN) bridge program. The program is offered collaboratively with Georgian College in Barrie, Ontario, where Rachel started the program, as well as with Durham College.
"I was drawn to Ontario Tech because of the smaller class sizes and the program being accelerated. I most enjoyed making lifelong friendships at Ontario Tech, and being surrounded by the support of faculty and staff. I loved that despite the program being challenging, classes were spaced onto one or two days so that students who were working as nurses such as myself could still work."
She also felt empowered to advocate for fellow students.
"The Indigenous Education and Cultural Services resources have truly made my experience at Ontario Tech so special, where team leaders Jill Thompson and Carol Ducharme encouraged me to continuously step out of my comfort zone and to grow as a leader. They also helped me become more connected with my own culture."
During her bridge program, Rachel also finished the final classes she needed to finish her degree at Carleton. So this year she actually obtained two university degrees.
She's now a nurse in cardiac clinical research at a hospital in Waterloo, and for an Indigenous health organization as an Indigenous patient navigator.
"I've created a culturally aware space for the urban Indigenous community to access their vaccines. I work very closely with management to ensure that everything is running smoothly at the mass vaccination site."
On her future radar is applying to a master's degree program in Nursing.
"I believe we need more strong Indigenous women in high-up leadership roles in Nursing, and I hope to one day achieve this and inspire others to do the same."
Rachel's key piece of advice to others?
"Never give up your resiliency. It can help you be successful more than anything else. I watched a recent TED talk that shows that more than a person's upbringing, or IQ, the number-one indicator for success is grit. Grit is the ability to stick to your goals, even if no one else believes that you can achieve something. You may not achieve your goal overnight, but that is a part of the journey."
Rachel's communication-based background has come full circle as well. In addition to sharing her voice and experiences as a volunteer and leader in a wide range of student advocacy groups and Indigenous reconciliation task forces, she's a highly sought webinar presenter and public speaker. Rachel was also a recent guest on a podcast, appropriately titled 'For the Gritty Nurse: An Indigenous Perspective on Health Care, Colonialism and Allyship' (episode runs 61 minutes).
Recent Rachel Radyk awards and distinctions
Nurse of the Month, Canadian Indigenous Nurses Association (September 2020) 
Miigwewin Award, Ogemawhj Tribal Council (2020) 
Rise 2021: Innov8 Award Winner for Nursing Entrepreneurship, Georgian College (April 2021)
Valedictorian, Post RN BScN Bridge, Ontario Tech University (May 2021) 
Nursing Student Leadership Award, Ontario Tech University (May 2021) 
Anishinabek Student Excellence Award, Ontario Tech University (Summer 2021)
Nominated for the President's Award of Excellence in Student Leadership, Ontario Tech University