Ontario Tech University's third-annual Women for STEM Summit inspires future graduates
Resilient, Responsive and Resourceful: 'Take calculated risks and focus on inclusion'
October 21, 2021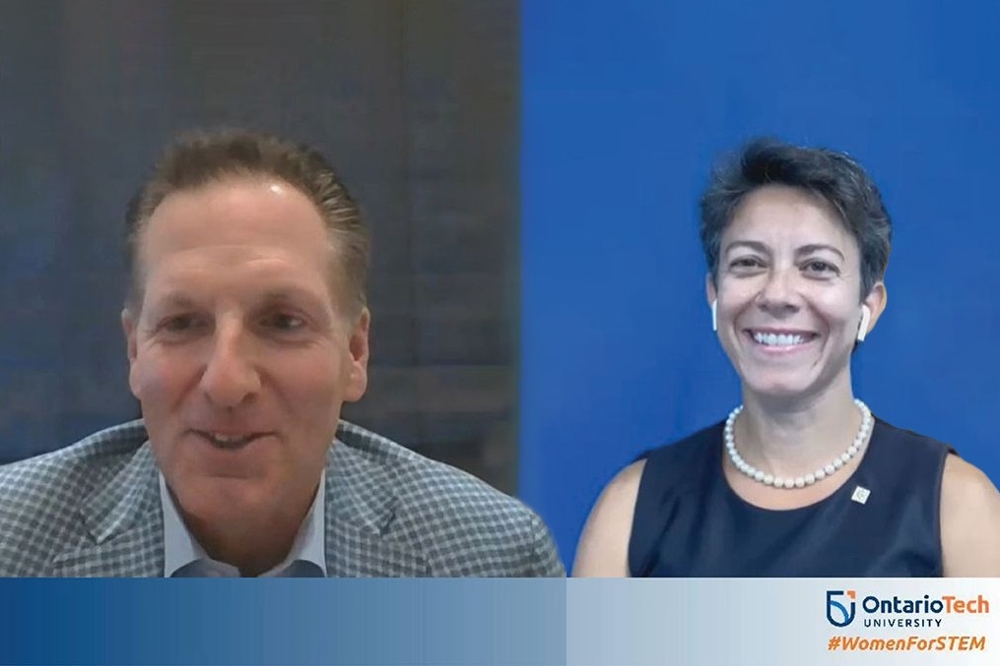 Take calculated risks and believe in yourself. Take ownership of your career and move forward. This advice came from the distinguished speakers who shared their career experiences in science, technology, engineering and mathematics (STEM) at Ontario Tech's Women for STEM Summit, held virtually on October 14.
Three hundred attendees were inspired by professional leaders Rania Llewellyn, President and CEO, Laurentian Bank of Canada; Paula Hodgins, Senior Vice-President, Global Accounts and Telco, VMWare; Karine Glenn, Strategic Project Director, Nuclear Waste Management Organization; Vandana Juneja, Executive Director, Catalyst Canada, and Jennifer McKellar, Associate Professor, Faculty of Energy Systems and Nuclear Science, Ontario Tech University—women who are making their mark in STEM as they help their organizations support employees during the transition from the COVID-19 period.
Women for STEM keynote speaker Rania Llewellyn shared her experiences and challenges as well as insights into leadership during the pandemic. As the first woman to lead one of Canada's national banks, Rania reminded participants we all can help move the dial toward gender parity in STEM by engaging all employees.
The Summit is just one of the components of Ontario Tech's unique Women for STEM program. Led by a volunteer council, the program is built on three pillars to engage and empower women: scholarships, mentorship, and the celebration and promotion of achievements. 
Ontario Tech thanks the Summit's presenting sponsor Facebook and Facebook Reality Labs; gold sponsors King Virtual Events and the Society of United Professionals; and silver sponsors 360insights, Alithya, Candu: an SNC Lavalin Technology, Elexicon Energy, Hatch, Nuclear Waste Management Organization, and PGL Environmental Consultants.
To date, the Women for STEM program has raised more than $1 million for its scholarship fund. This fund allows Ontario Tech to offer 20 scholarship packages at $11,000 each, over four years, to women students entering under-represented STEM programs. Each student receives a $5,000 entrance award and a commitment for in-course scholarships of $2,000 a year for each of the following three years. The program is now halfway to the scholarship fundraising goal of $2 million and you can help by making a donation today.
Quotes
"The Summit provides our students with access to strong, positive role models who encourage our students to pursue STEM careers and succeed as leaders, even if it means taking that non-linear journey in order to get there. Ontario Tech's Women for STEM program brings together industry partners who recognize the importance of equity, diversity and inclusion in creating a strong workplace and culture. As testament to the value of this program, the Women for STEM program has reached half of its $2-million scholarship fundraising goal in just three years."
-Dr. Steven Murphy, President and Vice-Chancellor, Ontario Tech University
"As reinforced by each of our speakers who shared their stories of successes and challenges, the next generation of women leaders in STEM will benefit from seeing strong role models, which is one of the main goals of the Summit. The Women for STEM program has an ambitious goal of achieving gender parity in STEM fields within 10 years. We all have a role to play in getting us closer to that goal. We are hopeful for success, based on the response of our corporate and individual donors who have created named scholarships, sponsored the Summit and provided mentorship to our students."
-Lisa McBride, Vice-President, Country Lead, Small Modular Reactors, GE Hitachi; President of Women in Nuclear, Canada; and Chair of the Ontario Tech's Women for STEM Council
"Ontario Tech's Women for STEM program has allowed me to meet and interact with women who have similar goals and aspirations. I am very excited for the mentorship component of this program. It is uplifting to know that professionals within the industry will be here to give me support and insight into the real world of STEM. On behalf of all the Women for STEM students, thank you to all donors, Council members and mentors for their support and for making this program possible."
-Aisha Sarwar, third-year Mechanical Engineering student, Faculty of Engineering and Applied Science, Ontario Tech University