Ontario Tech launches Canada's International Atomic Energy Agency Collaborating Centre
November 9, 2021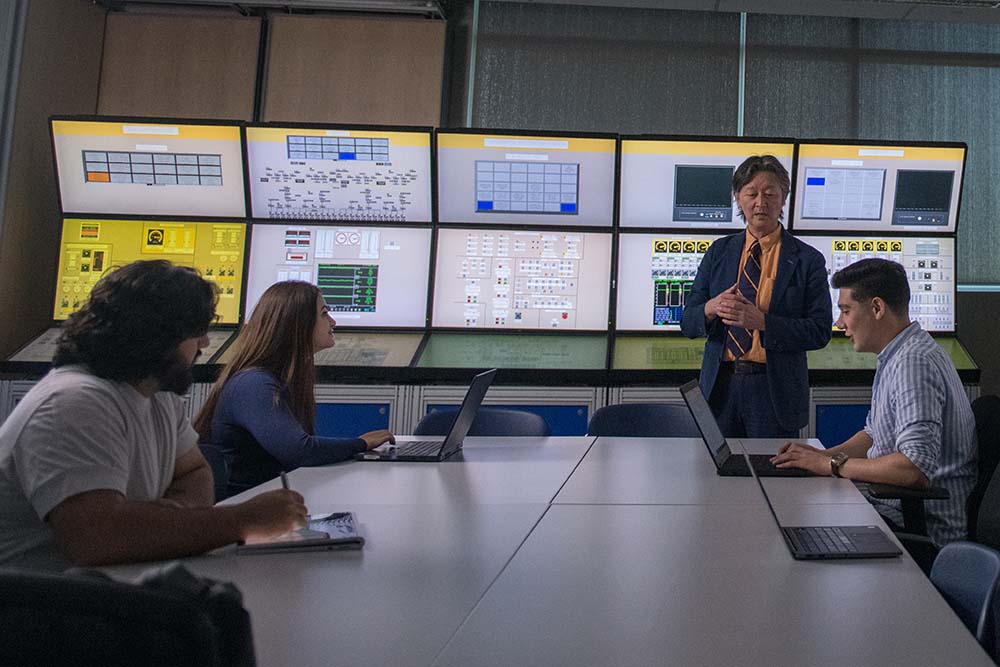 Ontario Tech University's extensive capacity in sustainable energy research and expertise is poised to play a leading role in helping Canada and the world respond to contemporary energy challenges related to climate change and the development of carbon-free electricity.
Recognizing the university's strong reputation as a prominent centre of innovation, in Spring 2021 the International Atomic Energy Agency (IAEA) designated Ontario Tech as the first Collaborating Centre in Canada to support IAEA activities on advanced nuclear power technology. The Collaborating Centre, formally launched during a virtual event November 2 and 3, 2021, is part of the university's Brilliant Energy Institute.
The IAEA Collaborating Centre is dedicated for integrated energy systems with advanced nuclear power reactors. The activities entail the development of micro and small modular reactors, non‑electric applications of nuclear energy, as well as the hybridization of nuclear and renewable energy sources in integrated energy systems for multi-purpose applications including hydrogen production, energy storage, and process heat applications. Faculty members from both the Faculty of Engineering and Applied Science and the Faculty of Energy Systems and Nuclear Science will be an integral part of the Collaborating Centre.
The launch event hosted by Ontario Tech introduced key energy stakeholders from different sectors, including Ontario Power Generation, Bruce Power, the University Network of Excellence in Nuclear Engineering, Canadian Nuclear Laboratories, and many others.
Speakers included representatives from the IAEA's headquarters in Austria, and senior leaders from Canada's nuclear industry. Ontario Tech experts also shared reflections highlighting the long-lasting collaboration and engagement between the different institutes and organizations.
The IAEA Collaborating Centre will further enable leading-edge research in clean and green energies and technologies at Ontario Tech, and serve as a key connection point between industry and academia in the years ahead. Ontario Tech's programs in Nuclear Engineering and Energy Systems Engineering, positions the university as the premier training ground for Canada's future energy scientists and nuclear engineers.
Related links
Quotes
"As we transition to a carbon emissions-free future, the IAEA Collaborating Centre at Ontario Tech University brings together our researchers and industry partners to make valuable contributions to the energy sector around the world. As a key component of Ontario Tech's Brilliant Energy Institute, the IAEA Collaborating Centre will be a vital national and international resource that drives new research and discovery on small modular reactors and integrated energy systems."
-Dr. Les Jacobs, Vice-President, Research and Innovation, Ontario Tech University
"IAEA Collaborating Centres are leaders in their respective scientific and technical fields. Designation is a testament to the excellence of the institutions. I am happy that Ontario Tech University joins this group, especially as the first IAEA Collaborating Centre in Canada. Through this Collaborating Centre at Ontario Tech, Canada can assist the IAEA Member States with their own original research, development, and training on integrated energy systems with advanced nuclear power reactors, including their safe and secure applications."
-Dr. Mikhail Chudakov, IAEA Deputy Director General, Head of the Department of Nuclear Energy, Vienna, Austria
"The IAEA Collaborating Centre is an incredible testament to Ontario Tech's strength in nuclear energy and integrated energy systems. The Centre is a tremendous opportunity to build on this strength, not only in terms of research collaborations, but also in training and education."
-Dr. Hossam Kishawy, Dean, Faculty of Energy Systems and Nuclear Science, and Faculty of Engineering and Applied Science, Ontario Tech University
---
Media contact
Bryan Oliver
Communications and Marketing
Ontario Tech University
289.928.3653
bryan.oliver@ontariotechu.ca