Bruce Power expands internships for Ontario Tech first-year female Nuclear Engineering students
Students eligible for internships for each summer of their degree program
December 21, 2021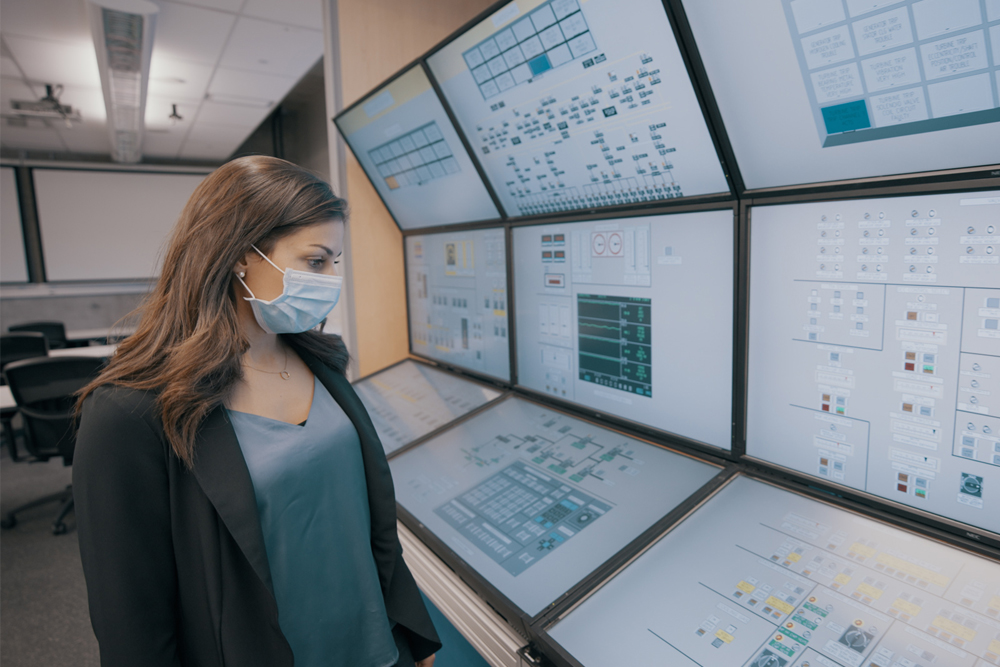 Bruce Power and Ontario Tech University are partnering on an internship program designed to attract women to pursue post-secondary engineering degrees and careers in the nuclear sector.
Exclusively offering Canada's only Nuclear Engineering university degree, Ontario Tech proudly announces the Bruce Power Engineering Internships for Women program.
Through the program, four-month internship opportunities will be available to Ontario Tech Nuclear Engineering students who identify as women. Domestic and international students are eligible to apply. Candidates will participate in the program for three consecutive summers, pending maintenance of academic standards and successful employment reports. There is also potential for a full-year internship between the third and fourth academic years.
Bruce Power will offer support and development workshops for students, and can link students with local Women-in-Nuclear mentors.
Ontario Tech's Nuclear Engineering program is in high demand
The nuclear industry is rapidly positioning itself for the future and seeks new talent. Ontario Tech offers an outstanding experiential learning environment that has a powerful reputation for producing career-ready graduates.
As the only program of its kind in all of Canada, Ontario Tech's Nuclear Engineering degree attracts students seeking an interesting and innovative career in an industry featuring long-term stability.
The new Bruce Power/Ontario Tech internship program for up to 15 students each summer will help create a diversified talent source including female nuclear engineering students and graduates as potential hires for the energy company.
As the nuclear sector looks to diversify its talent base with new Indigenous candidates, it's also targeting gender equity by 2030. In 2018, Bruce Power signed a Leadership Accord on Gender Diversity, publicly committing to fostering a culture of equality and inclusion throughout the workforce and at all levels, while facilitating greater opportunities for women in traditionally male-dominated positions.
The partnership with Ontario Tech University will advance this commitment, while providing valuable work experience to students pursuing careers in engineering.
The nuclear industry is critical for Ontario's energy future
In Ontario, nuclear energy accounts for about 60 per cent of energy production and played a key role in helped Ontario phase out the burning of coal for electricity, translating to a dramatic reduction in the number of 'smog days'. The smaller land-use footprint and longevity of nuclear stations also mean that nuclear power has among the lowest lifecycle carbon footprints of any clean energy source.
A recent United Nations report highlights that global climate objectives will fall short without nuclear power in the mix. In Canada alone, nuclear power helps avoid 80 million tonnes of carbon emissions per year – equal to removing 15 million cars from the road.
Nuclear energy is a growing and stable industry. Major refurbishment projects mean plants will function for decades to come. Innovative new nuclear projects like small modular reactors could support reliable power generation in remote communities. At the same time, isotope capturing from Ontario nuclear facilities is a widening field, offering new opportunities in medical device sterilization and cancer treatments.
Quotes
"Bruce Power has partnered with a number of organizations to build a pipeline of diverse talent in various roles across the company. This internship program is one of the ways we are building a more diverse and inclusive workforce as part of our clean energy future."
-Cathy Sprague, Executive Vice President, Human Resources, Bruce Power
"Ontario Tech University thanks Bruce Power for this internship opportunity for women engineering students interested in the energy sector, and for helping the engineering profession reach its '30 by 30' goal to raise the percentage of newly licensed engineers who are women to 30 per cent by the year 2030. These new internships will drive new hands-on learning and mentorship opportunities for our students that will guide them in their transition to exciting and promising nuclear energy careers."
-Dr. Hossam Kishawy, Dean, Faculty of Energy Systems and Nuclear Science, Ontario Tech University
Related link
Gallery