Ontario Tech University reappoints Dr. Steven Murphy as President and Vice-Chancellor
Dr. Murphy reappointed for a second five-year term
January 5, 2022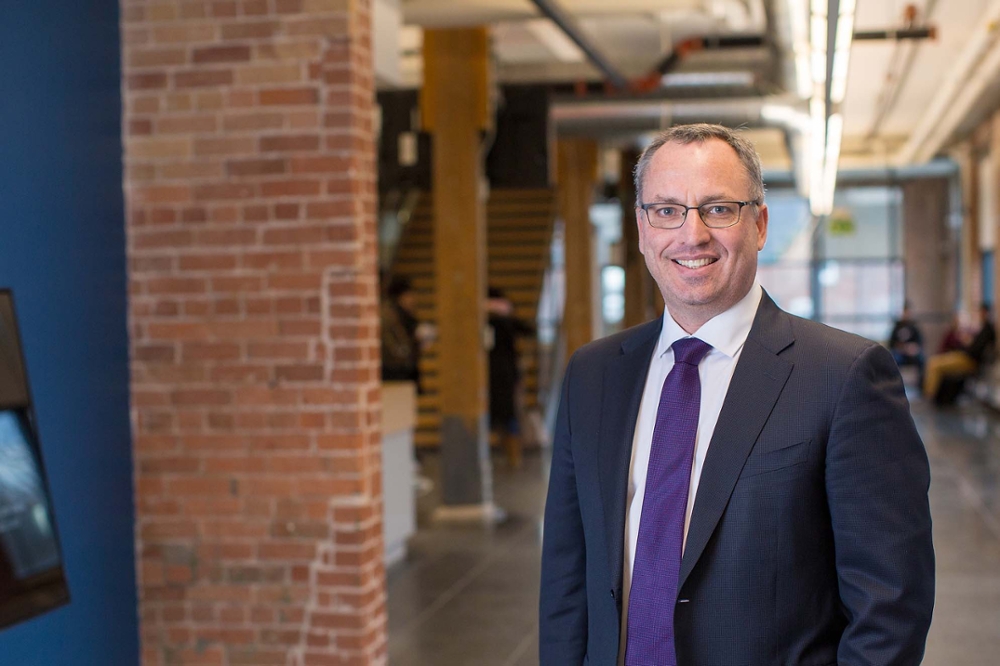 OSHAWA, ONTARIO – The Ontario Tech University Board of Governors is pleased to announce the reappointment of Dr. Steven Murphy as President and Vice-Chancellor for a second term of five years, effective July 1, 2023.
Known throughout his career as a distinguished expert in organizational behaviour and corporate leadership, Dr. Murphy became Ontario Tech's fourth President and Vice-Chancellor on March 1, 2018.
Dr. Murphy is an award-winning professor, accomplished researcher and respected academic leader who champions improvement of human lives and the planet through the ethical application of technology. His 'Tech with a Conscience' message is a prime element of the university's storytelling arc, underpinning the university's teaching, learner-centred educational options, range of credentials and entrepreneurship activities. Dr. Murphy created the university's incubator, Brilliant Catalyst, and launched Ontario Tech Talent to address the skills gap, two examples to fill voids and greatly benefit society in the years to come.
Throughout his first term, Ontario Tech has strengthened its research capacity through further academic collaborations with industry, community and government partners, relationships that showcase the university's leadership as a critical hub of expertise anchoring the eastern Greater Toronto Area. One example, Ontario Tech's recently launched Brilliant Energy Institute, positions the university as a national leader in interdisciplinary clean energy, environmental sustainability, and climate-change research.
The student experience is the President's priority. Dr. Murphy is an ambassador for student success and a culture that focuses on student wellness. He strongly believes that diversity, collaboration, and experiential and co-operative learning opportunities are fundamental training for students. Dr. Murphy brought women's and men's varsity basketball to Ontario Tech in 2019. Varsity athletes and students who volunteer their time to make our campus a better place have a special place in his heart.
The 2021 opening of Shawenjigewining Hall, a major new campus infrastructure initiative providing much-needed student space, points Ontario Tech toward a new period of student growth and program development. This growth includes further numbers in graduate postdoctoral studies and an increase in international students. The opening of Shawenjigewining Hall is in keeping with the university's commitment to reconciliation through the spirit of the 'kind place' that will forever be synonymous with Ontario Tech.
Dr. Murphy's vision for positive change influenced Ontario Tech's Strategic Research Plan, supported the creation of the Integrated Academic Research Plan, the establishment the President's Equity Taskforce, and reaffirmed the university's commitment to Indigenous Reconciliation. Dr. Murphy also rapidly guided the university's evolution toward a distinct and bold new identity, a process that included renaming the university, and refreshing the brand and accompanying university and spirit logos.
Ontario Tech's reputation for innovation and global engagement is mirrored by the university's widening international footprint that has generated impressive advances in national and international rankings (e.g. TimesHigherEducation).
Dr. Murphy's leadership, with the support of the senior leadership team, ensured that we navigated through the phases of the COVID-19 pandemic , putting the physical and mental well-being of the university community first. Tangibly, this has led to a 'reopening' timeline that is more gradual than comparator institutions, and more nimble. The university is poised to better serve its learner community in a post-COVID world, and the culture of continuous monitoring of public health information, and commensurate internal adjustments, will remain part of our culture.
Dr. Murphy currently serves on the Board of Directors of the National Research Council of Canada; as Co-Chair of eCampusOntario; Chair of Council of Ontario Universities Audit and Budget Committee; Member of the Council of Ontario Universities' Executive and Strategic Planning Committees; Vice-Chair of Ontario University Athletics; and is a member of the USports (Canada) board and Universities Canada Education Committee.
Dr. Murphy's renewal follows a consultative process initiated by the Board of Governors under the university's guiding governance legislation, the province's University of Ontario Institute of Technology Act (2002).
Quotes
"President Murphy has been a powerful catalyst of growth and development at Ontario Tech University throughout his inaugural term by shaping its mission, goals and values for the decades ahead. Our expanded and robust relationships with key stakeholders and community supporters continue to put our university on the map as we engage new audiences across Canada and around the world. The Board deeply appreciates the administrative skill and leadership Dr. Murphy has deployed throughout the challenges of an ongoing global pandemic. His passion for building a student-centred environment that promotes the success of our students is genuine, as is his advocacy for supporting our faculty, staff and alumni. The continuity of Dr. Murphy's leadership offers great stability for Ontario Tech and positions it for an even stronger future."
-Dietmar Reiner, Chair, Ontario Tech University Board of Governors
"I am grateful to the Board of Governors for expressing confidence in my continued leadership at Ontario Tech. I thank my colleagues and our truly dedicated faculty and staff across the campus community for their ongoing support. I am immensely proud of how we've supported one another as we've navigated through unprecedented challenges together over the past few years, including a global pandemic. These experiences have made us stronger as we focus on asserting Ontario Tech's rich strengths and strategic priorities for the 2020s and beyond. We have ambitious plans to create a better Canada and a better world, and we remain driven by our commitment to social, scientific and economic innovations through the lenses of equity, diversity and inclusion."
-Dr. Steven Murphy, President and Vice-Chancellor, Ontario Tech University 
Related links
About Ontario Tech University
A modern, forwarding-thinking university, Ontario Tech advances the discovery and application of knowledge to accelerate economic growth, regional development and social innovation. We inspire and equip our students and our graduates to make a positive impact in a tech-focused world. For us, it's not only about developing the next tech breakthrough. Understanding and integrating the social and ethical implications of technology differentiates us as a university. Learn more at ontariotechu.ca.
Media contact
Bryan Oliver
Communications and Marketing
Ontario Tech University
289.928.3653 (mobile)
bryan.oliver@ontariotechu.ca