Can we effectively respond to online hate and fear?
Ontario Tech University's Centre on Hate, Bias and Extremism seeks answers by hosting international symposium
March 28, 2022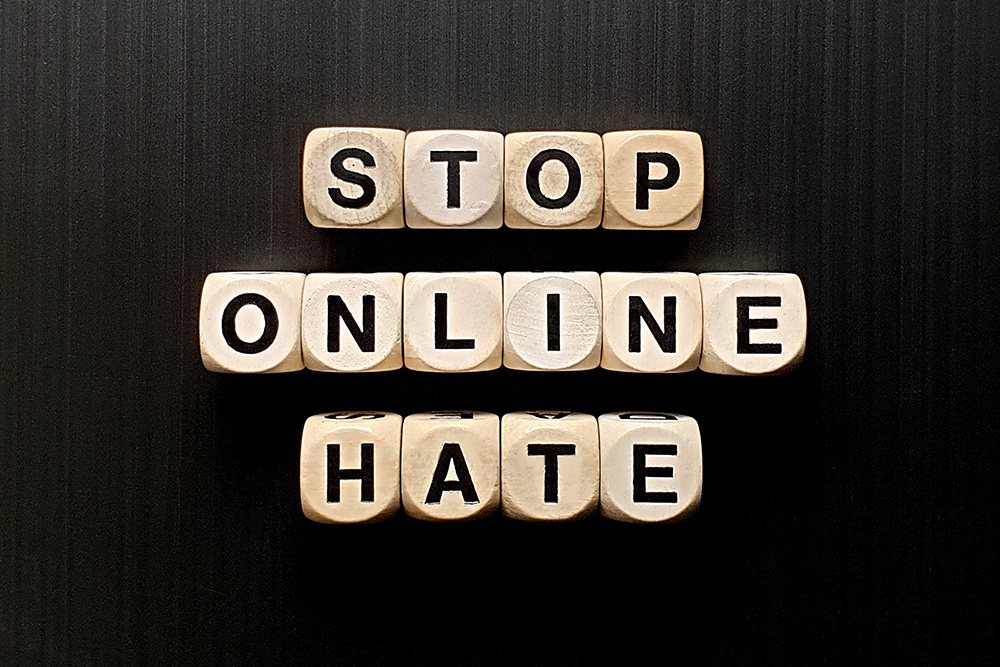 When social media platforms like Facebook and Twitter were launched in 2004 and 2006 (among others), they immediately offered unprecedented and almost unlimited ways for participants to share content and express opinion. However, the open formats of many platforms also provide a space for extremist individuals and groups to produce and impart hateful content.
Solutions to combat the expansion of online hate and fear vary in scope and efficacy. As governments enact new laws, regulations and policies to govern social media platforms, social media corporations are implementing community guidelines and user agreements, content moderators, and artificial intelligence to counter hateful content.
In early February 2022, Ontario Tech University's Centre on Hate, Bias and Extremism (CHBE), in association with Meta Canada, hosted a four-day, live and asynchronous online symposium exploring online hate. Speakers representing wide geographic areas and varied disciplines tackled a series of issues, including:
Contours of online hate: How has information historically been gathered and presented online and how does this process intersects with societal rights of free speech?
Civil society response: How effective have community-based collaborations and partnerships been in responding to instances of online hate?
Big tech's managing of the message: Have the big social media platforms successfully managed hateful and extremist content? Are existing policies, guidelines and user agreements and techniques such as automation, artificial intelligence and human content moderation working?
Public policy response: While current policies recognize increasing toxicity in the online environment, experts agree future approaches must be evidence-based with policies that navigate the balance between freedom of expression and protecting against harmful speech.
"The challenges in formulating effective public policy are exceptionally complex," says Dr. Barbara Perry, CHBE Director and Professor, Faculty of Social Science and Humanities, Ontario Tech University. "We learned through the symposium that different nations are adopting wide-ranging approaches. The aggressive regulations of Germany for example contrast with the far more constrained and permissive policies in the United States where there is a tendency to be more inflexible with free speech provisions."
International participation
The live symposium hosted plenary speakers from across Canada, but also from across the globe, including speakers from Australia, New Zealand, Germany, the United Kingdom and the United States. Adding to the mix of global perspectives were pre-recorded submissions from delegates in Brazil, Italy and France.
Video links to symposium archives
Symposium speakers list
Day 1 – Contours of online hate (Monday, February 7)
Heidi Tworek, University of British Columbia
Ryan Scrivens, Michigan State University
Tanner Mirrlees, Ontario Tech University
Erin Saltman, Global Internet Forum to Counter Terrorism
Ashley Mattheis, University of North Carolina at Chapel Hill
Day 2 – Civil society responses (Tuesday, February 8)
David O'Brian, Yorktown Family Services
Robert McGray, Brock University
Nuzhat Jafri, Canadian Council of Canadian Muslim Women
Vivek Venkatesh, Project SOMEONE
Gregory Davis, Hope Not Hate, United Kingdom
Day 3 – Big tech: Managing the message (Wednesday, February 9)
Alexander Corbeil, TikTok
Dina Hussein, Meta
Natasha Tusikov, York University
Day 4: Governing online hate: Public policy responses
Pierre-Marc Perreault, Department of Canadian Heritage
Alexander Schaefer, German Federal Ministry of Justice
David Reid, Department of the Prime Minister and Cabinet, New Zealand
Sharri Clark, U.S. Department of State
Ottawa protest led to a follow-up CHBE webinar in March
Coincident with the symposium was a lengthy protest by thousands in Ottawa billed as a 'freedom convoy', subsequently imitated in several other countries.
"While some speakers in February referenced the impact of COVID on patterns of online hate, the convoys in particular drew even greater attention to the ways in which disinformation, misinformation and conspiracy theories can be exploited to spark a right-wing populist movement," says Dr. Perry.
After receiving overwhelming positive feedback about the symposium, the CHBE followed up its February event by hosting a March 1 webinar on reactions and responses to the freedom convoys, with speakers Dr. Michael Kempa (University of Ottawa), Dr. Amar Amarsingham (Queen's University), Dr. Caroline Orr Bueno (University of Maryland), and Dr. Josh Roose (Deakin University, Australia).