New funding ensures Ontario Tech researchers will continue to monitor COVID-19 and other indicators of health in wastewater
University's program providing area health departments with vital data will expand
April 4, 2022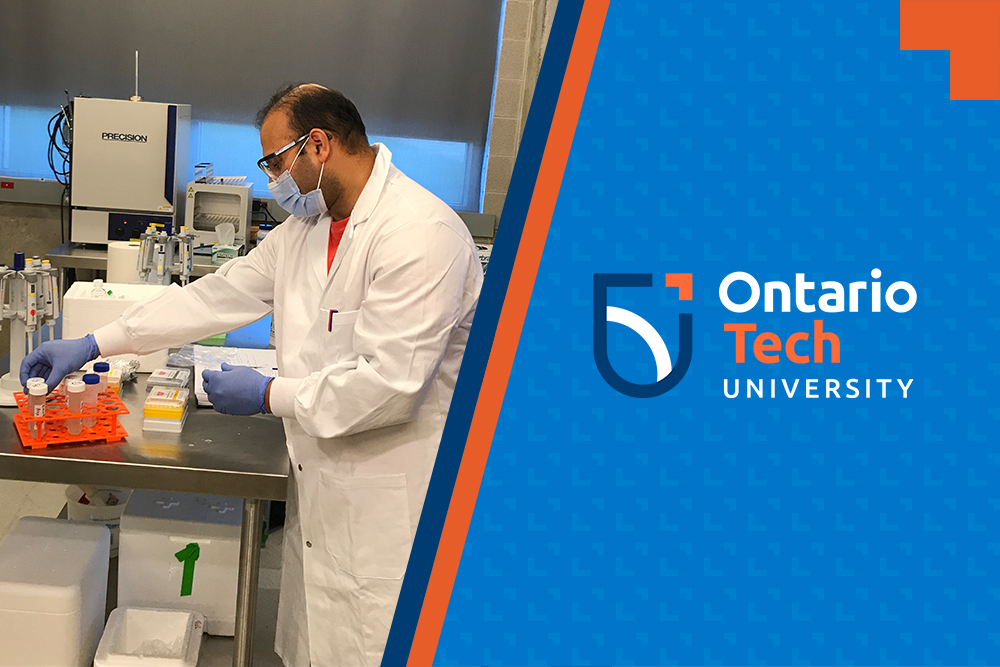 The Ontario Tech University Faculty of Science program to collect and test dozens of untreated sewage samples per week for traces of COVID-19 is entering a new phase this spring.
Since June 2020, Ontario Tech researchers have been examining wastewater collected from multiple Durham Region Works Department water pollution control plants. They've been checking for frequency of the virus and sharing the data with the Durham Region Health Department, helping officials determine appropriate steps to limit or prevent further infection in the community. The program later expanded to include Simcoe County and Muskoka Region. The program at Ontario Tech and in other centres was set to expire at the end of March, but has now been extended and expanded by the Province of Ontario.
In addition to new provincial funds to investigate small-molecule health indicators in wastewater, Ontario Tech is receiving $250,000 in federal funding through the New Frontiers in Research Fund (NFRF) to study indicators of gastrointestinal disease as part of an expanding Wastewater Based-Epidemiology (WBE) program. The NFRF program supports interdisciplinary, international, high-risk/high-reward and fast-breaking research.
Key highlights  
$24.7 million provincewide investment to ensure the Wastewater Surveillance Initiative (WSI) will continue through March 2023.
Part of this funding includes funds to support WBE research across Ontario, including at Ontario Tech (officially announced April 4, 2022).
Ontario Tech's research project will focus on the development of new methods to study small biomolecules as indicators of community health, including opioid use, in Durham Region.
The legacy of the previous and current WSI funding is the establishment of a WBE research program at Ontario Tech University, one of only a handful across Canada.
The funding will support excellent learning and training opportunities for students, technicians and postdoctoral associates.
"Ontario Tech is proud to have helped develop a successful analytical method that produces reliable data for predicting COVID-19 end-points such as hospitalizations, as well as identifying new coronavirus hot spots," says Dr. Andrea Kirkwood, Associate Professor, Faculty of Science at Ontario Tech. "This system has proven to be an extremely valuable tool to monitor trends in real-time and detect outbreaks as early as possible. This information has been especially vital in recent months, since regular individual testing has become less frequent."
Dr. Kirkwood co-leads the sample testing with Faculty of Science research colleagues Dr. Denina Simmons (Canada Research Chair in Aquatic Biology) and chemistry expert Dr. Jean-Paul Desaulniers. 
Measuring fragments of COVID-19 virus in wastewater is a new science. These fragments are shed in the feces of an infected person a few days before, and up to three weeks after a person begins to feel ill. These fragments are not infectious. Monitoring wastewater gives a close to real-time way to track the spread of the COVID-19 virus before people begin showing symptoms.
About the Wastewater Surveillance Initiative
Ontario Tech University is one of 13 WSI academic and research institution partners in Ontario.
The network developed protocols and technical guidance to ensure quality assure and control of sampling and results.
Wastewater sampling currently takes place in more than 170 locations across the province, covering 75 per cent of Ontario's population.
The initiative produces reliable results for local public health units.
Gallery
---
Media contact
Bryan Oliver
Communications and Marketing
Ontario Tech University
289.928.3653 (mobile)
bryan.oliver@ontariotechu.ca