New waste management service provider accelerating Ontario Tech's race to zero landfill waste
University announces new collaboration with U-Pak Disposals
April 20, 2022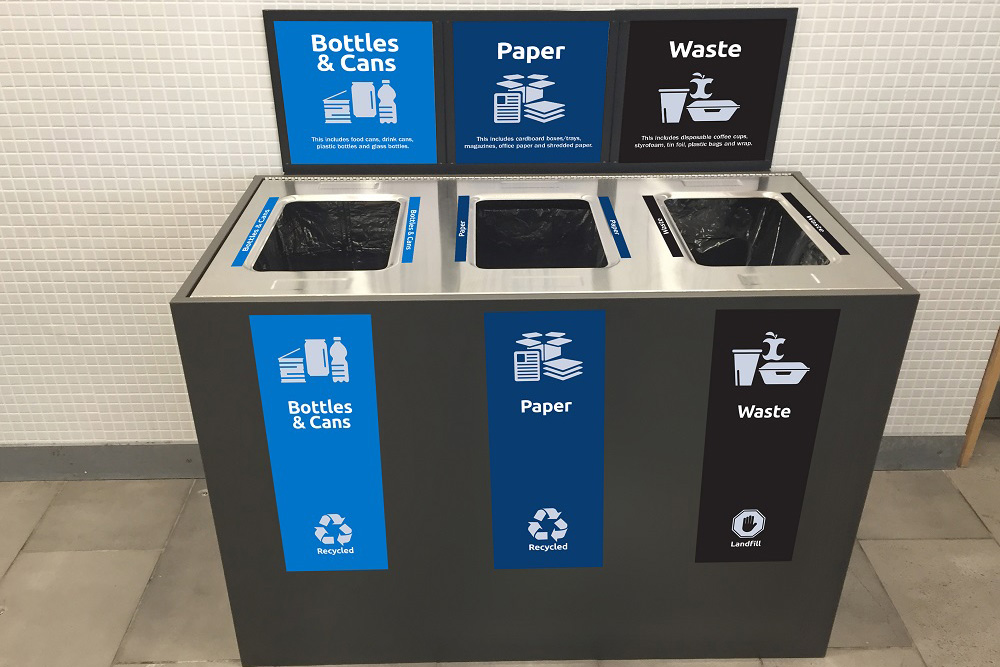 As a long-established leader in sustainability efforts, Ontario Tech University aims, as a campus, to improve its waste-diversion rate with the goal of increasing the amount of recycled materials on campus while reducing waste going to landfill.
Over the years, Ontario Tech's Office of Campus Infrastructure and Sustainability has implemented waste-management awareness campaigns, including the new centralized waste bins and improved waste and recycling signage to ease the sorting process (clearly identifying what belongs in each waste stream). Other waste-management initiatives at Ontario Tech include light bulb recycling, electronic waste collection and battery recycling, to name a few.
As part of its objective to educate the campus and community on sustainable lifestyle choices and maximize reuse, recovery and recycling, Ontario Tech is entering into a new waste management service agreement with Toronto-based U-Pak Disposals (U-Pak).
With this new U-Pak contract, the university will also expand its sustainability efforts to incorporate back-of-house composting with Dana's Hospitality in the UB Cafeteria and The Hive, diverting additional waste from the landfill. Further expansion of the composting program is under consideration.
Working with U-Pak, all campus waste that cannot be reused, recycled (such as bottles, cans and cardboard) or composted, will now be converted into energy, eliminating waste going to landfill. On average, every tonne of waste sent to U-Pak's 'energy from waste' (EfW) facility produces 148 kilowatts of electricity and steam that provides power to a nearby paper mill.
How much saved energy and greenhouse gas emissions are we talking about?
In 2019, Ontario Tech generated 240 metric tonnes of waste at its north Oshawa location. In addition to being diverted from landfill, converting this waste to energy would have produced 35.5 megawatts of electricity (roughly enough energy to power 25,000 homes for an entire year).
This energy recovery process also creates 2.6 fewer tonnes of carbon dioxide per tonne of waste (compared to the waste being sent to a landfill). This would in turn eliminate approximately 624 metric tonnes of greenhouse gas emissions (roughly the equivalent of 29,000 trees).
Did you know? Greenhouse gas (GHG) emissions are categorized into three 'scopes'
Scope 1 emissions encompass direct emissions from owned or controlled sources. This can include fuel combustion in boilers, furnaces and company fleet vehicles.
Scope 2 emissions included indirect emissions from the purchase of electricity, steam, heating and cooling (Ontario Tech's 2018 Scope 1 and Scope 2 emissions were 3,402 metric tonnes of CO2 equivalents).
Scope 3 emissions are all indirect emissions not included in Scope 2. This includes upstream and downstream emissions in the value chain of products and services, like business travel, commuting and waste generation. Ontario Tech's Scope 3 emissions are estimated at 642 metric tonnes of CO2 Switching to EfW operations will reduce Ontario Tech's Scope 3 emissions by 19 per cent.
Together, as a campus Ontario Tech strives to continually push the sustainability agenda forward through innovative research and education programs, campus and community engagement activities, and sustainability in operations.   
Quote
"Ontario Tech University is proud of its commitment to providing students, faculty and staff with a functional, sustainable and safe campus. We are proud of our award-winning achievements and legacy in promoting a clean and green environment. We are excited to reaffirm our efforts to reduce, reuse and recycle as much as possible, and improve our campus waste-diversion rate through our collaboration with U-Pak."
-Ken Bright, Director, Office of Campus Infrastructure and Sustainability, Ontario Tech University
---
Media contact
Bryan Oliver
Communications and Marketing
Ontario Tech University
289.928.3653 (mobile)
bryan.oliver@ontariotechu.ca