Ontario Tech's connection to metaverse plans for new immersive online social experiences
Dr. Christopher Collins will investigate techniques to help people 'write' on virtual whiteboards
April 1, 2022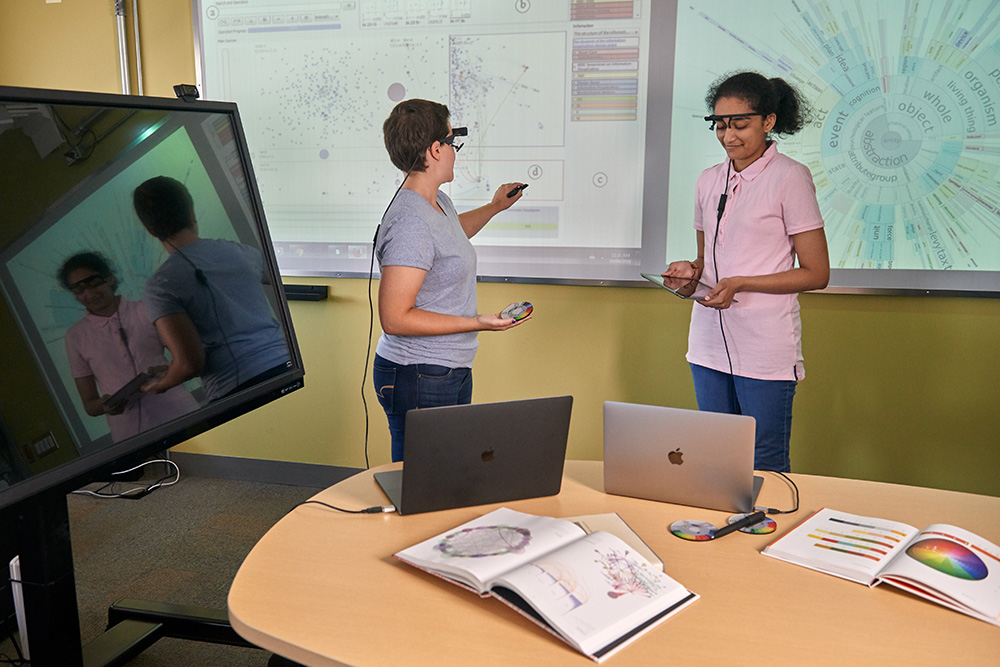 Imagine being able to write something down on a high-tech device, using nothing more than a hand gesture. That is the objective of a new research project led by linguistic data expert Dr. Christopher Collins at Ontario Tech University.
As Ontario Tech's Canada Research Chair in Linguistic Information Visualization, Dr. Collins is one of 17 Canadian academic leaders working on research that will advance innovations needed to build the 'metaverse': the next evolution in social technologies and the successor to the mobile Internet.
Meta Reality Labs Research announced funding on March 29 for various projects to build digital spaces and immersive and interconnected 3D experiences through high-tech devices, each aimed at unlocking new creative, social and economic opportunities.
Dr. Collins' project will use the Meta Research grant to develop new techniques for people to write on 'virtual whiteboards' in augmented and virtual reality spaces. For example, someone could use a specific hand gesture to cause a whiteboard to appear in space, and then use a regular object like a normal pen or a finger to write on that board.
"We are also thinking about 'contextually appropriate' computing and interaction," says Dr. Collins, Associate Professor with Ontario Tech's Faculty of Science. "For example, we want to create systems that can remove uncertainty over what a hand gesture means based on the location and environment. The same hand swipe in the air may mean 'close the application', 'move the map', or 'mute the volume'. What cues do human behaviours and the ambient environment give to help systems discern the user's intent?"
Dr. Collins is also working on the use of eye gaze to track reading behaviour and 'guessing' where someone may want more information or help with a word.
"Imagine reading a line and then looking into the margin and the definition of a word you struggled with appears. Not just any word, but the right word without you having to ask. That's the vision."
Each of the 17 grants is valued at $30,000 and is unrestricted, providing maximum flexibility for labs like Dr. Collins's Visualization for Information Analysis Laboratory at Ontario Tech to pursue their mission.
As part of the March 29 announcement, Meta also unveiled plans for a new engineering hub based in Toronto that is expected to create up to 2,500 new high-tech jobs over the next five years. The majority of roles are engineering-focused and expected to span across building extended reality experiences and Meta technologies.   
Media contact
Bryan Oliver
Communications and Marketing
Ontario Tech University
289.928.3653 (mobile)
bryan.oliver@ontariotechu.ca
Gallery