Ontario Tech researcher wins Ontario Early Researcher Award to develop biological monitoring pilot program
Dr. Denina Simmons will work with young Indigenous scientists in Ontario's Far North
May 6, 2022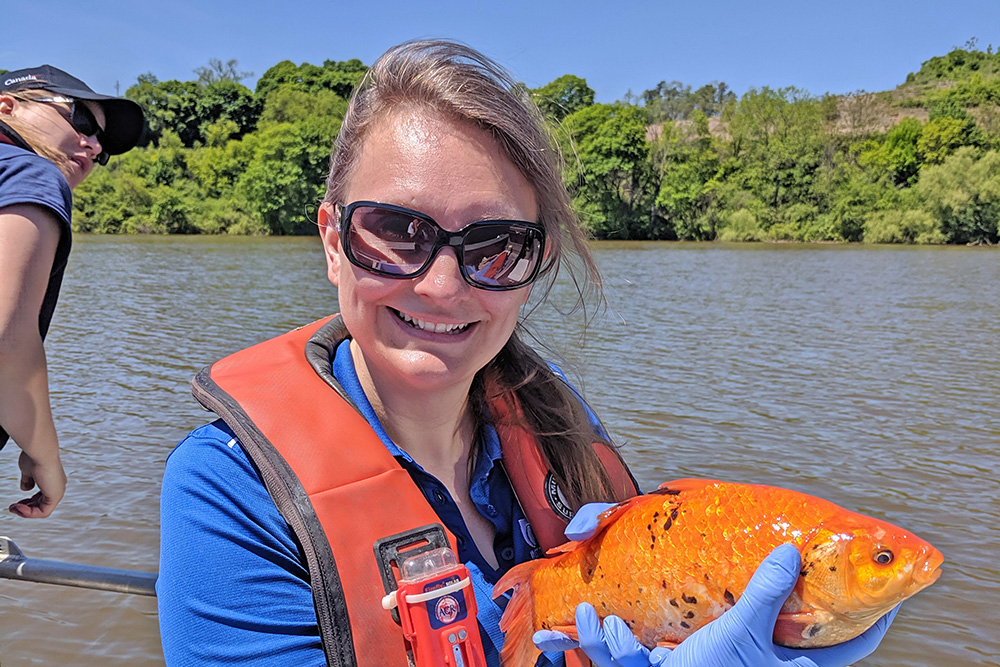 One of the possible outcomes of any mineral mining operation is the potential for adverse effects on the biodiversity of the surrounding geographic area. Mining-process byproducts such as effluents, tailings and smoke can impact considerations like wildlife habitat, micro-organisms, water quality and vegetation.
At Ontario Tech University, Canada Research Chair in Aquatic Toxicology Dr. Denina Simmons is embarking on a new research project that will blend molecular science and traditional Indigenous knowledge to create a youth community science biological monitoring pilot program in Ontario's 'Ring of Fire' mining region.
What is the Ring of Fire?
The Ring of Fire is a mineral-rich area about 450 kilometres northeast of Thunder Bay, adjacent to the Attawapiskat River in the James Bay Lowlands. The region is rich in chromite, along with deposits of palladium, nickel, platinum and copper. Some have claimed the economic impact of the Ring of Fire to be the equivalent of Athabasca oil sands in Alberta. There are however, concerns about the environmental fragility of the wetlands, Indigenous land rights questions, and a general lack of infrastructure for industrial development.
Announced April 20 by the Province of Ontario, Dr. Simmons will receive funding for the project as a recipient of the 2022 Ontario Early Researcher Award, one of the most distinguished early-career academic awards in the country. Dr. Simmons' objective is to develop a simple, efficient, and inexpensive environmental-effects monitoring program to assess the health (and safety) of wild fish in the Ring of Fire mining region.
"We will accomplish this by developing a simple blood and mucous sample-collection protocol that can be performed by young Indigenous community scientists in that region of Ontario's Far North," explains Dr. Simmons, Assistant Professor of Biology, in the Faculty of Science. "The samples can be mailed in an envelope to the Aquatic Omics laboratory here at Ontario Tech in Oshawa. Our research team will analyze those samples for molecular biomarkers of any exposure specific to toxic metals and evaluate the potential for adverse outcomes for local fish species. We are looking for First Nations partners who can help lead the community program."
Over the next five years, the data will inform local Indigenous communities, mining industry stakeholders, and provincial government agencies on the current health of wild fish populations based upon the presence (or absence) of the biomarkers.
The provincial funding for the award is valued at $140,000.
Quote
"The prestigious Ontario Early Researcher Award for Dr. Denina Simmons is more testimony to her outstanding research work. Her project involving Indigenous youth in Ring of Fire region is research that exemplifies the 'tech with a conscience' commitment of Ontario Tech University."
-Dr. Les Jacobs, Vice-President, Research and Innovation, Ontario Tech University
Media contact
Bryan Oliver
Communications and Marketing
Ontario Tech University
289.928.3653 (mobile)
bryan.oliver@ontariotechu.ca
Gallery