Ontario Tech experts capitalize on opportunity to share research with parliamentarians
Trio of Ontario Tech researchers from three faculties showcase their innovative findings in Ottawa
June 13, 2022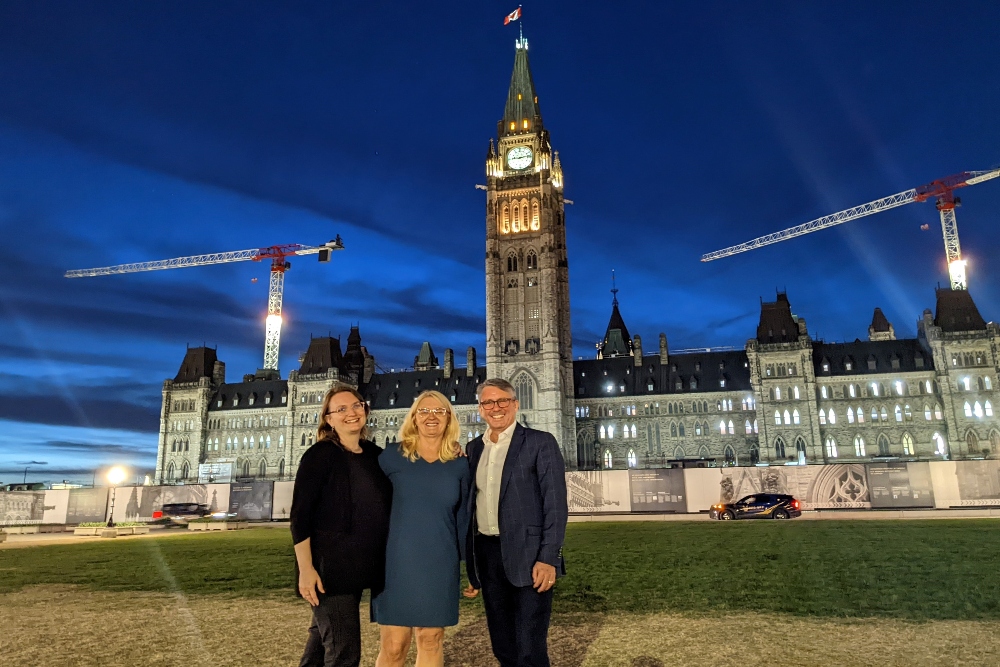 One of the best ways to communicate research and discovery with the public is to meet face-to-face with elected officials on the federal stage.
In early May, three professors from Ontario Tech University were among 47 delegates selected from across Canada taking part in Science Meets Parliament (SMP): a two-day gathering that connects scientists and researchers with members of the Senate and the House of Commons for dialogue and mutual learning. The event at Ottawa's Parliament Hill is organized and arranged by the Canadian Science Policy Centre (CSPC).
The Ontario Tech team featured Dr. Janette Hughes of the Faculty of Education, Dr. Pierre Côté of the Faculty of Health Sciences and Dr. Denina Simmons of the Faculty of Science. All three are among Ontario Tech University's current roster of 11 Canada Research Chairs, recognized as leading national authorities in their research discipline, and whose discoveries and research breakthroughs reflect the excellence that makes up Canada's thriving research ecosystem.
Each Ontario Tech expert represented one of the three federal 'Tri-Council' research funding agencies (respectively, the Social Sciences and Humanities Research Council; the Canadian Institutes of Health Research; and the Natural Sciences and Engineering Research Council).
Even more impressive about Ontario Tech's participation in SMP is that only 47 of 123 applications were accepted nationwide, and that with a team of three, Ontario Tech had one of the largest contingents of SMP delegates attending.
The CSPC and the Office of the Chief Science Advisor offer the SMP program to help strengthen the connection between the science and policy communities. The program provides an excellent opportunity for researchers to learn about the inclusion of scientific evidence in policy-making in Parliament.
Synopsis of SMP 2022 activities
Dr. Janette Hughes, Canada Research Chair in Technology and Pedagogy
Dr. Hughes met with Conservative MP Laila Goodridge, Shadow Minister for Children, Families and Social Development, to discuss the importance of developing innovative pedagogical approaches for children in Kindergarten-to-Grade-12 systems. MP Goodridge invited Dr. Hughes to visit her home riding in Fort McMurray, Alberta to work with educators there.
Dr. Hughes shadowed Conservative MP Greg McLean, Shadow Minister for Natural Resources, for five hours and attended a committee caucus meeting on innovation in Canada. MP McLean also discussed the importance of teaching innovative mindsets beginning in the early years.
Another highlight was meeting Liberal MP Kirsty Duncan (Etobicoke North), who currently chairs the federal Standing Committee on Science and Research, and has been instrumental in supporting Canadian women in science.
Dr. Pierre Côté, Canada Research Chair in Disability Prevention and Rehabilitation
Dr. Côté met with Liberal MP John McKay (Scarborough—Guildwood) for a discussion about the role of science in policy making, before having lunch with Senator René Cormier (independent Senator from New Brunswick) and his staff at his parliamentary office, where they talked about the role of senators in our parliamentary system and the intersection between the arts and sciences. Senator Cormier then invited Dr. Côté to attend Question Period in the Senate.
Dr. Côté also met with Liberal MP Jean-Yves Duclos, Minister of Health, to discuss the consequences of the pandemic, long COVID and the unmet rehabilitation needs experienced by Canadians during the pandemic.
Dr. Denina Simmons, Canada Research Chair in Aquatic Biology
Dr. Simmons met with Senator Dr. Stan Kutcher (independent Senator from Nova Scotia), a lifelong advocate for youth mental health, a successful psychiatrist, as well as a current advocate for environment and science funding working on new bills to improve policy in these areas. Dr. Kutcher invited Dr. Simmons to join his science advocacy group, and agreed to keep in touch regarding environment and policy.
She also met with Liberal MP Terry Duguid (Winnipeg South) who currently holds two Parliamentary Secretary positions: to the Minister for Economic Development and to the Minister for Environment and Climate Change. In the latter role, MP Duguid is leading the government's efforts to advance freshwater protection and management in Canada. He extended an invitation to visit his Manitoba riding in October. He also shared insights on how the new Canada Water Agency might evolve to help improve Canada's freshwater management.
Dr. Simmons also attended a raucous Question Period in the House of Commons before also meeting with Liberal MP Kirsty Duncan, aside faculty counterpart Dr. Janette Hughes.
Quotes
"This year of meetings with colleagues from so many different disciplines was incredibly rewarding. The culmination of the program with our visit to Parliament Hill offered insights into how decisions about policies are made at the federal level. I especially enjoyed meeting fellow Canada Research Chairs and hearing about the wonderful, innovative research happening across Canada."
-Dr. Janette Hughes, Professor, Faculty of Education, Ontario Tech University
"One of my goals is to take my knowledge in science and water to help influence good policy decisions – ones that help to protect water resources for future generations. With this experience, I have a better understanding of how I could go about achieving this goal, and feel confident and prepared to speak to with our elected and appointed leaders about issues that matter to Canadians."
-Dr. Denina Simmons, Assistant Professor, Faculty of Science, Ontario Tech University
"The Science Meets Parliament program gave me the opportunity to live at the intersection between science and policy. This was a unique opportunity for an epidemiologist who aims to improve the health and quality of life of Canadians. Meeting with parliamentarians, including Senator Cormier and Minister Duclos, demonstrated that there is a genuine interest in having science inform policy on Parliament Hill."
-Dr. Pierre Côté, Faculty of Health Sciences, Ontario Tech University
Gallery