Foundation continues Herman Kassinger's philanthropic legacy with student support at Ontario Tech
August 22, 2022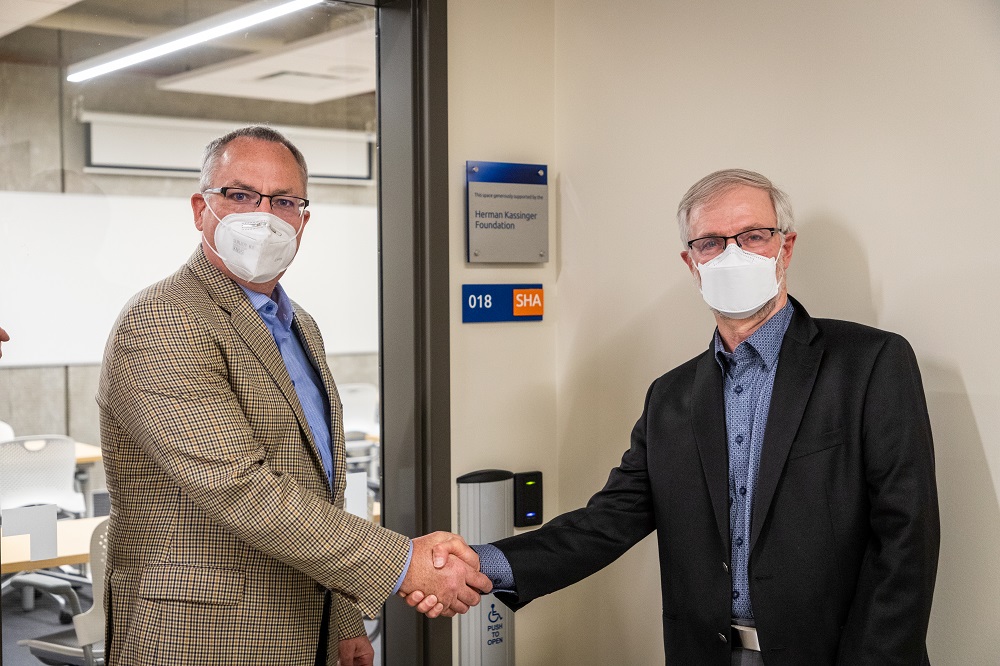 OSHAWA, ONTARIO – On June 20, Ontario Tech University President and Vice-Chancellor Dr. Steven Murphy welcomed trustees from the Herman Kassinger Foundation to Shawenjigewining Hall to unveil a recognition plaque in celebration of their generous, continued support of students and Ontario Tech.
The Herman Kassinger Foundation's recent gift of $400,000 brings the long-time donor's cumulative giving to $555,000. This support is helping students achieve their academic goals through the Herman Kassinger Endowment, the Herman Kassinger Foundation Ontario Graduate Scholarship (OGS) Endowment, and capital contribution for the construction of Ontario Tech's newest building, Shawenjigewining Hall.
In 2003, the Herman Kassinger Foundation established an endowment that provides six financial awards annually for undergraduate students; in 2021, the endowment contributed to the OGS program at Ontario Tech, which encourages excellence in graduate studies. The Foundation also provided a capital gift for Shawenjigewining Hall, home to the Faculty of Health Sciences, Office of Student Life, Office of Continuous Learning and the Ontario Tech Student Union, as well as classrooms, conference rooms and meeting spaces. One of the meeting spaces now bears the plaque honouring the Foundation's support.
The late Herman Kassinger, a renowned land developer, understood the importance of philanthropy and donated generously to causes in Oshawa and Durham Region as a way of giving back to the community that afforded him so many opportunities. Today, the Herman Kassinger Foundation continues these philanthropic endeavours on Mr. Kassinger's behalf.
Quotes
"Herman Kassinger didn't build houses; he built communities. He believed we are all part of the community, and when you provide support, everyone benefits. Since that time, the Foundation has continued to uphold his vision. Herman has always supported higher education and we, at the Foundation, continue to carry on that legacy."
-G. Charles S. Morison, Trustee, Herman Kassinger Foundation
 "The generous support of the Herman Kassinger Foundation demonstrates the power of community and shows Ontario Tech University students that the community believes in them, and that the positive impact they will make in the world is not a dream but a reality."
-Dr. Steven Murphy, President and Vice-Chancellor, Ontario Tech University