Ontario Tech research to apply infrared technology to unlock the neural underpinnings of human social interaction
Drs. Matthew Shane and Bobby Stojanoski to receive federal funding for neuroimaging system to explore the social brain and initiate interventions for individuals with socio-emotional abnormalities
September 21, 2022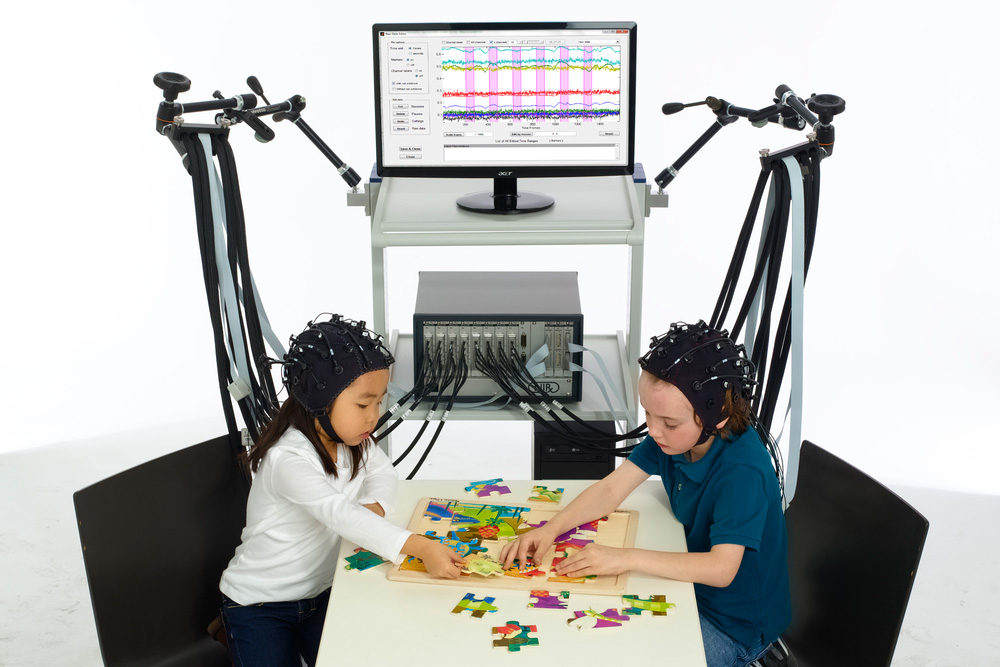 Functional magnetic resonance imaging (fMRI) has revolutionized our understanding of both brain and mind. By measuring the flow of blood in the brain, fMRI can create 3D images that accurately pinpoint neural regions that are active while one is engaged in a task. In this way, fMRI has been transformational in identifying how the brain supports cognitive and emotional processes, as well as changes in brain activity associated with populations suffering neurodevelopmental, neurodegenerative or psychiatric disease.
Ontario Tech University Psychology researchers Dr. Matthew Shane and Dr. Bobby Stojanoski have extensive experience using fMRI to better understand the neural mechanisms underlying socio-emotional processing, including the way we understand, relate to and empathize with others. However, because of MRI's immobility, high cost, and isolating, claustrophobic environment, the Faculty of Social Science and Humanities researchers have been unable to use the technology to examine the brain regions supporting social interactions in real-world situations (i.e. when actively interacting with another person), or to design interventionist studies that could potentially help improve socio-emotional processing.
"Despite its revolutionary benefits, fMRI has several important weaknesses that limit its utility for intervention science," explains Dr. Shane. "Most importantly for our research: the individual cannot fully interact with other people while they are in an MRI – so this makes it very difficult to help them with things like relationship success or the empathic understanding of others. As a result, it would be very difficult to use fMRI as the basis for a neuroscience-informed clinical trial that aimed to improve one's empathy for others. Complementary technologies are required."
Canada Foundation for Innovation funding for further research
In acknowledgement of the importance of Drs. Shane's and Stojanoski's work, they have received a $391,341 award through the Canada Foundation for Innovation's (CFI) John R. Evans Leaders Fund, to purchase a new functional near-infrared spectroscopy (fNIRS) system.
Much like fMRI, fNIRS tracks the flow of blood as means to index brain activity. However, unlike fMRI, fNIRS comes in a very small form-factor: it's administered by fitting a small, portable mesh cap over the individual's head, and measuring brain function through a variety of sensors that attach to the cap. This technology opens up numerous possibilities for new research, including the evaluation of brain processes in real-world situations, and the acquisition of brain activity from populations who are traditionally more difficult to test, such as autistic children. The portable nature of fNIRS means it can also be taken into psychiatric or forensic facilities to evaluate populations who can't get to an MRI. 
"We are extremely fortunate to have been granted this prestigious award, and extremely grateful of the CFI for its continued support of the Canadian research community," says Dr. Shane. "This will allow us to undertake critical research into socio-emotional processes that simply wouldn't have been possible otherwise. Socio-emotional disorders cause immense social havoc, and almost immeasurable societal costs. The ability to develop non-pharmacological interventions for these disorders would have an immense local and worldwide impact."
Further fNIRS technological applications
One exciting possibility afforded by the fNIRS system is conducting what is referred to as 'hyperscanning' studies, during which neural activity is simultaneously recorded from two interacting individuals to evaluate the degree to which their brains synchronize. Neural synchrony has been associated with shared experiences, classroom-based learning outcomes, and clinician-patient engagement. Planned hyperscanning projects at Ontario Tech will assess the brain systems underlying social-cognitive processes, in both normative and clinical populations.
"Humans are inherently social creatures, and every aspect of our mental lives, including various cognitive and emotional processes, exist within a social context. Yet, most studies examining the human brain and mind are done with a focus on the individual in isolation. The new fNIRS system will allow us to discover the set of neural mechanisms that give rise to complex and naturalistic social interactions," says Dr. Stojanoski.
The low-cost, and ease of usage of the fNIRS system will also allow for more undergraduate students to participate as laboratory volunteers and gain extensive hands-on experience brain imaging technology.
Quote
"The continued support of the Canada Foundation for Innovation for building our research infrastructure across the university has been invaluable. The exciting research opportunities this new equipment provides for Professors Shane and Stojanoski in the social sciences is a testament to that commitment."
-Dr. Les Jacobs, Vice-President, Research and Innovation, Ontario Tech University
Media contact
Bryan Oliver
Communications and Marketing
Ontario Tech University
289.928.3653 (mobile)
bryan.oliver@ontariotechu.ca
Gallery