Leading educational historian appointed Ontario Tech University's new Dean, School of Graduate and Postdoctoral Studies
November 1, 2022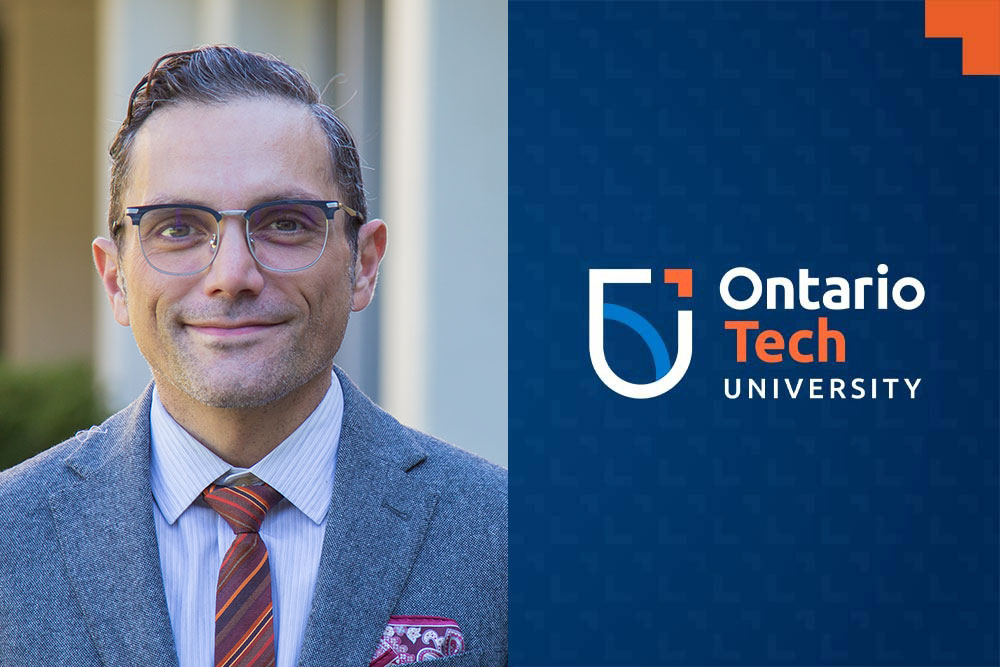 Ontario Tech University announces the appointment of Dr. Theodore (Ted) Christou as the new Dean of the university's School of Graduate and Postdoctoral Studies, effective January 1, 2023.
Dr. Christou is a Professor of History Education in the Faculty of Education at Queen's University, where he has served as an Associate Dean since 2018. He has overseen multiple thesis-based and professional graduate programs, and developed innovative pathways for students and supports for graduate supervisors. His work at Queen's established postdoctoral fellowships in Indigenous Education, partnerships to support student and faculty mobility, and increased student funding and training opportunities for graduate students. He has been a mentor and supervisor for students in the academic disciplines of Education, History, and Cultural Studies.
A lifelong educator, Dr. Christou has taught in settings spanning from kindergartens to academic lecture halls, and in most spaces in between. He is a member of the Ontario College of Teachers and is a Registered Early Childhood Educator. As a sixth-grade science teacher, he once participated in Honeywell's Educators in Space program, representing Canada internationally.
As one of Canada's leading educational historians, Dr. Christou has published more than 10 refereed books in addition to multiple, far-reaching textbooks, including History 7 (published by Nelson) and digital humanities projects such as indiandayschools.org. He twice received the Canadian History of Education Association's Founders Prize for best book: as author of Progressive Education (University of Toronto Press, 2012) and as a co-editor of Spirit of the Grassroots People (McGill-Queen's University Press, 2021). Dr. Christou has served as a research fellow in Europe and North America, giving invited talks internationally and researching books in libraries and collections such as Dumbarton Oaks, Mount Athos, and the Vatican Archives.
Dr. Christou participates on the executive of multiple Tri-Council-funded research studies in the domains of education, history, and health, publishing refereed articles in all three fields, as well as educational philosophy. His research explores the complicated relationship between schools and society, drawing on classical and contemporary curriculum theory. He has published two collections of poetry and contributed to multiple media, including several popular articles in The Conversation.
Quotes
"I am delighted to welcome Dr. Theodore Christou to Ontario Tech University in the role of Dean, School of Graduate and Postdoctoral Studies. The growth of our graduate programs reflects the capacity of the university's research imprint, and its unique, learner-centred educational environment. Dr. Christou's extensive background overseeing graduate programs and supporting the master's and PhD student experience will serve him well in this role. I, along with the rest of the university's senior leadership team, look forward to working with him as he provides leadership and strategic oversight for our university's graduate degree programs and activities."
- Dr. Lori A. Livingston, Provost and Vice-President, Academic, Ontario Tech University
"I am thrilled to join Ontario Tech University and be part of its success story. Year over year, the university's graduate studies portfolio continues to grow. I look forward to building upon the university's graduate studies foundation and finding innovative ways to support the personal and academic development of master's and PhD students, and postdoctoral fellows."
- Dr. Theodore (Ted) Christou, incoming Dean, School of Graduate and Postdoctoral Studies, Ontario Tech University