FSSH researcher Dr. Emilia King's podcast Catch Him If You Can tip leads to arrest of alleged serial romance scammer
Ontario Tech researcher's use of remote studio technology advances fraud case
December 21, 2022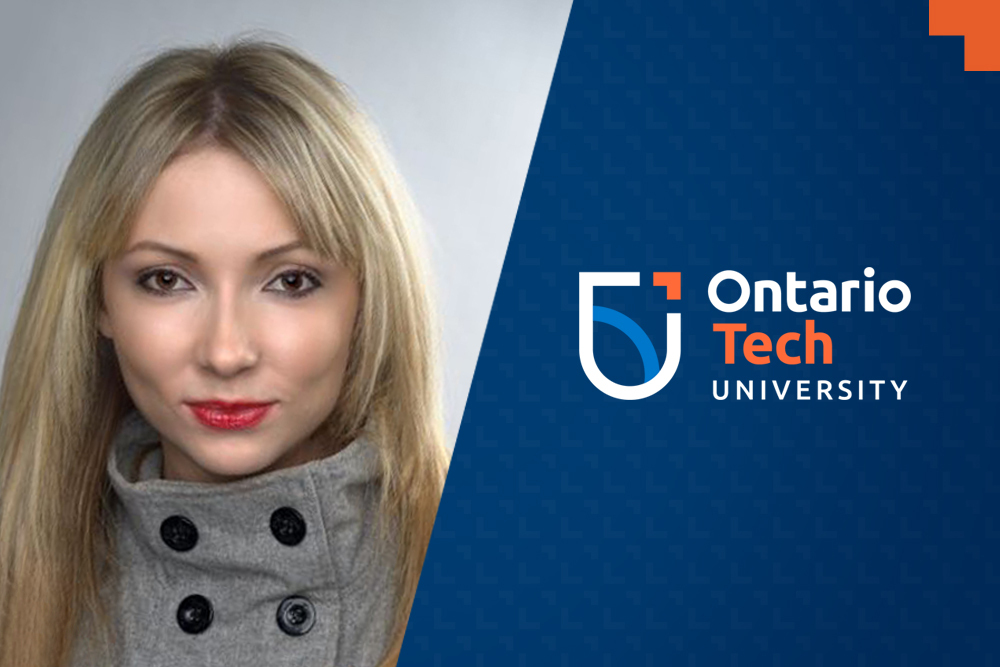 Every year Canadians lose millions of dollars to faceless fraudsters, never knowing the perpetrators of the crime or having the ability to bring them to justice. But one conman has boldly preyed on women and vulnerable people he's built personal, face-to-face relationships with, leaving them feeling betrayed and broke in the aftermath.
The brazen romance scammer grabbed the attention of Dr. Emilia King, Assistant Professor in the Faculty of Social Sciences and Humanities (FSSH) at Ontario Tech University, when she read a news story about one of his marks.
"We came across an article that was framed in a kind of negative light toward the ladies, the survivors of a romance con artist," Dr. King says.

Inspired by the survivors' stories and a desire to see justice, Dr. King reached out to the victims to propose developing a podcast, produced by her creative company Pink Moon Studio, to tell their stories in their words.

"These ladies have felt really abandoned by the justice system and we felt there was a need to do something and amplify their story," she says.

With the help of the Frequency Podcast Network and her business partner Dr. Maggie Reid, Creative Director at Pink Moon Studio, Dr. King created a podcast titled Catch Him If You Can, which helped police apprehend the suspect.
Using remote studio software that enabled Dr. King to record throughout the pandemic and across the country, a podcast was created with each survivor's input, utilizing scripted and non-scripted segments to bring it to life.
"The reason we wanted scripted elements was to really allow listeners to put themselves in the shoes of the victims to understand how these things happen."
Together, they created a riveting podcast that led one listener to contact them with a tip that would finally lead to the accused's arrest.
"There is strength in numbers. The more people that know, the more people that make noise and the more it comes into the public consciousness. It happened here. The application of technology through a podcast produced a pivotal tip that allowed us to locate this guy and take the investigation to the next level."

In early October 2022, York Regional Police arrested the man Dr. King was following in her Catch Him If You Can podcast on an outstanding warrant for his arrest in Quebec. He is facing fraud charges from a scam he committed in 2014 that resulted in one woman and her partner losing nearly $100,000.
 
While the use of technology and community helped locate the accused in this case, it was also a tool for him.
"He used technology to build credibility and create a false reputation for himself. From fake social media profiles to countless email addresses, to false business websites, to impersonating people through multiple cell phones, using pictures he found online to make himself appear wealthy, to being able to penetrate the online banking system---he's used technology for nefarious purposes. There's so much more to expose and explore."

The man featured in Dr. King's podcast will appear for a preliminary hearing in Quebec on December 22. Dr. King says it's still to be determined whether the crown will find there is enough cause to move forward to a full trial.

Dr. King says the Catch Him If You Can podcast will return for a second season and will continue to follow this case through the justice system, examine how other accused serial fraudsters have also evaded justice, and explore the difference between society's treatment of male and female victims of fraud.
---
Media contact
Shane MacDonald
Communications and Marketing
Ontario Tech University
905.261.1705
shane.macdonald@ontariotechu.ca