Ontario Tech engineering, research and development: Helping drive the automotive industry forward
University partners with Province of Ontario to host key industry players at automotive sector roundtable
December 2, 2022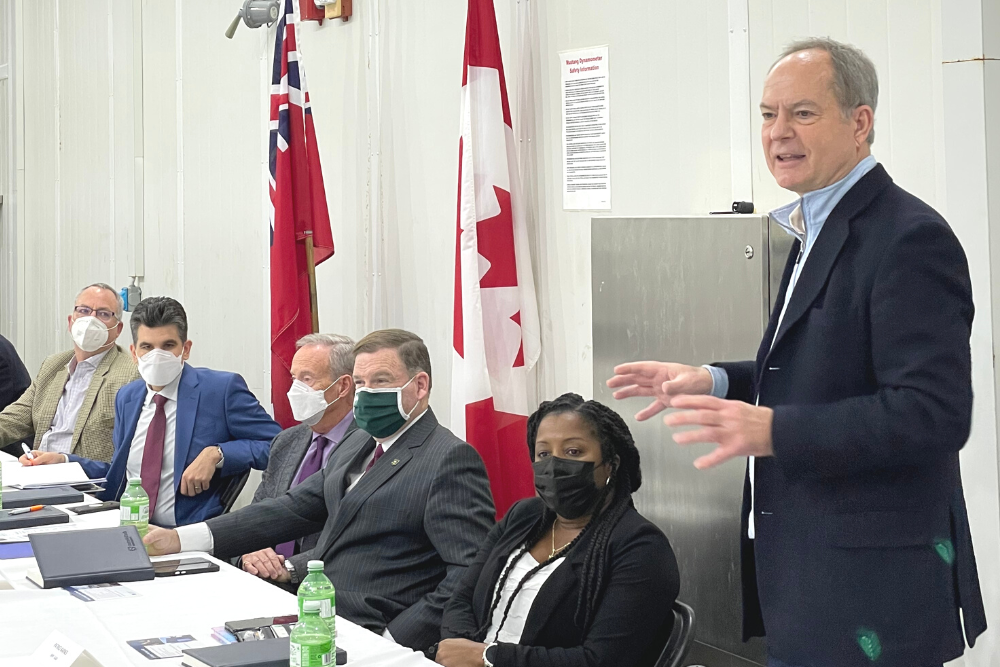 At a time of rapid wholesale change in vehicle technology, regional automotive industry leaders believe Ontario has a generational opportunity to emerge as a North American powerhouse of automotive research, development, innovation and manufacturing.
Thanks to its strategic location in the province's industrial heartland, Ontario Tech University has a vital role to play as a centre of academic expertise in the automotive and clean energy realm, a developer and supplier of future industry talent, and a hub for creating new research and development partnerships that bring vehicle and mobility innovation to commercialization.
On November 25, the Ministry of Economic Development, Job Creation and Trade (MEDJCT) hosted an automotive sector roundtable at Ontario Tech. The robust discussion, held at one of the university's core research facilities, Ontario Tech's Automotive Centre of Excellence (ACE), featured community partners and local automotive industry champions outlining current challenges and opportunities with five provincial members at Queen's Park:
Andrew Dowie (roundtable moderator), Parliamentary Assistant to the Minister of MEDJCT and Windsor-Tecumseh MPP
The Hon. Peter Bethlenfalvy. Minister of Finance and Pickering-Uxbridge MPP
Patrice Barnes, Ajax MPP
Lorne Coe, Whitby MPP
Todd McCarthy, Durham MPP
Dr. Steven Murphy, Ontario Tech President and Vice-Chancellor, welcomed the roundtable participants, speaking to the university's strengths in energy research, academic capacity, and leadership in educating and training future industry talent through outstanding programs and embedded experiential learning opportunities within curriculum. Ontario Tech also leads the way in offering upskilling opportunities and micro-credentials for people already working in the sector.
Ontario Tech: Connecting top researchers, faculty, industry and future/emerging talent to make big things happen
Ontario Tech's highly sought research and testing facilities are helping drive automotive innovation, and these activities ultimately play a key role in both regional and provincial economic development. As part of the roundtable event, participants were invited to tour the world-leading testing facilities of Ontario Tech's ACE, which develops solutions for national and international clients in the areas of aerodynamics, acoustics, electric vehicle testing, extreme climate, and more.
Ontario Tech, through ACE, is a key force in building trusted relationships in the automotive industry and beyond, and is emblematic of the top-notch modern infrastructure that helps power the extensive R&D portfolio at the university.
Selected examples of Ontario Tech industry partners that joined the November 25 automotive roundtable
Upstartz Energy Ltd. – Collaborating with Ontario Tech on battery-based fast-charging system for electric vehicles with Dr. Sheldon Williamson, the university's Canada Research Chair in Electric Energy Storage Systems for Transportation Electrification.
eCAMION – The Canadian advanced-energy storage and charging leader has tested its autonomous vehicle charging systems in the ACE Climatic Wind Tunnel, as part of the company's collaboration with Ontario's Autonomous Vehicle Innovation Network (AVIN) at AVIN's Durham Regional Technology Development Site.
GM Canada

– Collaborating with Ontario Tech to educate future STEM (science, technology, engineering and mathematics) talent. GM Canada provides funding for Ontario Tech's c_wonder: Mobile Design Lab Maker Truck and the Engineering Outreach program that connect local schools to the university.
Gallery