Ontario Tech University's largest gift to date to support research hub for innovative, clean-energy technologies
Record gift of more than $3.5 million celebrates memory of brilliant engineer Nicholas Sion
December 5, 2022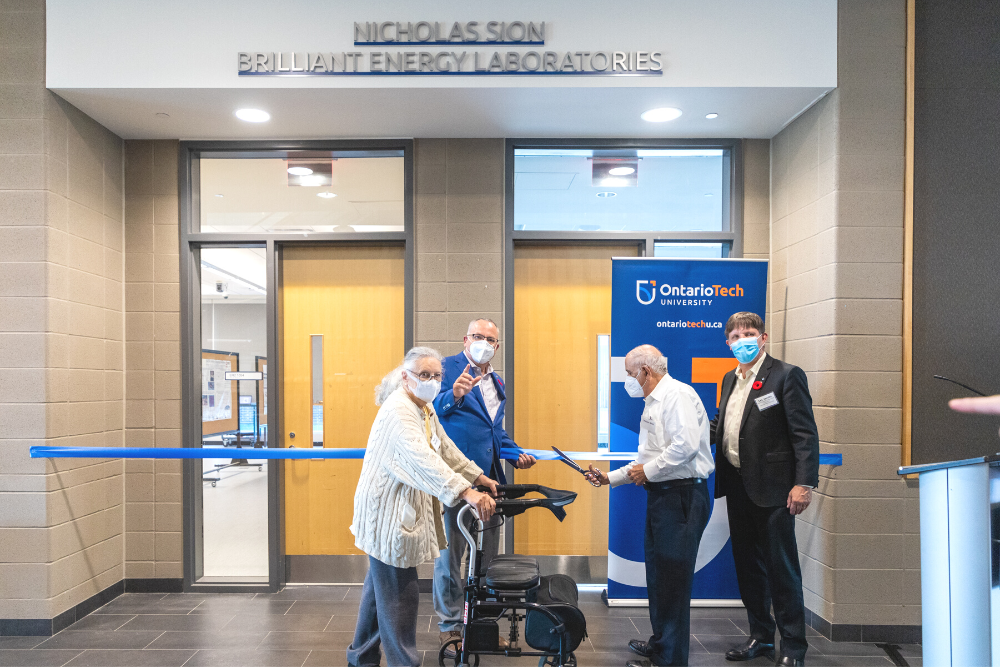 After rapidly establishing a powerful reputation as a key national leader in energy and environmental sustainability research, Ontario Tech University created the Brilliant Energy Institute (BEI) in 2020 to further harness the university's expertise toward reducing carbon emissions.
The emergence of BEI has greatly expanded the national and international energy sector appreciation for, and recognition of, Ontario Tech's energy convening and research capacity. And now, thanks to the university's largest-ever donation from an individual, that institutional expertise will enter a significant new phase.
On November 2, Ontario Tech held a formal ceremony to honour and acknowledge the Estate of Nicholas Sion, a founding donor of the Brilliant Energy Institute (BEI), for the transformational investment of more than $3.5 million that was instrumental in helping launch the BEI at the university.
Family and friends of the late Ontario Power Generation engineer joined in celebration with university leadership, faculty and staff in the Energy Research Centre (ERC), home of the BEI and Nicholas Sion Brilliant Energy Laboratories.
Mr. Sion, an expert in nuclear energy and radiation safety who passed in 2019, was future-focused and passionate about science. In his will, Mr. Sion expressed his intent to support spaces that foster academic discovery, exploration and innovation with a charitable gift.
Mr. Sion's vision of leadership and collaboration for innovation in science aligned with Ontario Tech's proposal for capital investment in the BEI. The naming of the Nicholas Sion Brilliant Energy Laboratories in the ERC dedicates the university's hub for developing innovative, clean-energy technologies and creates a lasting legacy in Mr. Sion's name.
Quotes
"We are incredibly grateful for the unprecedented generosity of the Estate of Nicholas Sion and the impact this gift has already made. The Brilliant Energy Institute is a change agent for a clean-energy future and the tremendous support of the Estate of Nicholas Sion is a significant part of that future."
-Dr. Steven Murphy, President and Vice-Chancellor, Ontario Tech University
"This transformational gift was realized through the diligent work of those entrusted with carrying out Nicholas Sion's wishes. His legacy will endure through the graduates of Ontario Tech University and through the leading-edge energy research and technology-driven innovations that will influence our future."
-James Barnett, Vice-President, Advancement, Ontario Tech University
"Nicholas would be so pleased to see his wishes honoured through the support of the Brilliant Energy Institute. Ontario Tech University is the exact type of organization he would have championed. Nicholas unsurprisingly gravitated toward an educational institution with a focus on science and engineering that could make a positive impact on the world. We are proud to know his legacy is thriving in a place where energy research, invention and collaboration are actively contributing to make the world a better place."
-Victor Sion, Nicholas Sion's brother
Gallery