Ontario Tech's Institute for Disability and Rehabilitation Research becomes a founding member of WHO World Rehabilitation Alliance
International designation opens new avenues for the university institute's research work
December 2, 2022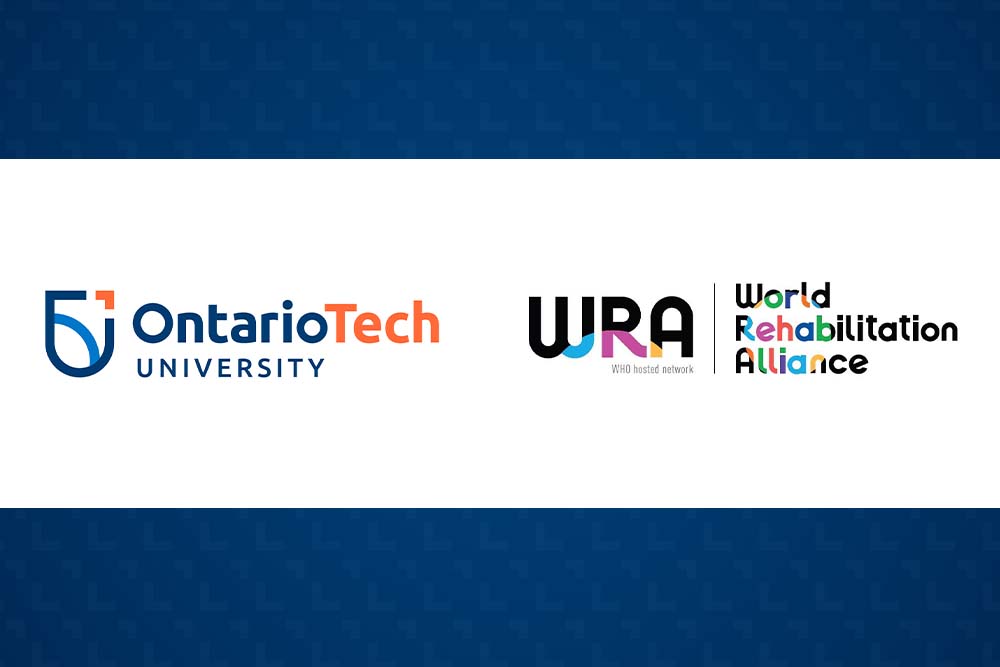 Low back pain and other types of invisible ailments such depression are the main reasons Canadians experience a disability at any given time. Low back pain is in fact one of the country's most common but most-unmet health-care needs. Beyond leading to problems doing basic house chores and absences from work, disabilities collectively cost the economy hundreds of billions of dollars annually in lost productivity and added health-care costs.
Researchers at the Institute for Disability and Rehabilitation Research (IDRR) at Ontario Tech University are poised to play an enhanced role in uncovering new solutions to ensure that patients in-need and the general public receive the best rehabilitation services. The World Health Organization (WHO) has named the IDRR at Ontario Tech a founding member of the WHO World Rehabilitation Alliance (WRA).
"Attaining membership in the World Rehabilitation Alliance is another major international achievement for the the IDRR at Ontario Tech University," says Dr. Pierre Côté, Canada Research Chair in Disability Prevention and Rehabilitation, and IDRR Director. "Our membership in the WRA means Ontario Tech will be at the forefront of international evidence-based advocacy for rehabilitation, joining forces with governmental and private sector organizations, philanthropic foundations, and other academic institutions to advocate for the inclusion of rehabilitation services within universal health-care systems."
Dr. Côté, who is also a Professor with Ontario Tech's Faculty of Health Sciences, says this is a major global public-health issue.
"Access to rehabilitation services for all health problems, including chronic conditions such as back pain and diabetes, is very limited. Advocating for research is a critical vehicle for making the case to governments to invest in rehabilitation care."
Attaining WRA membership required demonstrating a productive and sustainable research program in rehabilitation, and a strong international presence in the field of rehabilitation. A commitment to advocate for the WHO Rehabilitation 2030 initiative was also paramount.
Ontario Tech's WRA status also opens new doors for graduate and undergraduate students at the university.
"The WRA membership will provide opportunities for our students to be exposed to, and develop skills in, evidence-based advocacy," says Dr. Côté. "It will also connect students to a wide network of international stakeholders. Ultimately, it will provide Ontario Tech and the IDRR with the ability to involve students in global policy development projects."
Fast fact: Ontario Tech's Institute for Disability and Rehabilitation Research is a partnership between Ontario Tech's Faculty of Health Sciences, Faculty of Social Science and Humanities, and the Canadian Memorial Chiropractic College.
Quote
"The topics of healthy populations, community well-being and social justice comprise one of Ontario Tech University's strategic research priority areas, and exemplify our commitment to the global reach of 'Tech with a Conscience'. Congratulations to Ontario Tech's Institute of Disability and Rehabilitation Research on this outstanding recognition from the World Rehabilitation Alliance, which further strengthens the university's expanding role in international research leadership."
-Dr. Les Jacobs, Vice-President, Research and Innovation, Ontario Tech University
Gallery
---
Media contact
Bryan Oliver
Communications and Marketing
Ontario Tech University
289.928.3653 (mobile)
bryan.oliver@ontariotechu.ca