Ontario Tech proudly supports Durham Region 2023 Ontario Parasport Games and parasport research
University researchers providing training to local athletes with disabilities
January 31, 2023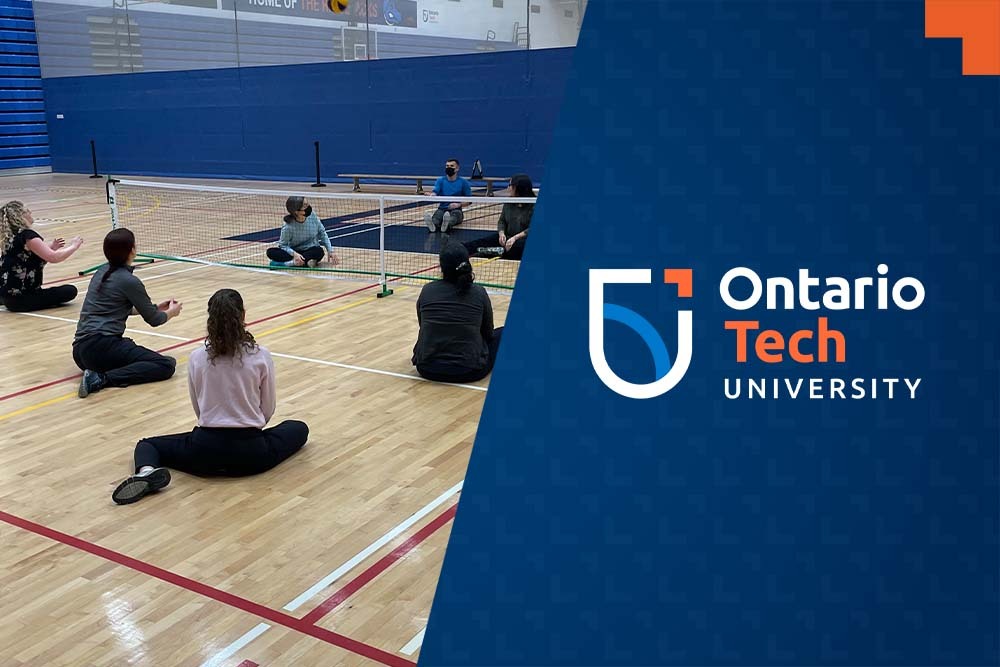 Ontario Tech University will play several key roles in supporting the Durham Region 2023 Ontario Parasport Games, taking place Friday, February 3 through Sunday, February 5.
With the support of the Ontario Government, the Games will see more than 550 participants competing in more than 10 different sports designed for athletes with varying physical abilities.

As a sponsor of the Games, Ontario Tech University will host the wheelchair basketball event at the Campus Recreation and Wellness Centre, serve as the presenting sponsor for the seated volleyball event at the Abilities Centre in Whitby, Ontario, and have a large volunteer presence at the Games.

Sponsoring the Games is one of several ways Ontario Tech is engaged in supporting parasport.

Dr. Heather Sprenger, Assistant Professor, Faculty of Health Sciences, and Physiology PhD candidate Erica Gavel, have partnered with the Parasport Games on a legacy initiative, meant to expand support for parasport athletes beyond the Games.
With funding from the Canadian Paralympic Committee's Paralympic Sport Development Fund, Dr. Sprenger and Gavel launched a pilot program Shaping the Future of Parasport in Canada, which will help eight Durham Region athletes with disabilities receive free training and lessons on nutrition and the psychology of competing.
Gavel, a former Paralympian, says there is a great opportunity to build a real ecosystem for parasport and adaptive athletes in university and beyond.
"We've been exposed to the gaps in the parasport ecosystem, so we decided to help fill them," Gavel says. "Concurrently, we assist athletes while providing students with internships, readings, and modules focused on parasport from multiple perspectives. Essentially, we are trying our best to create student opportunities for them post-graduation while helping advance paralympic sport here in Canada."
The Shaping the Future of Parasport in Canada program has helped at least five Durham Region-based athletes who did not have prior funding receive invitations to train with Canadian Paralympic teams.

Gavel says the program also aims to inspire more people to consider a career as a parasport practitioner, sport scientist, or parasport administrator: something she saw a need for during her 10 years on the national wheelchair basketball team.
"There are just not enough people in Canada who know parasport."
Two Kinesiology research practicum students from Ontario Tech, as well as five students from partner institution the University of Saskatchewan, will participate in the program by working with the athletes on a regular basis. The students are passionate for sport and exercise, and have expressed interest in learning more about parasport.
"There is no practitioner pathway toward paralympic sport in Canada, so we wanted to create a student experience at the undergraduate level so students can speak the language of disability sport and can potentially become master's students in our program," says Dr. Sprenger. "There is nothing else like that in Canada. I believe it is making great impact."
PhD research
Gavel's PhD research also focuses on helping paralympic athletes. Individuals with spinal cord injuries may experience temperature regulation issues and may be more prone to heat-related illnesses. Gavel seeks to explore heat-mitigation strategies for individuals with such injuries to improve their performance.  Her research is jointly funded by Own the Podium, a not-for-profit organization that invests in National Sport Organizations to deliver more Olympic and Paralympic medals for Canada, and Mitacs, a not-for-profit organization that fosters growth and innovation in Canada by solving business challenges with research solutions from academic institutions.
In partnership with an engineering faculty member from the University of Waterloo, Gavel and Dr. Sprenger developed a continuous-cooling system that individuals in wheelchairs can use to help regulate their lower-body temperature.
Adaptive sport on campus at Ontario Tech
Opportunities for Ontario Tech students to try adaptive sports and parasport for themselves are also growing.
The university's Athletics and Recreation department received grant money from the Toronto Accessible Sports Council and Parasport Ontario to run an adaptive sport program on campus. On 'Try it' days, students tried adaptive bocce ball, adaptive goal ball, and seated volleyball.

"Now we're knowledgeable and have the equipment, so we can integrate that into our recreation programming on a regular basis," says Scott Barker, Ontario Tech's Director of Athletics.

The Athletics department also works with an adaptive sport club for students on campus to find facility space and time for adaptive and parasport activities.
"When you're looking at our athletics programming from an adaptive perspective, I'm quite excited with what the future can hold," says Barker. 
Be the Roar
When the Durham Region 2023 Parasport Games kick off on February 3, Ontario Tech wants to make sure participating athletes get the thrill of competing in front of stands filled with fans. The university encourages businesses, schools, families, sports teams, churches and community organizations to participate in Be the Roar: an initiative to help make the Games most memorable for athletes. Adopt a team or para-athlete, form a fan club and cheer them on in person during their competitions.
Be the Roar provides a great team-building opportunity, a chance to learn more about parasport, see first-hand all the amazing athleticism of the para-athletes, and help the local community make a real difference.
To get involved, contact the Be the Roar team and ask them to help you pick a team or athlete to support.
---
Media contact
Shane MacDonald
Communications and Marketing
Ontario Tech University
905.261.1705
shane.macdonald@ontariotechu.ca