Dr. Mitch Frazer reappointed Ontario Tech University's Chancellor
'Students' Chancellor' continues for a second term
February 15, 2023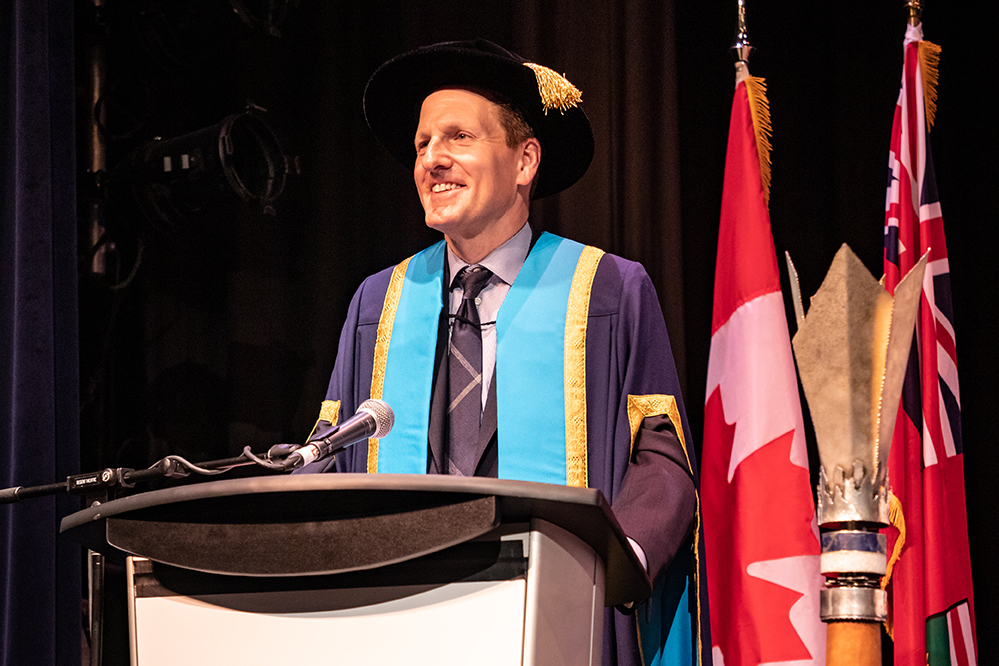 Ontario Tech's Board of Governors has reappointed Dr. Mitch Frazer as the university's Chancellor for a second term, effective Monday, May 1.
Dr. Frazer was named the university's fourth Chancellor in May 2020. His leadership efforts at Ontario Tech have positioned him as the 'Students' Chancellor'. He has helped drive fundraising activities to assist current and future Ontario Tech students as they pursue their academic dreams. His annual Chancellor's Challenge campaign has established a new legacy of community giving for scholarships and awards.
In 2021, Chancellor Frazer received a Doctor of Laws (honoris causa) from Toronto Metropolitan University, and in 2022 he was named to the Order of Ontario.
As one of Canada's foremost experts on pension law, Chancellor Frazer is a partner and Chair of the Pensions and Employment Practice at Torys LLP. 
Chancellor Frazer's strength is helping others. He founded the National Institute on Ageing 'to make Canada the best place to grow up and grow old.' Throughout his career, his passion for philanthropy has helped raise much-needed funds for many foundations, hospitals, and cultural institutions.
Quotes
"I am thrilled to continue as Ontario Tech University's Chancellor. I look forward to playing an active role in its vibrant campus community, while helping the university to advance its priorities. Our students and alumni are making a positive impact in a tech-focused world, and I'm grateful to be part of this incredible university."
--Dr. Mitch Frazer, LLB, Chancellor
"On behalf of Ontario Tech University's Board of Governors, I'd like to thank Dr. Frazer for his continued support of our campus community. As the 'Students' Chancellor', he has demonstrated his commitment to our students through mentorship, the Chancellor's Challenge $1-million goal, and his contributions to creating spaces for our students, staff and faculty to thrive."
-Laura Elliott, Chair, Board of Governors
"Chancellor Frazer's enthusiasm and passion for our university embodies our engaging campus spirit. He continually looks for opportunities to further support our students' success and to tell our university's amazing story. He is a true champion of Ontario Tech, and I'm pleased to have him in our corner."
-Dr. Steven Murphy, President and Vice-Chancellor
---
About Ontario Tech University
A modern, forwarding-thinking university, Ontario Tech advances the discovery and application of knowledge to accelerate economic growth, regional development and social innovation. We inspire and equip our students and our graduates to make a positive impact in a tech-focused world. For us, it's not only about developing the next tech breakthrough. Understanding and integrating the social and ethical implications of technology differentiates us as university. Learn more at ontariotechu.ca.