Two Ontario Tech scholars awarded prestigious Banting Postdoctoral Fellowships
National awards exemplify Ontario Tech's research depth and community connections
February 6, 2023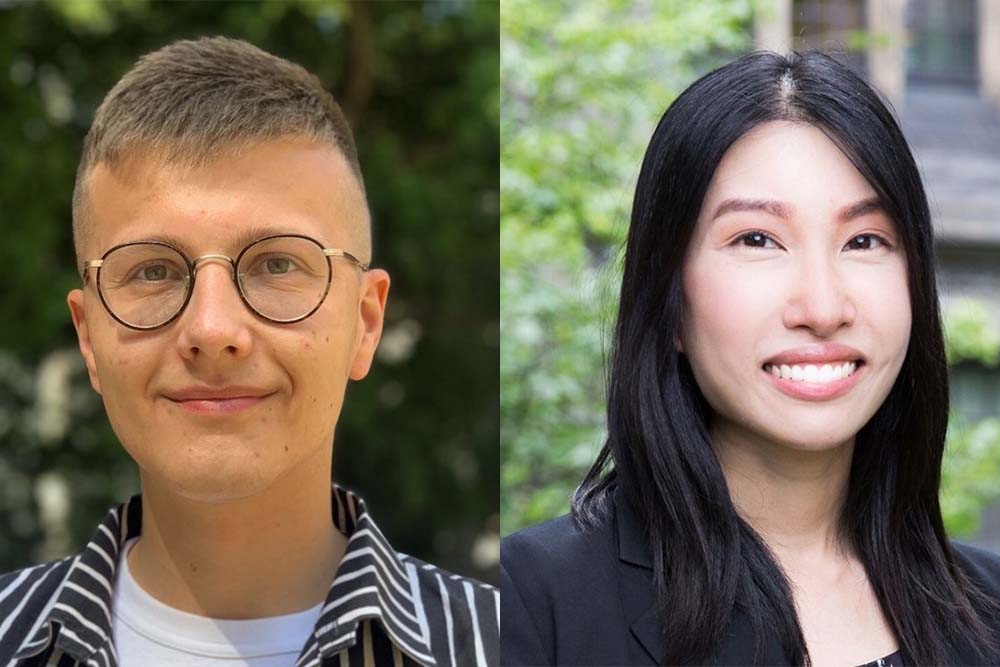 Ontario Tech University's School of Graduate and Postdoctoral Studies is proud to be home to two scholars recently awarded the Banting Postdoctoral Fellowship, a prestigious Government of Canada award that funds the country's top scholars to help them positively contribute to Canada's economic, social and research-based growth. 
Banting Postdoctoral Fellowship recipients Jessica Wong, PhD and Juuso Nieminen, PhD plan to make significant contributions with the goal of improving the lives of others through their individual research projects. Banting Fellows receive $70,000 per year for two years. Only 70 fellowships are presented annually.
Meet the 2022 Ontario Tech Banting Fellowship recipients
Dr. Jessica Wong
Project: Innovative approaches to reduce the burden of unmet rehabilitation needs in older adults with back pain: identifying determinants and health inequities, developing and validating a population risk tool, and monitoring effective delivery of rehabilitation services
Supervisor: Dr. Pierre Côté, Professor, Faculty of Health Sciences, Canada Research Chair in Disability Prevention and Rehabilitation
Wong holds a Bachelor of Science degree in Medical Radiation Sciences and a Master's degree in Public Health from the University of Toronto. She obtained her Doctor of Chiropractic degree from the Canadian Memorial Chiropractic College and became a Fellow of the College of Chiropractic Sciences (Canada). She also completed her doctoral studies in Epidemiology at the Dalla Lana School of Public Health at the University of Toronto.
Dr. Wong is focusing her research on something many are familiar with – back pain. Her research aims to optimize health and improve access to rehabilitation services for older adults with disability. 
More than just an inconvenience, back pain is the leading cause of disability and the main reason for unmet physical health-care needs in Canada and worldwide. Unmet needs greatly affect older adults with chronic conditions and disability, representing key barriers to health. Dr. Wong's Banting research will look at prevention strategies to reduce the burden in older adults with back pain while understanding treatment needs across sex, gender and diversity. The goal is to lead an independent program of innovative, policy-relevant research focused on aging and physical wellness. 
Through her postdoctoral fellowship, Dr. Wong will learn, develop and apply other cutting-edge analytic approaches, including population-based risk tools, to examine determinants, health inequities and prevention strategies related to disability and rehabilitation. 
The Fellowship also provides Dr. Wong with the unique opportunity to interact with scientists and other postdoctoral fellows, mentor junior researchers and network with others in the content and methodological area of disability and recovery. 
"With its focus on 'Tech with a Conscience, Ontario Tech University upholds a unique and socially-minded research environment to serve the interests and needs of complex populations. Immersed in this rich environment, I will gain additional expertise on the intersection of epidemiology, rehabilitation, and health policy to improve the well-being of people with disabilities," said Dr. Wong. 
Dr. Juuso Nieminen
Project: Inclusive learning environments in higher STEM education: supporting the sense of belonging of students with disabilities
Supervisor: Dr. Robyn Ruttenberg-Rozen, Assistant Professor, Faculty of Education, Ontario Tech University
Nieminen holds a Bachelor of Science degree in Mathematics, a Master of Philosophy degree in Mathematics and Technology Education, a Master of Education degree in Special Education as well as a PhD in the field of Assessment in Higher Education (undergraduate mathematic) all earned at the University of Helsinki, Finland.
Juuso Nieminen, PhD is using his background in teaching along with STEM experience in higher-education mathematics to support his Banting research project. Through this project he hopes to better understand and provide answers to the question, how could learning environment design promote the inclusion of diverse students in STEM settings? 
Access to higher education in STEM fields is becoming more readily available for students coming from a diverse range of backgrounds and abilities. However, "access to" is not enough. As students from diverse backgrounds gain greater access to higher STEM education, it's important to look at opportunities to provide support during their studies once they are in a STEM program. 
The first priority of his research is to understand the current situation on a broad, international level. Next, Dr. Nieminen's research takes on a practical component. 
Together with his supervisor and an Ontario Tech mathematics instructor, they will design an inclusive mathematics course by including the voices of all stakeholders – notably students – in the process of designing the course. The goal of the project is to really hear the voice of the students with disabilities on many levels in the learning environment design of higher STEM education. The findings will be helpful in Canadian STEM education as well as internationally.
"This is an important investment for higher quality teaching and assessment practices that would not see diversity as something to be avoided and mitigated, but as something to be celebrated as such. This funding will provide the highest quality of scientific rigour, while also aiming to promote better practice in higher education. Having resources to do this kind of research – namely, funding – enables research about inclusion in STEM to grow and develop," said Dr. Nieminen.
Quotes
 "It is a great honour and privilege to supervise Dr. Jessica Wong. Dr. Wong is most deserving of the prestigious Banting Fellowship awarded to the very best post-doctoral applicants in Canada. Chronic low-back pain is the main cause of disability in Canada, yet we have very few means to effectively prevent it or treat it. This award has set Dr. Wong on an academic trajectory that will impact health policy nationally and internationally." 
-Dr. Pierre Côté, Professor, Faculty of Health Sciences, Ontario Tech University
"We are extremely excited to have a scholar of Dr. Juuso Nieminen's calibre join our lab. He is a most deserving recipient of one of Canada's most prestigious fellowships. Dr. Nieminen has already made important contributions to our collective understanding of equity and access for marginalized people in STEM higher education. Dr. Nieminen's Banting research will continue to build on those contributions and will make tangible impacts within Ontario Tech and beyond."
-Dr. Robyn Ruttenberg-Rozen, Assistant Professor, Faculty of Education, Ontario Tech University
Gallery