'Amazing experience': Ontario Tech student spends day with CEOs in Ottawa as part of CEOx1Day program
CEOx1Day program takes place during March, National Co-op and Work Integrated Learning Month
March 28, 2023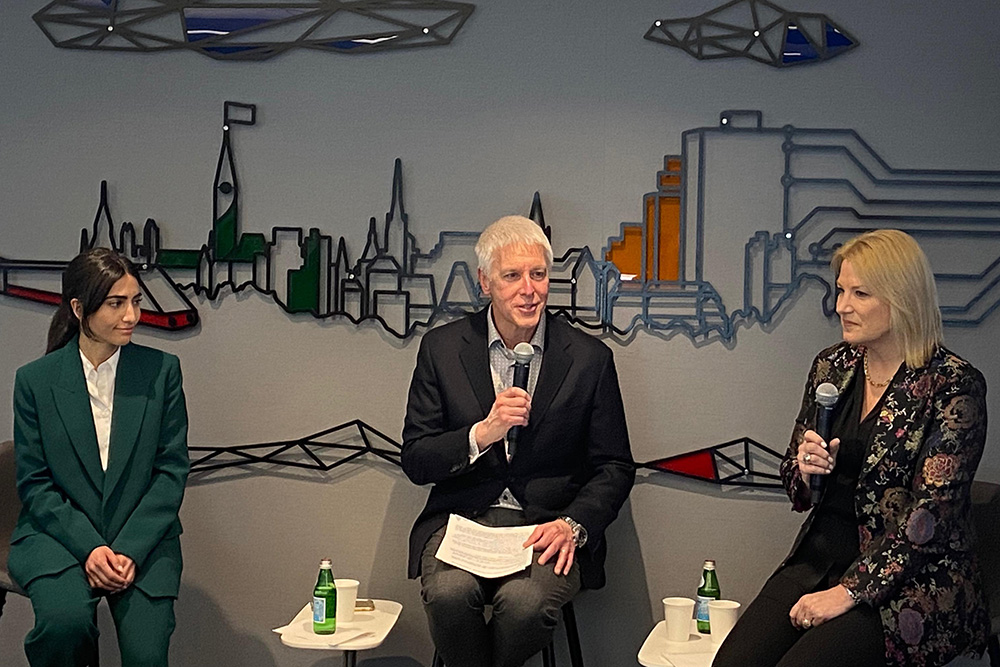 The opportunity to learn in the workplace and gain field experience is invaluable for students preparing for their future careers and is a cornerstone of the educational journey at Ontario Tech University.
Soha Dehghan, a fourth-year Forensic Psychology student in the Faculty of Social Science and Humanities at Ontario Tech, recently had the chance to shadow a Chief Executive Officer and see what it takes to be a leader for a full day (CEO for a Day, or 'CEOx1Day') in the business world.
Dehghan was chosen ahead of hundreds of other students to become one of 32 national finalists in the CEOx1Day program by executive search firm Odgers Berndtson. CEOx1Day is designed to close the gap between students and CEOs by identifying promising future leaders and giving them the opportunity to learn business and leadership skills from top Canadian executives.
The program runs in more than 10 Odgers Berndtson offices worldwide, including the United Kingdom, Spain, Brazil, Belgium, Australia, South Africa, and Singapore.

"This just looked so interesting and like a great leadership opportunity," says Dehghan, who learned of the program through an employment advisor in Ontario Tech's Office of Student Life. "I'm in Forensic Psychology but I also have passion for going into the health care industry and playing a leadership role in my future. I am interested in pursuing an MBA degree so that's what really attracted me to CEOx1Day."
In January, Dehghan went to Ottawa for a Regional Career Development Day with other CEOx1Day finalists and participated in workshops and learning assessments.
In March, National Co-op and Work Integrated Learning Month, Dehghan travelled back to Ottawa to spend time with a CEO she had been matched with. Dehghan was matched with Michael Tremblay, President and CEO of Invest Ottawa, and shadowed him as they toured a robotics facility and spoke to engineers at a company Invest Ottawa works with.
Later, Tremblay introduced Dehghan to his mentor, Laura Ipsen, President and CEO of Ellucian, an international cloud-based software company specializing in higher education applications.
"I got to shadow both of them, and it was the most amazing experience," she says.
Dehghan was then invited to participate in a livestream panel recognizing International Women's Day, alongside Ipsen and Tremblay.
"It was an unreal experience, and I am so grateful for it," she says. "I got to share a lot of my psychology background. Just because I am in psychology doesn't mean I would not be successful in the business world. If anything, I may have a few extra things to add."
Dehghan says the learning experience outside the university environment allowed her to envision herself in the business world one day.
"This kind of experience allows students to have a different perspective on life and see that they are capable. Seeing it first-hand really motivates you," she says. "It made it feel real and I've been riding a high since the day."
Experiential and work-integrated learning opportunities are available in all six of Ontario Tech's faculties, enriching student-learning and preparing them for their future careers.
Between 2019 and 2022, more than 8,400 students participated in experiential learning opportunities at Ontario Tech with more than 1,000 organizations across a variety of dynamic sectors—health care, manufacturing, information technology, energy, education, professional and technical services and public administration.
For more information, visit Ontario Tech's Experiential and Work Integrated Learning web page.