Campus culture events promote lasting connections at Ontario Tech's downtown Oshawa location
Students, faculty and local community organizations mingle at Perfect Slice of Downtown Oshawa party
March 21, 2023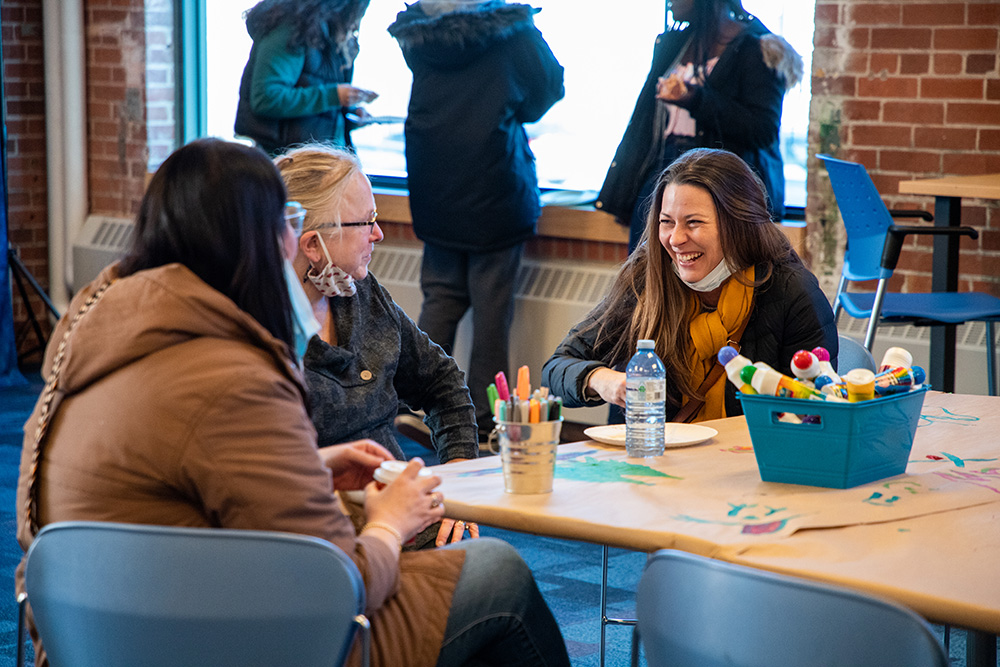 The atmosphere was vibrant March 15 as Ontario Tech's downtown Oshawa campus community connected for a pizza party inside the first-floor 'breakout room' and meeting space at Charles Hall.
Organized by Faculty of Social Science and Humanities (FSSH) students and quarterbacked by FSSH Practicum and Internship Co-ordinators Dan Walters and Cayla Da Silva, the first-ever Perfect Slice of Downtown pizza party attracted more than 200 visitors.  
"We've all been looking for ways to support and build student engagement at Ontario Tech's downtown location in a stress-free way, to take some time to socialize and network outside the often-busy schedule of lectures and lab times," says Walters. "This drop-in activity worked in so many wonderful ways. The party demonstrated how our campus community longs for ways to interact and collaborate while on campus, and not just immediately commute back home the moment a class ends."
The students who helped plan the March 15 gathering were equally delighted with the outcome of the event.
"As students at the downtown location, we've all been aware of the events that happen regularly at the university's north Oshawa location," says Sam Brown, a fourth-year Legal Studies student, who is also the incoming President of the Ontario Tech Student Union. "We want to build a new narrative of belonging and connectivity and hope. Our event had a great turnout, and it exemplifies the untapped potential of the downtown's campus culture."
"We hope this inspires annual events like this, and similar ones throughout the calendar year," says A.J. Narenthira, fourth-year Criminology student, who is also completing a work-study placement with Ontario Tech's Office of Student Life as well as the Registrar's office. "Not only were students from different programs getting together to chat, many of our professors came by too, along with alumni, and representatives of community organizations who are our campus neighbours and friends."
Participants were able to load up on food from nearby establishments
Pizza Munno and Isabella's, interact with pop-up record shop Kops Records, play a giant-sized game of Connect 4, make art with the LivingRoom Community Art Studio, and take countless photos at the media wall. Several lucky students took home door prizes.
"This event proved, without a doubt, the vitality of the university's downtown location, and that if we can regularly put together fun activities, the downtown can be a place to chill after class time," says Olivia Wild, fourth-year Communication and Digital Media student. "We want to collectively paint the culture we want to see at the downtown campus."
"After the isolation that framed the COVID period, it's time for new beginnings at the downtown location," says Celine Jahan, second-year Legal Studies student. "Students want to chart that course, and this was a giant step forward. It was also fantastic to see many of Oshawa's and Durham Region's community service organizations joining us."
Some of the attending community groups were represented by Ontario Tech alumni, including graduates who once took part in an FSSH practicum or work placement. Among them:
Alison Albrecht (2010 Criminology graduate), now working with the Town of Whitby.
Leah Barrett (2020 Forensic Psychology graduate), now with Big Brothers Big Sisters of South-West Durham
Aly Beach (2020 Communication and Digital Media Studies graduate), now with Durham Deaf Services
Oshawa Mayor Dan Carter (2011 Ontario Tech honorary degree recipient, prior to his election to public office) also stopped by to meet students, along with Oshawa MPP Jennifer French.
Gallery