Ontario Tech 'design-a-thon' event opens new learning avenues for Engineering students
Applied learning and teamwork skills are among key outcomes of event highlighting student talent at the university
May 29, 2023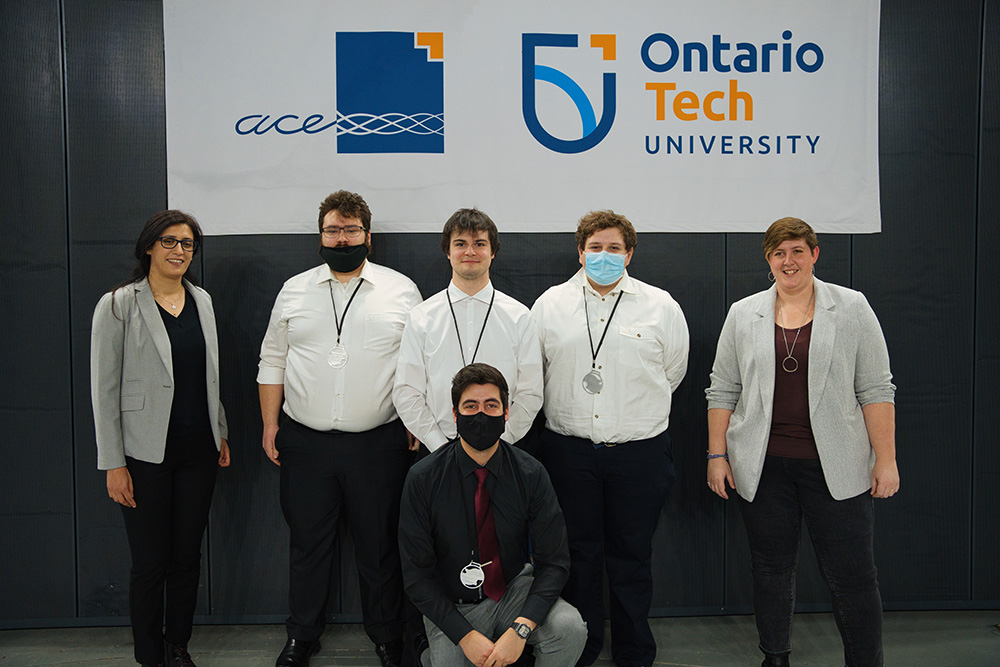 From the creation of a functional and compact handheld multi-tool to an improved way to install streetlights, all kinds of creative ideas were dreamt up and brought to life this spring as 40 Ontario Tech Engineering students teamed up at the 2023 Design-a-thon competition hosted by the Ontario Tech Design League student club.
Held in-person for the first time since 2019 and judged exclusively this year by four women in engineering, the event is a time-limited 36-hour 'computer-aided design' (CAD) competition where student teams of up to five people, choose between two challenges, and propose a solution. The teams brainstorm their project, use CAD software to design it, and 3D print their design, bringing it to life for presentation. CAD software is something all first-year Engineering students at Ontario Tech learn how to use in their Engineering Design course.
About the Design-a-thon
Organized by the Ontario Tech Design League student club and supported by the university's Faculty of Engineering and Applied Science (FEAS), the event connects design-minded students with industry partners while simultaneously engaging them toward overcoming real-world engineering challenges. An extracurricular event that aligns with a student's program, participating allows them to test their CAD skills and develop their engineering mindset.
Open to students from all six Ontario Tech faculties, this year's event featured students from FEAS, along with the Faculty of Business and Information Technology; and the Faculty of Science.
Why is the Design-a-thon a time-limited challenge?
The time constraint gives participants an understanding of how to navigate, problem-solve and adapt to working under pressure in a team environment (like in the real workplace).
The two challenges (either mechatronics-focused or beginner level) took place in Ontario Tech's world-class ACE Climatic Wind Tunnel. 3D printers were made available to the teams, along with access to a team of mentors to bounce ideas off of.
The two top project teams in each category received medals. Winners earned a $200 Amazon gift card; runners-up were given a one-year subscription to Wolfram Language, a proprietary, general high-level multi-paradigm programming language developed by Wolfram Research.
2023 Design-a-thon judges
2023 Design-a-thon sponsors
Ontario Tech Faculty of Engineering and Applied Science (Jeffrey Boyce Innovation and Design Studio) – Lead Sponsor
Multimatic – Premium Sponsor
Magna International (Massiv Automated Systems) – Premium Sponsor
PepsiCo Quaker – Standard Sponsor
Wolfram Language – Prize Sponsor
Engineering Outreach – Support
ACE Climatic Wind Tunnel – Support
2023 Design League student club
President: Garie Kala-Ananthan
VP Technical Relations: Gordon Liang
VP Partner Relations: John (Hanna) Assaf
VP Marketing: Will Locke
VP Finance and Administration: Matthew Lee
Recruitment Efforts: Maharan Paalenthera
Quote
"On behalf of the Design League, we want to thank all our participants, volunteers, judges and sponsors for making this event possible. We had a great turnout and we're glad we were able to hold this event during National Engineering Month. We couldn't have done it without our generous sponsors, and without the support of our all-female panel of judges."
–Garie Kala-Ananthan, 2023 Design-a-thon organizer
Gallery