Ontario Tech University recognizes Mental Health Week: May 1 to 7
May 1, 2023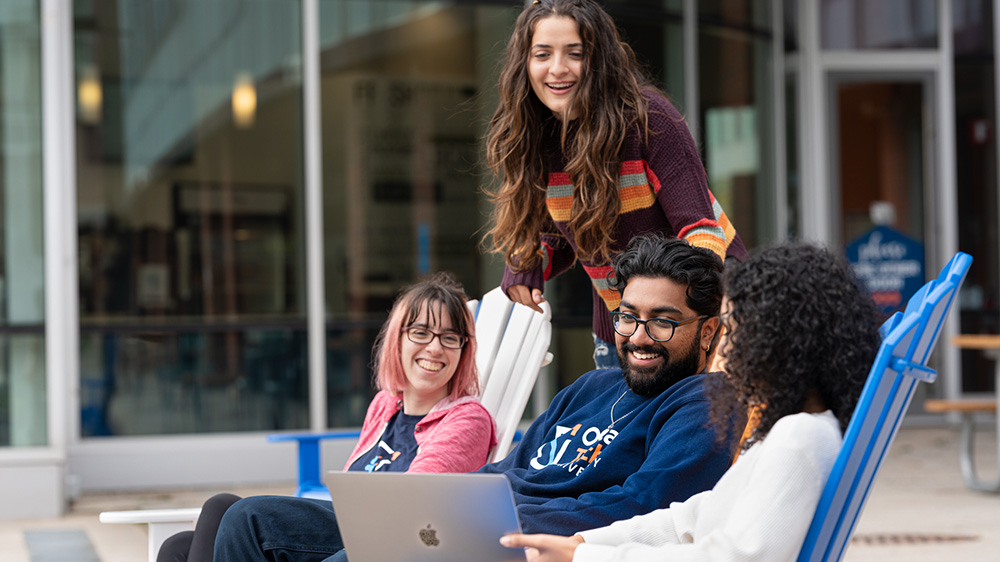 According to the Canadian Mental Health Association (CMHA), in any given year, one in five Canadians experiences a mental illness or mental health issue. We all have a part to play in sharing our stories to increase awareness of mental health and reduce the stigma surrounding mental illness. Everyone deserves to feel well.

Ontario Tech University is joining the CMHA in recognizing Mental Health Week, Monday, May 1 to Sunday, May 7. The theme for this year's Mental Health Week is My Story.
The national event encourages people to share their stories of mental health and to talk, learn and reflect on all issues relating to mental health.
Here's how you get involved during Mental Health Week:
Talk about mental health:
Fight stigma by discussing mental health challenges openly with your colleagues, friends and family. Offer to listen without judgment, and to do what you can to help. The more you talk about it, the easier it is to end the silence and associated feelings of shame, and the sooner you can get support for yourself or someone else.
Get educated:
Learn more about mental health-related initiatives at the university, such as Mindsight, a mental health resource developed by Ontario Tech Faculty of Health Sciences Associate Professor Dr. Wendy Stanyon. Mindsight is a free, easy-to-use online educational resource designed to reduce stigma by promoting awareness of mental illness and facilitate a greater understanding of basic strategies and resources for supporting individuals experiencing a mental-health challenge.
Mindsight addresses stigma and highlights the signs and symptoms of nine common mental illnesses:
anxiety
bipolar disorder
depression
eating disorders
psychosis
self-harm
substance abuse
suicide
trauma
It also includes self-help strategies; strategies for helping a friend, colleague or family member; possible treatment options; and available community resources. Join the thousands who have already become 'Mindsight-certified'.
Participate in an on-campus event:
Ontario Tech University's Healthy Workplace Committee has organized several events throughout May for faculty and staff, including:
Every Day in May Health Challenge: The Every Day in May Health Challenge combines various healthy habits, such as physical activity, nutrition, water consumption, and self-care practices, into a fun, friendly competition between colleagues. Sign up for the Health Challenge today for your chance to win prizes, while reaping the benefits of healthy habits and connecting with your team!
Mental Health Fairs: The Healthy Workplace Committee is hosting two Mental Health Fairs. One is Tuesday, May 2 at Shawenjigewining Hall lobby from noon to 2 p.m. and the other on Thursday, May 4 at Charles Hall in the entrance lobby from noon to 2 p.m.
Employee Family Assistance Program (EFAP) Orientation Session on May 5: Learn more about Ontario Tech's EFAP, which offers support for mental, financial, physical, and emotional well-being. Register today for a virtual EFAP session on Friday, May 5 from 11:30 a.m. to noon.
To learn more about these and other Mental Health Week events for employees, visit the Mental Health Week web page on the university's Human Resources website.
On Monday, May 1, the Office of Student Life will also host a Wellness Walk: a free and fun opportunity that promotes physical and mental health by taking mindful walking breaks during the busy school and workday. Meet at the Campus Recreation and Wellness Centre (CRWC) information desk for an outdoor walk from noon to 1 p.m. (departs at 12:05 p.m.). All students, faculty and staff are welcome to participate.
Access mental health resources for students:
Mental health and well-being are year-round priorities for Ontario Tech University. Ontario Tech's Student Mental Health Services also offers everyday resources for students experiencing personal, physical or emotional difficulties. Students can also access self-help resources, single-session supports, distress drop-ins, group therapy, peer support and workshops. To learn more, visit the Student Mental Health Services web page.