Ontario Tech University researchers collaborating with CNIB to develop explainable artificial intelligence (XAI) accessibility standards
Ontario Tech and CNIB partnering to help eliminate unintentional societal barriers
May 31, 2023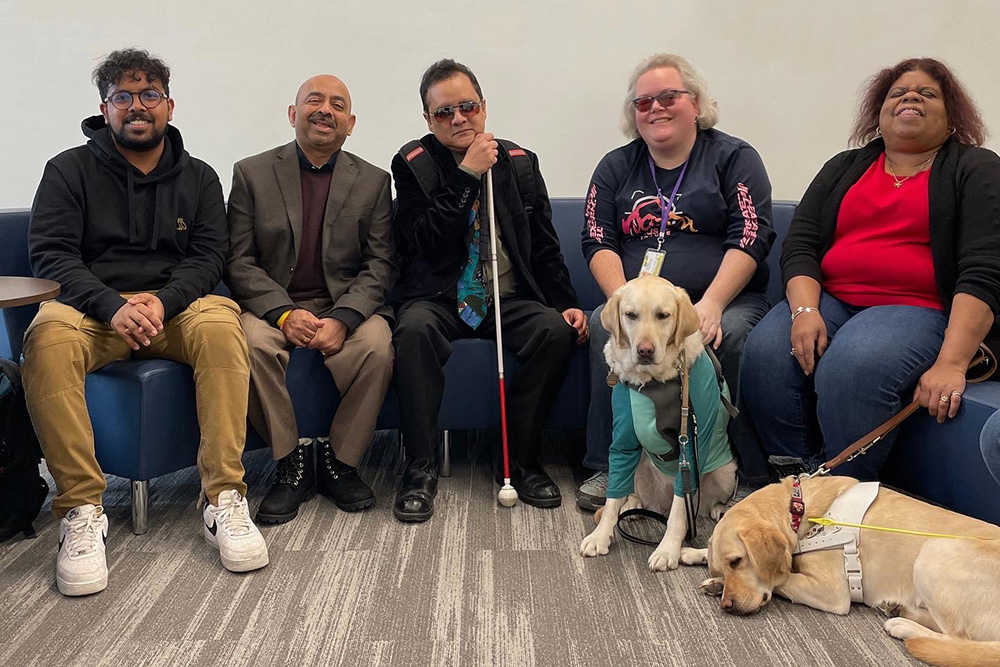 From ramps to wide doorways, there are countless examples of advances in the design of public spaces that remove significant barriers to accessibility. Information and communication technologies are no different, with many public policies and legislation promoting overdue accessibility improvements. Research experts suggest that in the bigger picture, these collective efforts are still very much a work-in-progress.
"Many accessibility studies have focused on mental health disabilities (e.g. Canadian Survey on Disability 2017) or physical/mobility disabilities, which often involve physical and environmental modifications to public spaces," says Dr. Patrick Hung, Professor, Faculty of Business and Information Technology (FBIT) at Ontario Tech University. "As a result, sensory disabilities, experienced by just under 10 per cent of the Canadian population, and disabilities involving changes in sense processing (vision and hearing) are often under-represented within the literature and the processes that lead to standards development and implementation."
Dr. Hung says existing standards encourage a reactive mindset in accessibility and inclusion in the context of service provision models, sometimes generating unintentional design barriers. However, new applications in technology may hold the answers needed to promote evidence-based, proactive, inclusive, and universal design-oriented approaches that could dramatically advance accessibility standards.  
Ontario Tech collaborating with CNIB on AI research
With federal funding from Accessibility Standards Canada, CNIB and Ontario Tech are working on a new research project exploring accessible forms of explainable artificial intelligence (XAI).
"Many of us are already becoming used to living and working with AI tools, and there are crucial questions arising around their responsible use and trustworthiness of them," says Dr. Peter Lewis, Canada Research Chair in Trustworthy Artificial Intelligence at Ontario Tech. "These questions are important because equity and power implications arise from the widespread use of AI technologies. AI tools are known to be prone to propagate and amplify systemic biases, though ableism is rarely studied in this context. This research is essential in working towards equity in the development and adoption of AI technologies."
Led by Dr. Mahadeo Sukhai, Vice-President of Research and Chief Accessibility Officer at CNIB and Dr. Lewis, Associate Professor, FBIT at Ontario Tech, this important research will develop recommendations for Accessible Standards Canada on new national standards that explain the decisions made by AI-based tools in an accessible manner.
"There has been a lot of recent progress in explaining the reasons for an AI system's decision in human-understandable terms," Dr. Lewis explains. "However, these techniques involve complex visual representations and infographics concerning how different factors influenced the decision. This creates a barrier to accessing the explanation for those with sight loss and cognitive, and learning disabilities. The Ontario Tech-CNIB research will address this by co-designing accessible explanatory tools through a partnership between the disability community and the technology community, and by recommending best practices to technologists and policymakers."
Ontario Tech, CNIB and OCADU organize Co-Design Festival
In February, CNIB's Research Team, Ontario Tech University and OCAD University partnered to host a five-day Co-Design Festival with virtual and in-person workshops.
"In these co-design workshops, we collaborated with participants who identify as blind, partially sighted, Deafblind or living with sensory processing disabilities (e.g., brain injury, neurodiversity) to identify areas for design improvement with AI and better understand best practices with immersive technologies like augmented and virtual reality," says Dr. Mahadeo Sukhai. "Together, we uncovered accessibility issues and discussed what ideal solutions could look like to help drive our recommendations for Accessible Standards Canada."
The recent COVID-19 lockdowns and physical distancing showed the importance of proper accessibility. As immersive technologies continue becoming mainstream, the number of sensors and cross-sensory stimuli these provide present unique opportunities for individuals with disabilities to perform and be exposed to scenarios and tools otherwise impossible in real-life.
"Listening to the needs of end-users promotes a greater understanding of the potential of immersive technologies and their role in shaping how these tools can facilitate tasks associated with daily interactions," says game development and interactive media expert Dr. Alvaro Quevedo, Assistant Professor, FBIT, Ontario Tech. "This may include learning, drawing, training, and online meetings with the purpose of crafting novel solutions and identifying recommendations for the use of this technology. This last portion was core for the Co-Design Festival and the grant we have with Accessibility Standards Canada."
Media contacts
Bryan Oliver
Communications and Marketing
Ontario Tech University
289.928.3653 (mobile)
Bryan.oliver@ontariotechu.ca
Karin McArthur
Manager, Marketing and Communications
CNIB
437.922.7353
Karin.McArthur@cnib.ca
Gallery