A clear trend: More high school graduates choosing Ontario Tech than ever before
Number of Ontario high school applicants confirming admission offers from Ontario Tech increases nearly 12 per cent over Fall 2022
June 14, 2023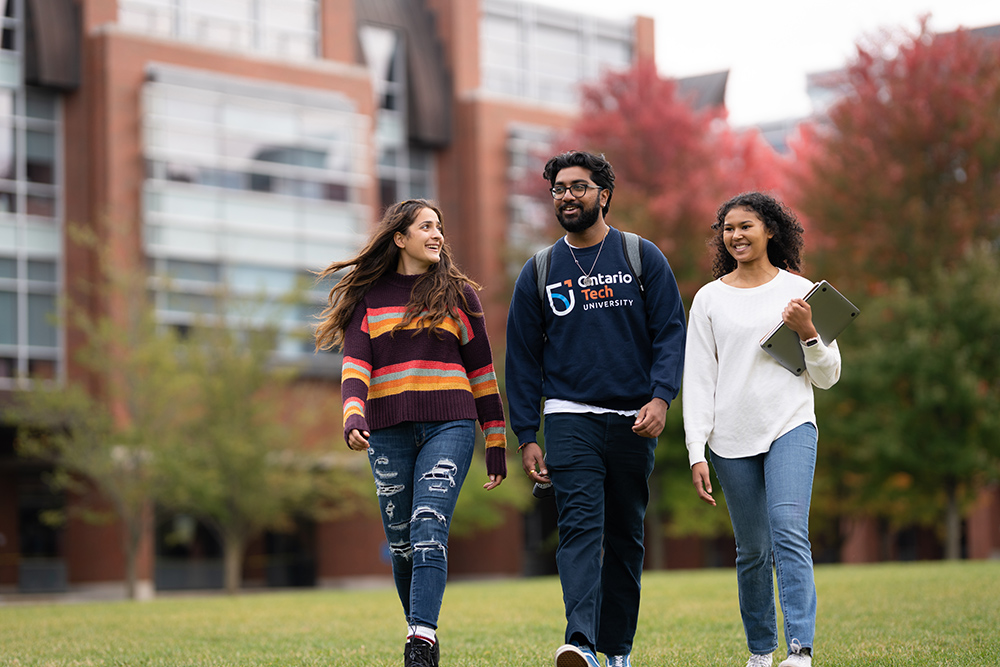 At a time of relatively flat growth in the overall provincial university system, Ontario Tech University stands out as a highly sought post-secondary destination.
As of June 14, the number of Ontario high school applicants confirming offers of admission to Ontario Tech for the 2023-2024 academic year has risen above 2,000 for the first time, which represents an 11.7 per cent increase in confirmations over the previous recruitment cycle. This metric dramatically outpaces the provincial university system's year-over-year average, which declined overall by 1.2 per cent.
The new data extends a clear Ontario Tech trend over the past three recruitment cycles: With high school confirmations increasing by more than 40 per cent since 2020.
Ontario Tech's year-over-year percentage increase in non-secondary school and out-of-province confirmations also leads the system at 19.7 per cent (the overall Ontario university system declined an average of 0.7 per cent in this category).
Ontario Tech confirmations increase echoes Ontario Tech's application numbers from the winter
The Ontario Universities' Application Centre (OUAC) reports Ontario Tech received nearly 12,800 applications for the 2023-2024 cycle, a year-over-year increase of more than 2,000. The 19.4 per cent increase in applications led all of Ontario for the second straight year, following a 33.2 per cent jump in 2022.
OUAC data also show Ontario Tech continuing to rank among the highest in the province in year-over-year percentage increase for high school students indicating it as their top university choice (up 17.6 per cent).
Some of the most popular programs among future students this year included:  Engineering, Business, Computer Science and Health Sciences.
Quote
"Ontario Tech's application and confirmation numbers over the past several academic cycles offer compelling evidence regarding the strength of our great degree programs and our ever-growing brand awareness. Our reputation for high-quality teaching from outstanding faculty, and our embedded experiential workplace learning opportunities are clearly resonating with prospective students. Ontario Tech is the place to be, and we look forward to welcoming our new incoming class in September."
-Dr. Steven Murphy, President and Vice-Chancellor, Ontario Tech University
Media contact
Bryan Oliver
Communications and Marketing
Ontario Tech University
289.928.3653 (mobile)
bryan.oliver@ontariotechu.ca