Faculty of Engineering and Applied Science holds first-annual Engineering Demo Fest
Engineering students competed for cash prizes and industry support to take their projects to the next level
June 6, 2023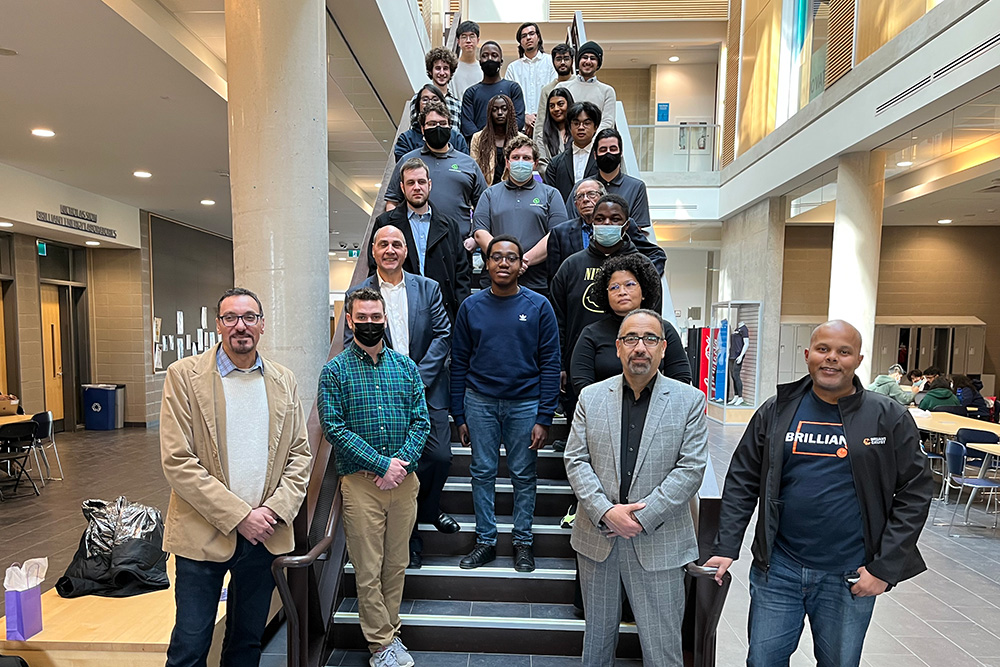 Solving problems through the application of science and mathematics, and finding innovative ways to make machines, devices and systems work to make life easier, are at the core of the discipline of engineering. Recently, Ontario Tech students presented their real-world engineering applications in a judged competition with a chance to win prize money and development support for their projects.
The Faculty of Engineering and Applied Science's (FEAS) first-ever Demo Fest on March 20 showcased student innovations.
The teams, predominately composed of FEAS students, developed innovations ranging from software platforms, prototypes, tools, drones and more. Teams had 10 minutes to demonstrate their ideas, followed by a five-minute question-and-answer session with the judges.
The winning teams proposed impressive solutions to challenges ranging from technological tools for ending food scarcity to new approaches for improving educational technology. Overall, the event highlighted the creativity and ingenuity of Ontario Tech Engineering students and the university's commitment to advancing innovation and entrepreneurship.
First place - EZCampus
Daniel Jeon, second-year student, Mechatronics Engineering
Jason Manarroo, second-year student, Software Engineering
Difficulties can plague the process of registering for university courses and scheduling campus events, resulting in frustration and lost opportunities for students and faculty. EZCampus is a streamlined web platform built using a modern development stack. An independent solution allows for easy adoption, rapid deployment and the potential for future development.
Second place – Moduleaf
Andrew Champ, fifth-year student, Mechatronics Engineering
Nicholas Varas, fifth-year student, Mechatronics Engineering
Mitchel Vella, fifth-year student, Mechatronics Engineering
Moduleaf strives to join the fight against the global food crisis by tackling the many challenges currently faced in traditional farming. Specifically, Moduleaf aims to use a combination of indoor farming, automation technologies, and machine learning to develop modular and efficient growing environments that provide consistent year-round production.
Third place - M.E.D.T.
Lucci La Rocca, second-year student, Mechatronics Engineering
Hassan Trawally, second-year student, Electrical Engineering
The M.E.D.T. (Modular Electronic Diagnostic Tool) is a device that utilizes different 'modules' to function. You plug in the module (e.g oscilloscope module) and the device turns into a usable version of that tool (e.g., a usable oscilloscope). This allows working professionals to have multiple different tools available in the palm of their hand.
About Demo Fest
Demo Fest was supported by the Jeffrey S. Boyce Engineering Innovation and Design Studio. The Studio is open to students year-round and provides support for school and self-guided projects.
The Boyce Design Studio has a team of technical staff with diverse areas of expertise who can assist with projects and ensure safe operations. Students can benefit from the staff's extensive knowledge and experience by seeking guidance and mentorship to kick-start and bring their design projects to life. The Studio offers a wide array of hardware and software, including 3D printers, laser cutting systems, water-jet cutting systems, computer, electronic and soldering workstations and much more.
Other Demo Fest student projects:
AI Assess
Alden O'Cain, third-year student, Software Engineering
Ben Fedoruk, third-year student, Applied and Industrial Mathematics
*Russell Frost, Software Engineering
*Zackary Masri, Mathematics and Statistics
Northern Shores Innovation Institute presented AI Assess — a system leveraging the generative AI technology of the ChatGPT platform to automate and improve educational assessment. The system can: grade quiz-style questions, generate relevant practice problems to improve content retention and provide instantaneous feedback to students. The system reduces instructor workload and improves student understanding.
*Collaborators from other Ontario universities.
Circe's Mindful Campus
Osato Aziegbe, second-year student, Mechatronics Engineering
Aryan Modi, second-year student, Mechatronics Engineering
Alveena Shrestha, second-year student, Software Engineering
Noah Toma, second-year student, Software Engineering
Circe's Mindful Campus is an easily accessible resource platform dedicated to specific functions focusing solely on the wellness and mental health of university students. Features include providing a calendar with all student club activities and events, self-assessment tools to better understand personal mental health needs, financial/wellness and academic resources, and a community hub.
Reginleif
Toluwanimi Ladigbolu,

second-year student,

Mechatronics Engineering

Ayomide Otuyemi,

second-year student,

Mechanical Engineering
Reginleif is a drone with an integrated security and landing gear system that is fully detachable. It can convert into a remote-controlled car.
Split
Wesley Kyle De Guzman,

second-year student,

Mechatronics Engineering

Jeremy Mark Tubongbanua,

second-year student,

Software Engineering
The proposed business venture utilizes distributed systems where computational resources from multiple devices given by a service provider (schools, libraries, etc.) are provided to customers in need of high-performing computational power (researchers, cryptominers, etc). The product is a daemon (a program that runs as a background process) that runs on each edge device and completes a portion of the job.
Quotes
"The achievements of our engineering students at the Demo Fest are remarkable. The projects showcased demonstrated excellent student creativity, technical excellence, and problem-solving skills in tackling real-world issues. The Boyce Design Studio is  testament to our faculty's commitment to providing a supportive environment that allows students to explore their passions and develop their skills."
-Dr. Hossam Kishawy, Dean, Faculty of Engineering and Applied Science, Ontario Tech University
"The Engineering Demo Fest showcased and celebrated student innovations and achievements and was made possible by the generous support of Jeffrey S. Boyce for the Engineering Innovation and Design Studio. The studio provides experiential learning opportunities for students through hands-on workshops, and software and hardware tools for constructing proof-of-concept prototypes."
-Dr. Qusay H. Mahmoud, Associate Dean, Experiential Learning and Engineering Outreach
"The Demo Fest Competition was a great opportunity to showcase our project to industry professionals and learn from other teams' approaches to solving various problems. The feedback from the judges was invaluable and we are excited to continue growing our business by expanding to other universities and applying key takeaways from the event. The first-place recognition is an honour, and we extend our gratitude to the organizers and judges."
-Daniel Jeon and Jason Manarroo, first-place Demo Fest winners