How Ontario Tech is supporting Ontario's innovative electric vehicle and mobility sector and developing the next generation of talent
University playing a key role in Ontario Vehicle Innovation Network's Regional Future Workforce Program
June 29, 2023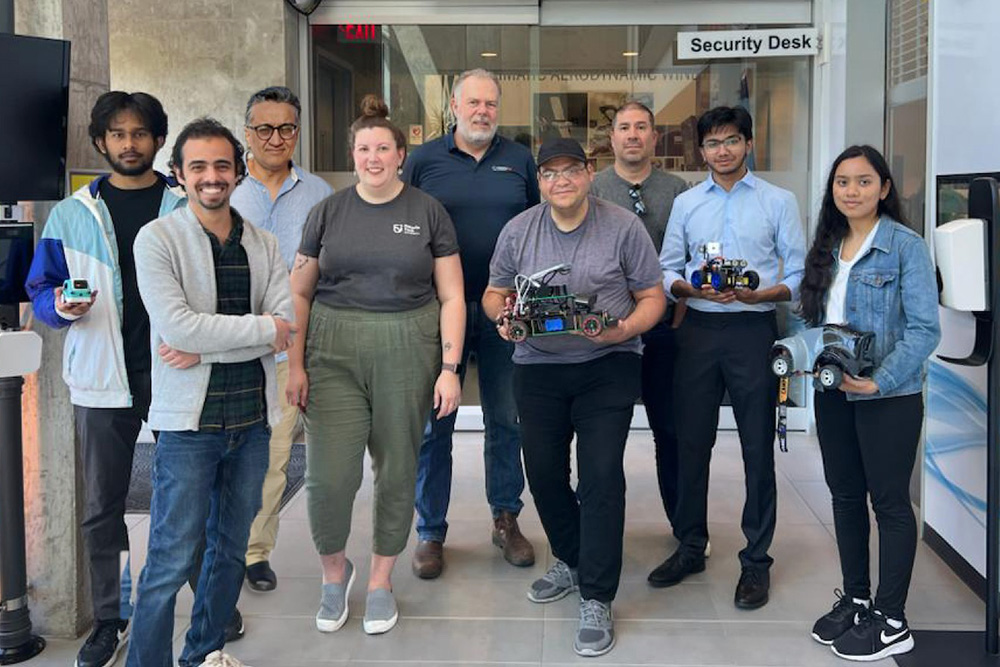 Ontario's electric vehicle and mobility sector has emerged as a world leader in innovation, with the leading companies from around the world setting up in the province. Students of all ages across the province are being encouraged to pursue job opportunities and careers in this sector through an expanding program designed by the Ontario Vehicle Innovation Network (OVIN), led by the Ontario Centre of Innovation (OCI).
Recognizing the need for greater diversity within the sector, OVIN's Regional Future Workforce Program (RFW) builds new bridges between industry and academia to equip the next generation of talent with the knowledge and skills required to support the evolution of the mobility and transportation sector. Ontario Tech University is a major part of the equation thanks to its institutional strength in automotive, energy, computer science, and educational research.
Ontario Tech is connected to two new RFW program developments that were announced by the Government of Ontario and OVIN on May 30 at General Motors' Markham technical site.
Project One
Ontario Tech's Faculty of Engineering and Applied Science (FEAS), and Faculty of Education (FEd), will develop course content for high school and post-secondary students that focuses on skills for connected and autonomous vehicles.
The joint project led by Dr. Mohamed El-Darieby, Associate Professor,
FEAS, and Dr. Roland van Oostveen, Professor, FEd, will receive $485,000 in development funding. The content, co-created by engineering and education research experts, will ensure students at all levels of interest, knowledge and skill can participate and have a fun and engaging experience. The courses also prioritize inclusivity and accessibility for students across Ontario in high school and post-secondary environments.
Much of the content delivery will be conducted through Ontario Tech's highly popular Engineering Outreach, which offers summer camps (featuring connected and autonomous vehicle (CAV) simulators and hardware kits), and a wide range of high school programming during the school year across Ontario through its c_wonder Mobile Design Lab.
The program incorporates a research component to measure the effectiveness of the content and how participants will use digital technologies through the modules. Assessing communication, negotiation and technology skill development among a group of diverse learners is a key element of the study.
Other key community partners involved in the Ontario Tech/OVIN project include GM Canada, IBM, TeachingCity Oshawa, Invest Durham, Accelerate Auto, the Ontario Network of Women in Engineering, and public eLearning programs such as those provided by eCampus Ontario.
Project Two
Ontario Tech is a founding member of the Environmental and Related Technologies Hub (EaRTH) District, a consortium of five leading universities and colleges in the Greater Toronto Area. The EaRTH District partnership will receive $500,000 for its EaRTH Switch program, designed to introduce 600 high school students and 500 post-secondary students to new career opportunities in the automotive and mobility sector.
Focused in three geographic areas—Durham Region, Scarborough, and Peterborough and the Kawarthas—the Switch program will consist of industry tours, trade events, problem-solving hackathons and internships offering industry-led, work-integrated learning opportunities.
Quotes
"As we continue to grow Ontario's auto supply chain, it's important that we empower students and connect them with exciting opportunities in the sector. We're attracting billions of dollars' worth of investment from companies worldwide that will create thousands of new jobs."
-Vic Fedeli, Minister of Economic Development, Job Creation and Trade
"Careers in Ontario's auto sector offer life-changing opportunities, with good pay, pensions and benefits. Our government will continue to invest in innovative projects that help workers and jobseekers get the skills they need to land better jobs with bigger paycheques in the auto industry."
-Monte McNaughton, Minister of Labour, Immigration, Training and Skills Development
"Our Government remains committed to growing Ontario's automotive sector by investing in new, innovative and educational projects such as the Regional Future Workforce program (RFW) and the Environmental and Related Technologies Hub (EaRTH). Our investment alongside the strong partnership involving the Ontario Vehicle Innovation Network (OVIN), Ontario Tech University, and other community partners, we will see Ontario's automotive sector lead the world in new, innovative technology.  This will generate new global investments and secure the high-paying, secure jobs Ontarians deserve."
-Todd McCarthy, Durham MPP
"OCI is grateful for the support from the Government of Ontario. The three core elements that make the Regional Future Workforce program stand out are its regional reach, the inclusion of equity-deserving groups, and the reach across multiple audience segments."
-Claudia Krywiak, President and CEO, Ontario Centre of Innovation
"We are thrilled to be part of OVIN's Regional Future Workforce program and the opportunity to collaborate with industry leaders and academia to provide students with the knowledge and skills to support the evolving mobility and transportation sector. We are continually impressed by the bright minds of our faculty and look forward to the future automotive advancements that transpire through these projects."
-Dr. Hossam Kishawy, Dean, Faculty of Engineering and Applied Science, Ontario Tech University
"Ontario Tech is proud of its strong institutional leadership in the commercialization of electric vehicle and advanced mobility technology as well as the utilization of new approaches to experiential learning through the innovative and ethical applications of technology. We are excited to continue Ontario Tech's long-standing work with OVIN through the new Regional Future Workforce program that showcases our excellence in engineering and education to ensure we develop the future generation of talent that will drive Ontario's automotive sector forward."
-Dr. Les Jacobs, Vice-President, Research and Innovation, Ontario Tech University
Media contact
Bryan Oliver
Communications and Marketing
Ontario Tech University
289.928.3653 (mobile)
bryan.oliver@ontariotechu.ca
Gallery