Marking a special milestone on the journey to gender parity in STEM-based fields
Ontario Tech University celebrates first graduates of Women for STEM program at 2023 Convocation
June 13, 2023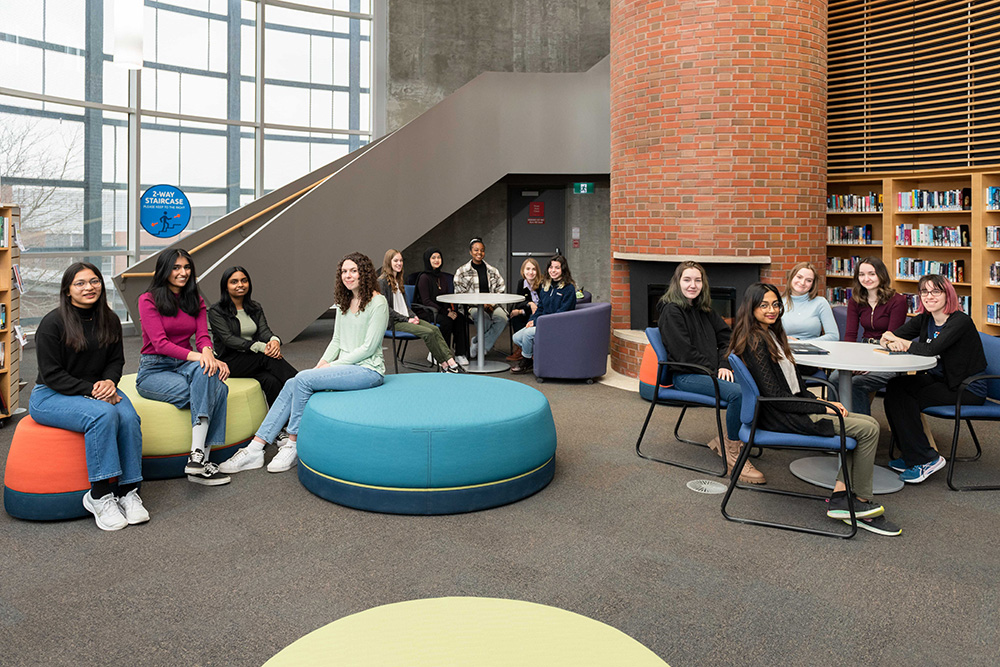 Although great strides have been made in recent years, a significant gender gap exists for women participating in science, engineering, technology and math (STEM) post-secondary education and careers. While women represent the majority of university graduates in Canada, they are still underrepresented in STEM.
To address the gender disparity in Canada and empower the next generation of women leaders in STEM, Ontario Tech introduced the Women for STEM program in 2019. Led by the university's Women for STEM Council, the program's goal is to provide 200 entrance scholarships and 600 in-course scholarships over a 10-year period. The Women for STEM program is built on three pillars: mentorship and networking opportunities; scholarships; and celebrating of the achievements of women as innovators and change agents.
Achieving gender equity in STEM requires a focused, long-term approach that encourages female engagement and success in STEM: programming for young girls in elementary and secondary school to capture their interest; financial assistance and mentorship for post-secondary students to help them succeed in their studies; and support for graduates as they enter the workforce.
This June, during faculty-specific Convocation ceremonies held on Polonsky Commons, the very first graduates of the Women for STEM program received their degrees.
Ontario Tech's 2023 Women for STEM program graduates are:
Robee Kassandra Adajar, Faculty of Business and Information Technology (FBIT), Commerce
Mona Al-Mawagdeh, FBIT, Commerce
Maia Johnson, Faculty of Science, Computer Science
Noshin Rahman, FBIT, Information Technology
Isabella Smith, FBIT, Information Technology
In September 2023, the Women for STEM program will welcome its fifth cohort of 20 scholarship recipients. To support 10 years of scholarships, the program requires just over $2 million in donations. The Women for STEM Fund currently sits at $1.15 million.
You can support our students and maximize your impact now—eligible donations to the Women for STEM Scholarship Fund will be doubled through Ontario Tech's Board of Governors Matching Fund.
Quotes
"On behalf of the Council, I am so pleased to congratulate the Women for STEM program's first-ever graduates and recognize their hard work, determination and achievements. By investing in scholarships, fostering opportunities to build networks, and recognizing accomplishments, this program will continue to support the success of future women graduates. I invite everyone to join us on this journey toward gender parity in STEM."
-Lisa McBride, Chair, Women for STEM Council
"I really believe that the more experiences you have, the more you can contribute because you have gained a broader perspective. I'm grateful for the Women for STEM program. The extra support in terms of building confidence, mentorship and establishing a professional network as well as gaining access to a community of women who understand the obstacles you face has shaped who I am today."
-Noshin Rahman, Women for STEM scholarship recipient and program graduate, Faculty of Business and Information Technology (Information Technology), Class of 2023