Getting up to speed: How Ontario Tech research development helped move Project Arrow forward
University expertise moving the all-Canadian zero-emission electric vehicle from the laboratory to the world stage
July 12, 2023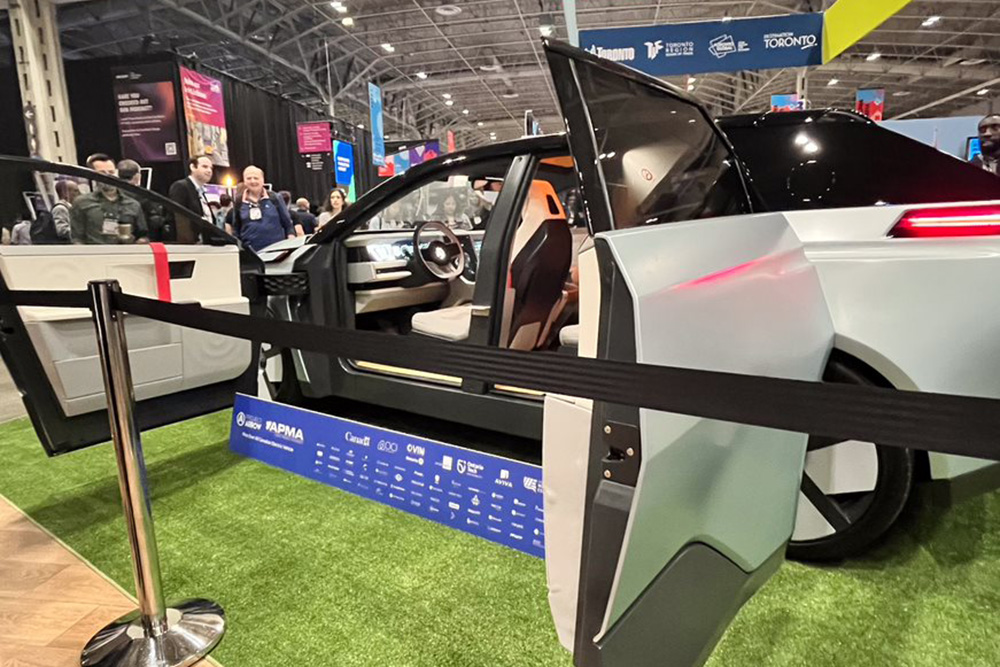 Throughout the first half of 2023, Canada's Automotive Parts Manufacturers' Association (APMA) has been introducing the country, and the world, to Project Arrow, the all-Canadian zero-emission concept vehicle that is inspiring hearts and minds about the country's collective engineering capacity.
Funded by the Federal Economic Development Agency for Southern Ontario (FedDev), the Arrow enjoyed a glitzy debut at the influential Consumer and Electronics Show in Las Vegas in January. Project Arrow has continued to turn heads at various events ever since, including a June showcase event on Parliament Hill and a high-profile placing within the global tech community at the Collision Conference in Toronto.
While the Arrow moves forward, there's an important Ontario Tech University backstory to share. Back in 2021, APMA selected Ontario Tech to partner in Project Arrow as the lead academic institution, to complete the engineering design and build phase of the national project. The university's team collaborated with APMA's many partners, including industry leaders, startups and large Tier-1 suppliers across Canada.
R&D capacity and leadership are key factors in Ontario Tech's Project Arrow connection
Ontario Tech was sought for its Faculty of Engineering and Applied Science (FEAS) research expertise in such areas as additive manufacturing, automotive engineering, aerodynamics, electrification, smart mobility, energy storage, battery chemistry and cybersecurity.
In addition to its strong reputation for highly talented graduate and undergraduate students, Ontario Tech has an exemplary track record with industry partners as a vital innovation hub. The university's ACE Core Research Facility features world-class automotive prototype build capacity and a Climatic Aerodynamic Wind Tunnel with unique capabilities for concept development, including the capacity to simulate extreme cold and powerful windstorms. ACE's attributes helped prepare the Arrow for the full range of harsh Canadian weather conditions.
Bringing all of the technology and design to life: Project Arrow's Build Team at Ontario Tech
Whereas cars are historically built on assembly lines, every design and fabrication detail of the Arrow, from the decision on the type and placement for every bolt, to the full installation and build, was completed at Ontario Tech.    
As academic lead, FEAS mechanical and manufacturing engineering expert Dr. Ahmad Barari integrated the contributions of university professors in various research areas to create efficiencies in the vehicle development process. Dr. Barari is also Director of Ontario Tech's Advanced Digital Design, Manufacturing, and Metrology (AD2M) Labs. Working closely with the ACE engineering team as well as top Ontario Tech students, they collectively took advantage of the AD2M Labs' emerging-technologies capacity, focusing on 'digitalization' in the product development cycle for considerations such as design, additive manufacturing, quality assurance, and maintenance.
Working within a tight timeframe, the team modelled and digitalized more than 50 parts, assemblies, and sub-assemblies of the Arrow's engineering design, each covering various functionalities, details, and complexities. The development journey included structural design, digital inspection and modelling, aerodynamics, electrification, energy efficiency, battery management, autonomous driving, and cybersecurity. Professional engineers and industry partners praised the group's speed, accuracy and efficiency.
"The process of 'reverse engineering' involves deconstructing individual components of larger products, piece by piece, where you gain a working knowledge of their original design so that you can later re-create it," says Dr. Barari. "Our team's detailed design and process planning for the Arrow's chassis and structure involved customized additive manufacturing. This process uses carbon fibre-reinforced material and locates aluminum cores in the printed body to support the vehicle's loading conditions, maneuverability and handling requirements."
Final quality control and inspection of the printed structure was verified and validated through a wide range of multi-physics simulation studies.
Throughout the R&D phase at Ontario Tech, APMA's Flavio Volpe, Warren Ali, and Colin Dhillon co-ordinated government funding and managed a network of Canadian industry partners that were concurrently fabricating various pieces and other components of the Arrow. 
"The technical matrix developed by APMA's team of professionals, Ontario Tech's research experts, and the ACE Core Research Facility created a remarkable example of world-class agile product development," says Dr. Barari.
Hands-on, experiential learning in Ontario Tech's classrooms and labs
Through Project Arrow, more than 100 senior FEAS students in a pair of fourth-year courses (Additive Manufacturing; and Finite Element Methods) participated in an unprecedented, real-life, hands-on project in their Ontario Tech degree program. Teams of students worked on fabrication and design optimization of the Arrow's structure for optimum packaging, minimum manufacturing cost and minimum structural weight, all without jeopardizing the vehicle's structural stiffness.
"What we experienced at Ontario Tech in the development of Project Arrow was managed by an organizational model that found its shape organically," says Dr. Barari. "It worked perfectly because there was an accurate definition of the objective, precise feeling of the needs, clear understanding of the constraints, and knowing exactly what our resources were. In addition to creating a bridge between academia and industry, the Arrow journey generated incredible new opportunities for Ontario Tech Engineering students. Through these learnings, our powerful engineering programs will be even stronger for current and future students."  
Did you know?
In developing the industry's future talent, Ontario Tech offers Canada's only accredited Automotive Engineering program.
Ontario Tech's full suite of engineering programs will also include Energy Engineering in Fall 2023.
Aviva Canada's sponsor role in Project Arrow provides experiential learning opportunities (e.g. co-ops) for students as well as seed funding for road safety and climate-responsive student startup companies at Ontario Tech.
Gallery