Introducing Ontario Tech University's 2023-2024 major scholarship recipients
July 18, 2023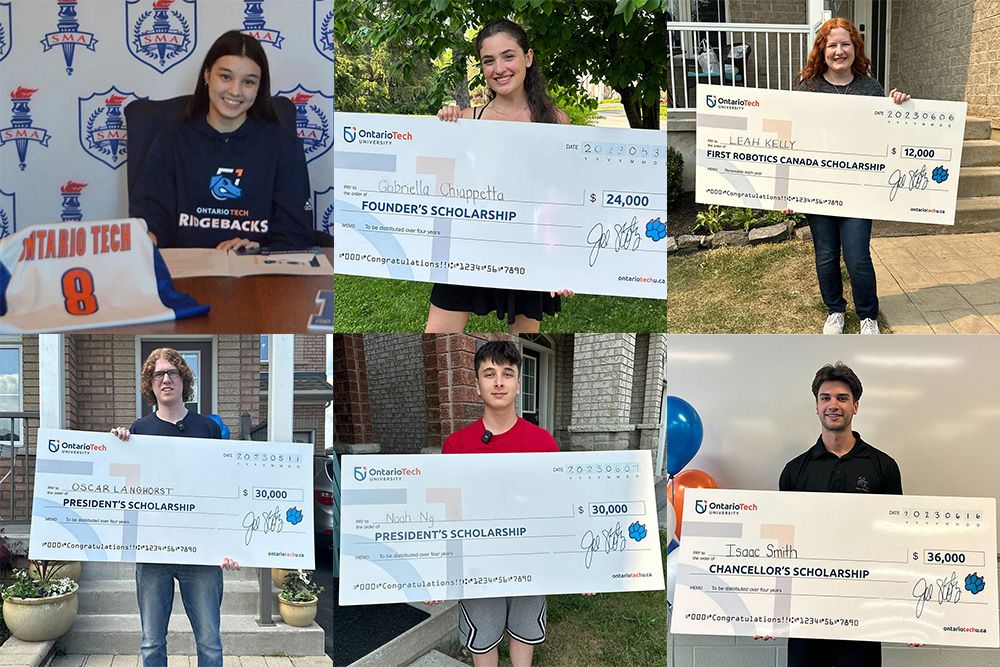 Each year, seven outstanding incoming students are awarded our most prestigious entrance scholarships. Our scholarship program serves to recognize secondary school students with exceptional achievements in academics, leadership and community involvement throughout their high school career.
Ontario Tech's major entrance scholarships
Chancellor's Scholarship: One valued at $36,000 ($9,000 a year x four years)
President's Scholarship: Two valued at $30,000 each ($7,500 a year x four years)
Founder's Scholarship: Two valued at $24,000 each ($6,000 a year x four years)
FIRST Robotics Canada Scholarship: One valued at $12,000 ($3,000 a year x four years)
Global Leadership Award: One valued at $72,000 ($18,000 a year x four years)
We are honoured that these scholarships enable our students' continued success and guide them to be exceptional in their futures. All of our award recipients work hard, and these prestigious awards recognize their success. We are happy to introduce the major entrance scholarship recipients for the 2023-2024 academic year:
Chancellor's Scholarship
Isaac Smith (Software Engineering and Co-op) of Courtice is looking forward to experiencing campus life and hopes to get involved with the many clubs and societies offered at Ontario Tech. He enjoys the process of seeing an idea come to life and leading a team: something he experienced first-hand when he founded a program called Brain 'n Body that utilized robotics and sports to prepare youth for high school. With a passion for travel and interest in tech, Isaac is hoping to one day start a tech company of his own where he can visit as many different countries as possible and implement the incredible benefits of tech to benefit businesses and communities.
President's Scholarships (2)
Oscar Langhorst (Nuclear Engineering and Co-op) of Brooklin says receiving this award signifies all the hard work he put into academics, extracurriculars and community involvement throughout high school. Graduating at the top of his class, he was awarded the Governor General's Medal. Additionally, Oscar held lead roles in both his high school's DECA (formerly Distributive Education Clubs of America) program and Model United Nations teams. Oscar is looking forward to a bright future.
Noah Ng (Medical Laboratory Science) of Mount Albert says he chose Ontario Tech because of the unique programs available and the focus on student wellness, diversity and inclusion on campus. This award will give Noah the freedom to focus on his schoolwork and accomplish his goals while at Ontario Tech. Noah has plans to contribute to the campus community by starting some new programs and clubs.
Founder's Scholarship (2)
Adra Barnet (Health Physics and Radiation Science) of Winnipeg, Manitoba was drawn to the close-knit community feel of Ontario Tech's campus and is looking forward to making this her second home. Receiving the Founder's Scholarship will allow Adra to focus solely on pursuing her passion for helping others. Adra is recognized as a Scholar Athlete by Manitoba's Lieutenant Governor; she also contributed over 600 volunteer hours throughout high school. She brings the drive, self-discipline and leadership skills developed through her passion for sport to her academics and it has enabled her to pursue her dreams and shape the person she is today.
Gabriella Chiappetta (Mechanical Engineering and Co-op) of Scarborough is excited to make close friends with her classmates. This award will have a significant impact on Gabriella's university experience. She will have more freedom to pursue her interests, get involved on campus and focus on her studies. Extra time put into her education will allow her to better understand the material and lead to success in her future engineering career. Gabriella has a well-rounded variety of extracurricular interests. She's an accomplished athlete, musical theatre performer and has developed engaging programming for summer camps. She has a love for the outdoors and adventures and has never been one to shy away from a hike in the forest or a swim in the lake.
FIRST Robotics Canada Scholarship
Leah Kelly (Mechatronics Engineering and Co-op) from Kingston. As an active member of the FIRST Robotics program since 2019, Leah has developed a wide range of impressive skills and contributed to the success of the program.
Global Leadership Award (international)
Tamutenda Makoni (Forensic Science) from Nairobi, Kenya is an accomplished leader in programs such as the East African Model United Nations, environment club and student leadership. She is organized and decisive in her leadership, but values empathy while learning from and supporting others. Tatutenda plans to continue developing her skills while furthering her academic pursuits and hopes to be able to make a significant contribution to society in the future.
For information on applicant criteria for each award, visit the Ontario Tech University scholarships web page.
Summary of Ontario Tech 2023-2024 major entrance scholarship recipients

Award

Name

Faculty

Program

Hometown

High school

Chancellor's Scholarship

Isaac Smith

Faculty of Engineering and Applied Science

Software Engineering and Co-op

Courtice

Holy Trinity Catholic Secondary School

President's Scholarship

Oscar Langhorst

Faculty of Engineering and Applied Science

Nuclear Engineering and Co-op

Brooklin

Brooklin High School

President's Scholarship

Noah Ng

Faculty of Health Sciences

Medical Laboratory Science

Mount Albert

Huron Heights Secondary School

Founder's Scholarship

Adra Barnet

Faculty of Engineering and Applied Science

Health Physics and Radiation Science

 

Winnipeg, MB

St. Mary's Academy

Founder's Scholarship

Gabriella Chiappetta

Faculty of Engineering and Applied Science

Mechanical Engineering and Co-op

 

Scarborough

Wexford Collegiate School for the Arts

FIRST Robotics Scholarship

Leah Kelly

Faculty of Engineering and Applied Science

Mechatronics Engineering and Co-op

 

Kingston

Regiopolis Notre Dame

Global Leadership Award

Tamutenda Makoni

Faculty of Science

Forensic Science

Nairobi, Kenya

 

Brookhouse School
Gallery